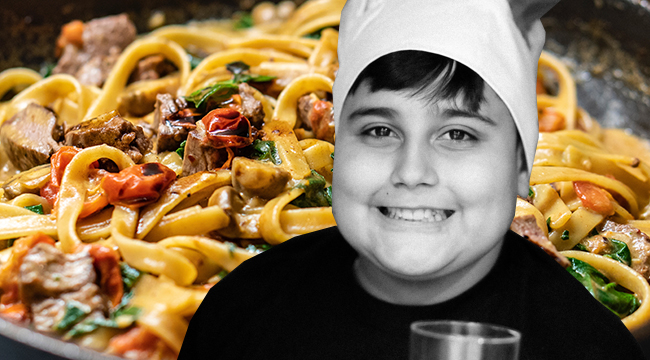 When most people think of food critics, they think of people like Ruth Reichl and Pete Wells, who have authority granted them by years spent covering restaurants around the world. What they don't conjure is the image of an 11-year-old boy from Brooklyn who delivers his opinion via Instagram videos recorded on his mom's phone. Well, maybe they should. Luca Marconi — known on Instagram as @LucaTwoTimes — has more than 10,000 followers who are stoked to hear what he has to say about the restaurants he frequents with his family.
We were pretty excited too (this kid's enthusiasm is amazing), so we reached out to Luca and asked him to share his favorite meals in Brooklyn, where he lives. He started with some staples that reflect his Italian heritage (the family visits Italy every summer), but there are a few multi-cultural surprises in here, as well. As he has done for the last year, the genuinely sweet food reviewer shared what makes a dish a standout in his opinion.
Check out Luca's reviews and follow him on Instagram to hear more.
Frost Restaurant
So starting really close by my house, is Frost. Really nice place. I suggest their chicken Francaise. It's really nice. The sauce is beautiful. It's like a chicken Francaise, but it's not the chicken Francaise you get from anywhere else. It's like really valuable — a nice savory, salty, flavorful sauce.
Patrizia's
My actual favorites on this list are Patrizia's moneybags. I've been going there since I was five or even smaller. Their moneybags have just been top notch. I could go to Italy and not get better moneybags than I could over there. The ricotta inside, the beautiful sauce at the outside. It's a vodka sauce. Really you can't get that anywhere else. I'm tellin' you.

Carmine's Pizzeria
I actually have a funny story about this one. One day I was going to Carmine's with my uncle, He said, "You wanna go get a pizza?" Yeah sure. And I ordered the seafood risotto. It's like everything you get on a plate that you find in Italy's water. Some calamari. You got shrimp. It's like the right amount of seafood they get from Italy. It comes with rice. You know every kid loves rice. I mean, I love it.
L'industrie Pizzeria
This right here, L'industrie's burrata pizza. Listen, I've had pizza before, but that's the best pizza I've ever had in New York. Like the best pizza; it's really good. But that burrata pizza, oh my God… with the prosciutto. The prosciutto is nice and fatty. The burrata, it's the way you like it. The pizza dough, it's incredible. Probably one of the best pizzas I've ever had. My brother disagrees with me. He did not want to taste it. I actually made my brother try it for the first time on Friday. He says he doesn't like it.
I mean we got the nice pie, prosciutto, and burrata all on a regular slice. Boom. I thought it was amazing, like usual. He thought it wasn't that great.
The Bedford
This one is comin' from brunch. The Bedford. I went here and listen, I'm telling you this right now, you need to go there and get their French toast. Okay? I don't even know how it's so good; it's just good. How do you make French toast that spectacular? They put the nice sugar, the nice syrup; they have the strawberries and blueberries, which is probably a factor to why I like it. It tastes like a French toast, except nice and fluffy. Not like crunchy. I go with Uncle Marcello. I usually go out everywhere with Uncle Marcello.
Juice Generation
All right so, we're gonna mix it up a bit, and go with a nice healthy place. Get the Juice Generation acai bowl. Yeah, I love acai bowls. It's good though. It tastes really good. I like it how they do it at Juice Generation. They put like their own twist to it. Basically, an acai bowl is, how do I explain? It's like a big smoothie. A healthy, good bowl. They put oats, almonds, granola…all healthy stuff.

Anthony and Sons Panini Shoppe
So this one is probably heard of everywhere: the FDNY hero from Anthony and Sons Panini Shoppe. I've been going there since I was probably one. You know their dollar milkshakes are amazing, but nothing beats the FDNY. I actually make my own twist on it, and add bacon, but you really don't even have to put bacon. It tastes that good. Well, we got vodka sauce and chicken cutlets. It's my type of sandwich, no vegetables. Man, New York. You know, New York is on the go, so they'll take a panini to go.
Sweet Chick
Next, I'll do Sweet Chick. So their chicken waffles, you've probably heard of chicken and waffles. Something about their fried chicken. You know what? I don't like eating fried chicken by itself. It's annoying, like too much work getting the bones out. But their thing is pretty good. It's warm drums, beautiful drumsticks. Nice white meat, no like red meat, no brown meat. I like it nice and white. That's what they bring with the syrup on top with the nice, fluffy, sugary waffles. That's what you want from waffles. At their original place, they have different butters you can put on top of it. Like raspberry butter, like lemon butter.
La Locanda
Now we got, you probably heard this in my New York post thing, La Locanda's penne ala vodka with chicken cutlet. It's like, pasta, with chicken cutlets. But penne a la vodka sauce. The cutlets are cut in pieces. I don't know, but that's such a genius idea, doesn't that sound like a genius idea? You know what? The chicken cutlets remind me of homemade, back home in Italy. The penne a la vodka sauce honestly tastes like the Panini Shoppe's vodka sauce. That's pretty good, and the pasta's like pasta. Like I definitely wouldn't put it over my Sunday dinner pasta. But it's really good pasta!