Our cabbie beamed with pride as he ferried us up a hillside in Basque country, just east of Bilbao. He was busy describing how Azurmendi, the region's famed three-star Michelin restaurant, had gradually gained world renown. Along the road, we passed the old restaurant grounds, now inhabited by Eneko, chef Eneko Atxa's second concept.
At the crest of the hill, we rolled to a stop in front of a bioclimatic, glass adorned building. The property and the food it produces were recently listed as the 43rd Best Restaurant in the World by World's 50 Best List. Through the large glass doors awaited a meal that had taken on mythic proportions in my mind.
I acknowledged my excitement to my girlfriend, Jess, and slid out of the car. It was time to eat at Azurmendi.
***
I've had an unrequited location love affair with Basque Country for the better part of two decades. Twice before, I've nearly consummated this crush. On one occasion, I was apprehended in Barcelona by a group of Portuguese architecture students and instead taken to Lisbon. On the other, the desire for good food in Italy redirected my adventures.
Looking back now, the idea of passing up the Basque Country for the sake of scoring a better meal seems absurd (in my defense, it was the siren call of my grandmother's cooking that had pulled me to Italy). The Basque region's restaurants have entered the global consciousness. No longer are recommendations traded between wink-exchanging chefs and epicures. These days, the region's food scene is all-out bulletin board material, with premier listings in mainstream guidebooks like the Lonely Planet.
Michelin starred Basque restaurants like Azurmendi, Martin Beratsategui, Mugaritz, Arzac and Asador Etxebarri are at the forefront of the global culinary landscape. This is a region with more Michelin stars per capita than any other area on the planet (if you put stock in such things). That number includes four spots on the top 50 list, with two in the top ten. The region exists on one of the world's premier fishing coastlines and is buttressed by the verdant Pyrenees Mountains. The caliber of produce and ingredients produced by this proximity to the natural world is rightly worshipped by the meal-oriented Basques.
This summer, before attending a Basque wedding on the coast (between Bilbao and San Sebastian), Jess and I set several days aside to eat our faces off. Pintxos, skewered Basque tapas, are ubiquitous in the bars and cafes of the region — served everywhere you go from the moment you wake up until you manage to stumble home at midnight. They are only matched in their deliciousness by their cost-effectiveness. For about 1-3 Euros per pintxo you can fill up quickly.*
Thinking of how much money we were saving on pintxos, Jess and I decided we had some room to splurge. For her birthday, we booked a lunch table at Azurmendi. It cost roughly the price of my plane ticket to Europe.
*Quick Rant: American tapas places are often absolutely infuriating. One of the points of tapas or pintxos is that you can order a table full of them, tasting each without spending a shitload. $8-12 each for tiny plates makes me want to flip a bar stool. Yes, I understand the food margins for our restaurants are razor thin and that must a play a part in the inflated costs, but can we please call it something else? Iberian small plates perhaps?

Picnic of foie gras peanuts, hibiscus, smoked fish brioche and apple cider emulsion with chorizo flakes.
Inside the atrium of Azurmendi, the staff welcomed us with a small picnic. In short order, we were told how every aspect of the building is designed to maximize sustainability… though it's hard to focus on someone describing how the greenhouse on the roof warms the building in the winter and provides shade in the summer while peanuts made of foie gras melt on your tongue.
From there, a tour of the kitchen followed. An egg cooked from the inside out with truffle oil was presented by the chefs. Next, we were led through a miniature version of the greenhouse, which also housed four more courses. We sipped a magical Basque cider, made of a variety of locally-sourced spices, and tasted perhaps the most intriguing thing I've ever put in my mouth: a passionfruit chocolate drop, presented by a small wire hanging from a perfectly groomed Bonsai tree.
I imagine you may be familiar with this concept: A breakable chocolate shell surrounding any form of nougat, cream, liquid or alcoholic combination. Generally, breaking the shell with your teeth is an acceptable method. In this case, as soon as the drop entered my mouth the entire shell evaporated instantly. It left behind a burst of chocolaty brilliance and unleashed on an explosion of passionfruit essence.
My eyes bulged. It was like a quick chemistry lesson — I didn't know food could even do that.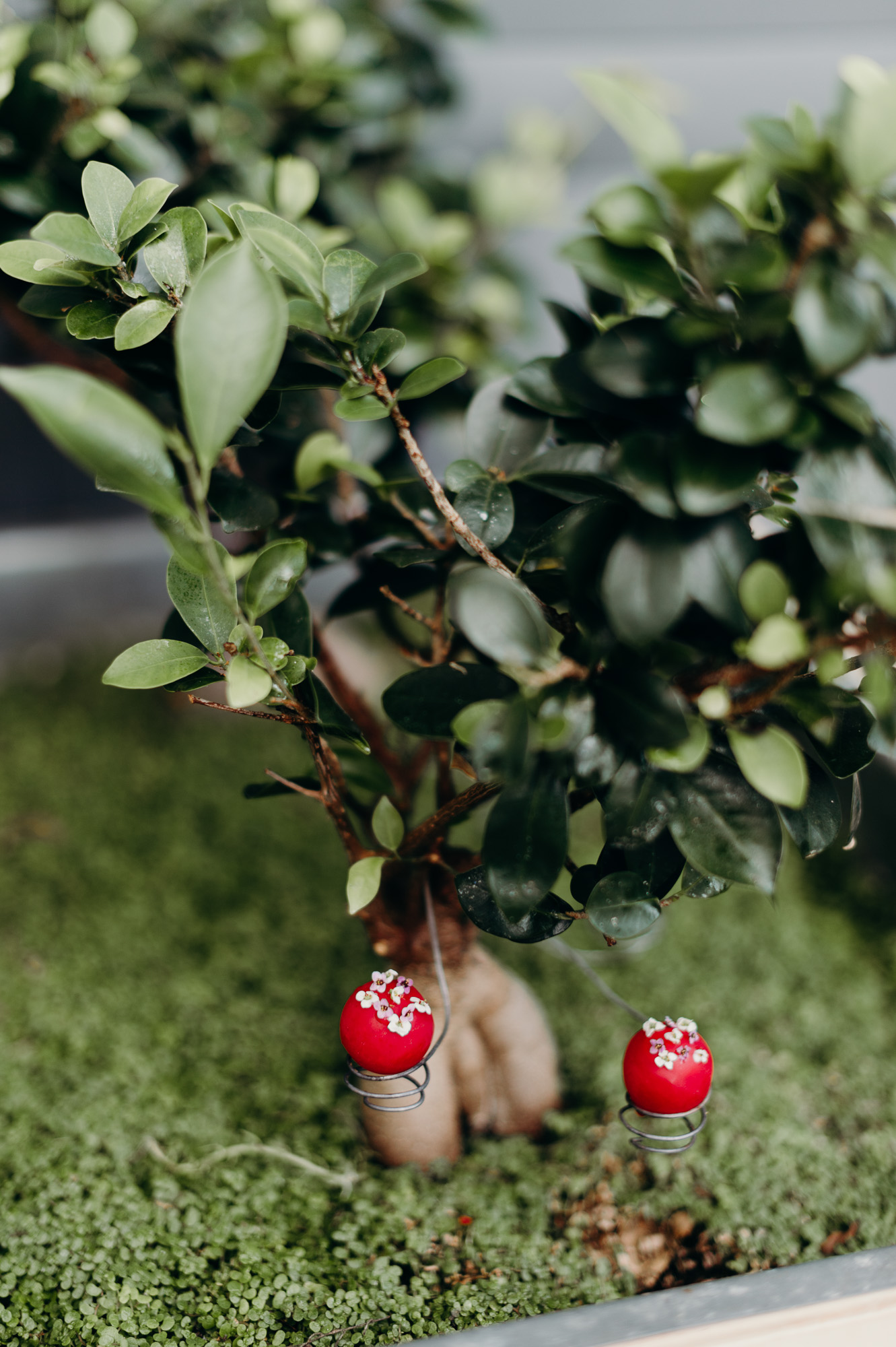 Passionfruit chocolate drop
We hadn't even been seated yet and we were a dozen courses deep. It was around this point I realized we were not at a restaurant at all. We were having an "experience" — like a circus for the senses. Even now, looking back, this day aligns in my memory much more with going to an amusement park, or scuba diving on a new reef, than, say, your average fancy meal.
The wait staff was impeccable in their manners, though we couldn't help but noticed their uniforms were reminiscent of a certain dystopian TV show. We combatted this small amount of rigidity by quietly assigning roles from early 2000's teen dramas like Mean Girls to the servers and sommeliers. (They were all wonderful of course, despite their two silly guests. By the way, Maria you're definitely Cady Heron.)
Spider crab bon-bon and mushroom praline with sea txakoli & lemongrass.

For the next four hours, we dined. Course after course; wine pairing after wine pairing. There is no truer use of the word "feast" that I know of.
After a tour of the grounds and greenhouse, we arrived back in Bilbao at 6:30pm. Our reservation had started at 1:30. Each course was more intriguing, curiosity-inducing, and tastefully outlandish than the last. Azurmendi works with local producers and collaborates with the nearby township of Larrabetzu to coordinate the recycling and reuse of all the waste the restaurant produces. For these efforts and others (many of which I surely missed hearing about while driven to distraction by a bite of food), the group received the most sustainable restaurant in the world award from the World's Best list for the second time. In an age when over-consumption is an ever-present obstacle in tourism and dining, their commitment to sustainability made the food taste that much better.
There are two menus at any given time at Azurmendi. The Adarrak, which we ordered, is seasonal. The other is the mainstay tasting menu, the Erroak. There was a Belgian food critic at the table next to ours who had ordered the classic Erroak and looked longingly at our plates as each course was delivered. To be fair, we did the same to him. Maybe the grass truly is greener on the other side of the carbon neutral dining room. In order to find out, I think I'll definitely need to return to Azurmeni the next time I'm in Bilbao. Or Spain. Or Europe even.
The post-meal elation was real. I felt neither overfed nor tired, but relaxed, tipsy and euphoric. Still, I couldn't escape wondering if someone like myself can eat one of the world's preeminent tasting menus and truly appreciate it the way it was designed to be experienced. I don't have the palate of a sommelier or a professional food critic, so… perhaps not?
Then again, I know my own taste buds, and, using that scale, it was fucking delicious. More importantly, it was an experience, and one that won't soon be forgotten.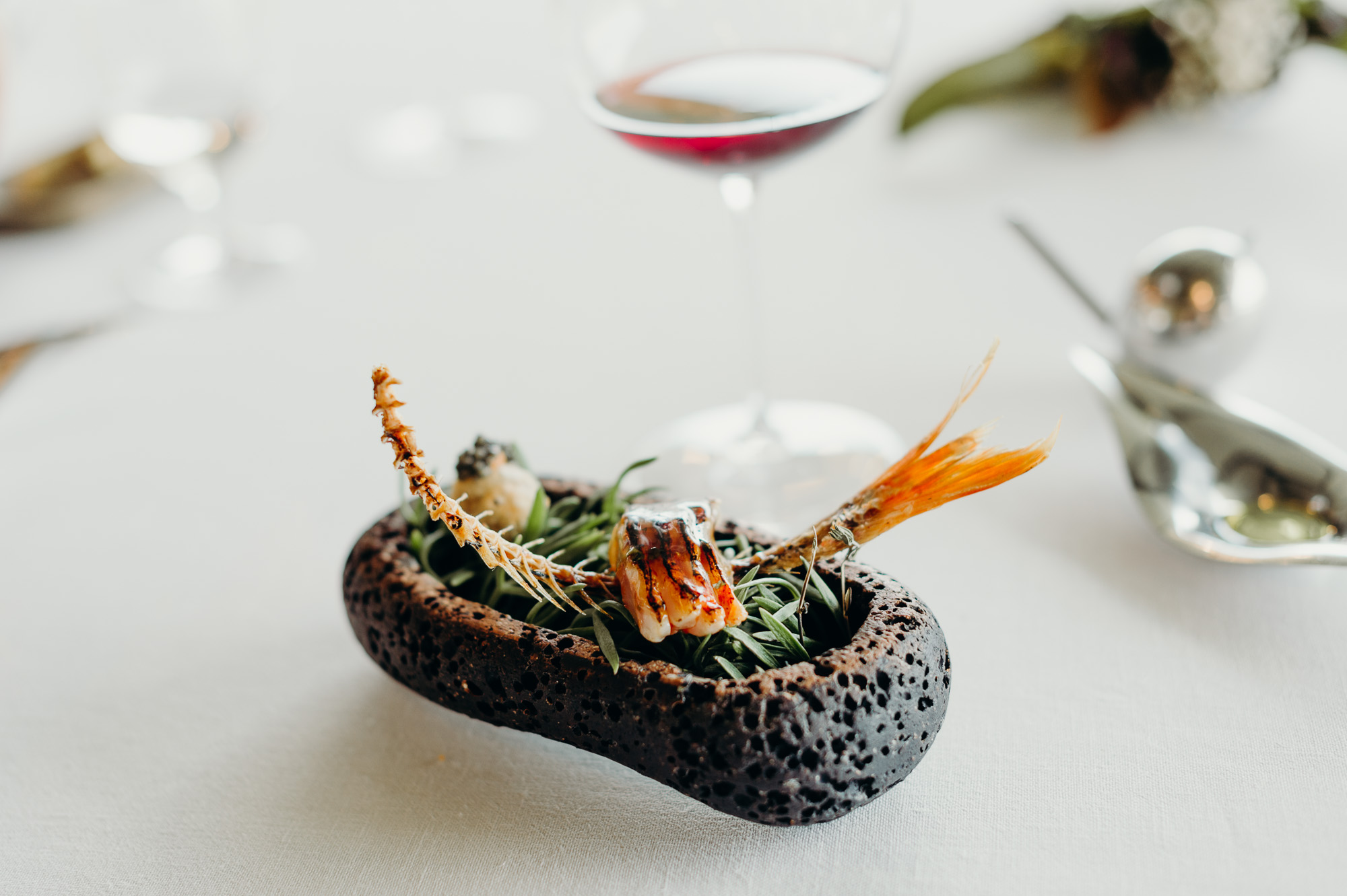 Red mullet fritter and caviar (back) and flame roasted (front).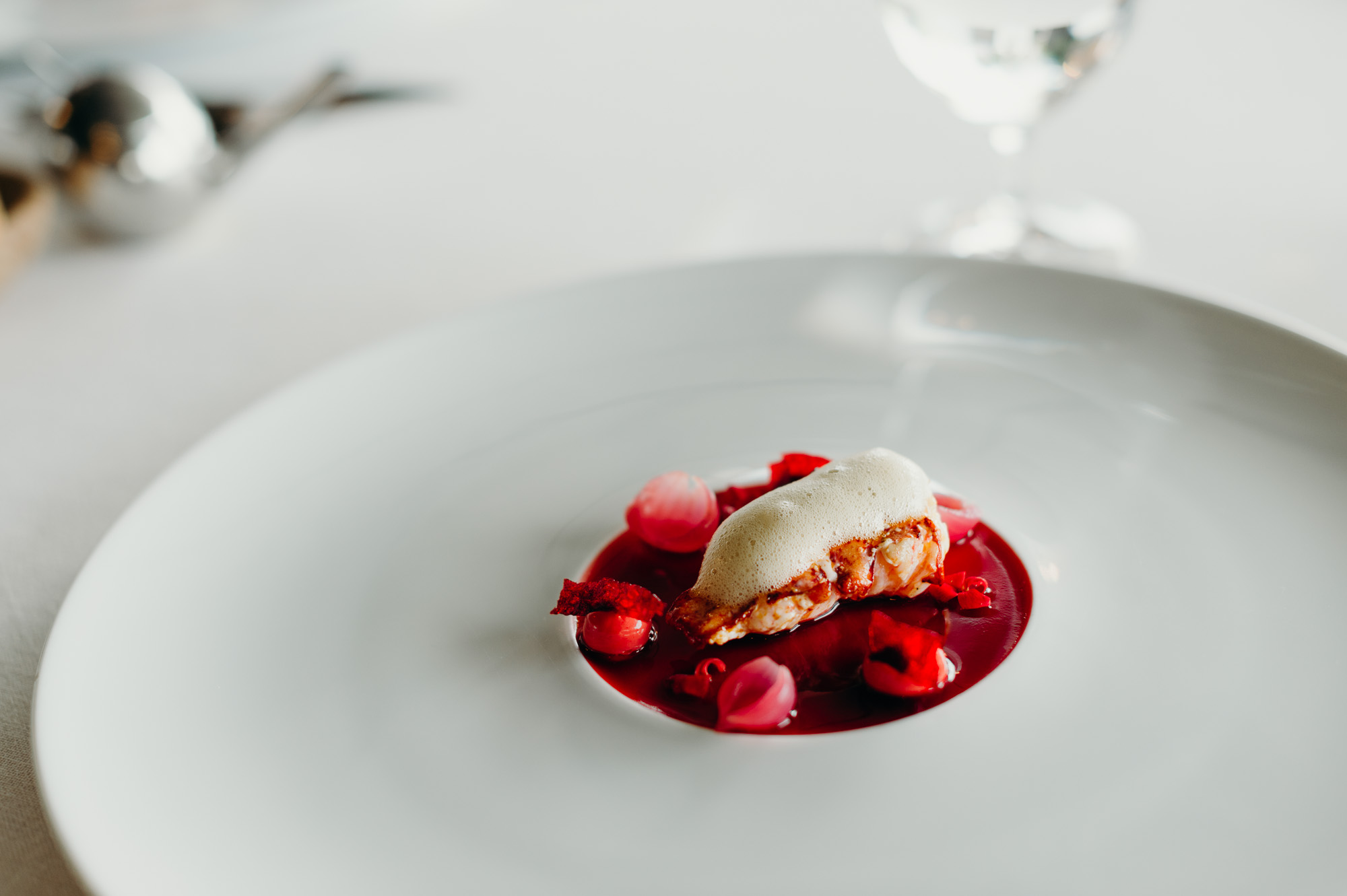 Lobster, coffee butter, and purple onion.
**Azurmendi is roughly a 15-minute cab ride from Bilbao (~30 Euro). We opted for the wine pairings with lunch and I highly suggest taking a cab if you plan on doing the same.