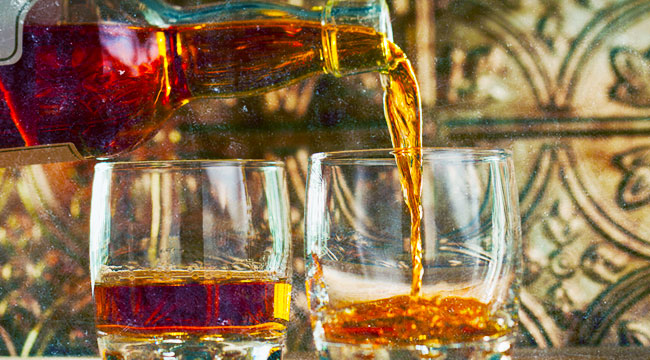 We like whiskey. We often love whiskey. And, for the most part, we want to celebrate whiskey. But we can't pretend it's all good. With that much juice on the market, there's bound to be a few duds. If we really want to help you get bang for your buck, we shouldn't shy away from sharing less-than-positive opinions from time to time.
So today, we turn our attention to the most overrated whiskeys. Obviously, we know this will ruffle some feathers. Also, we'd never tell anyone not to drink their favorite whiskeys. "You do you" is our mantra. We're merely saying that sometimes certain whiskeys get a little overhyped as drinkers reach for the closest, flashiest bottles with the best name recognition.
You know who never falls for the hype like this? Bartenders. That's why we asked some of our favorites to tell us their choices for the most overrated whiskeys. You'll be glad to know that they definitely didn't hold back.
Proper No. 12
Josh Cameron, head bartender at Boulton & Watt in New York City
Sorry, McGregor. You're a great fighter. But what is Proper 12? Have you even tasted the stuff? I support your business endeavors and I believe in steak for breakfast, but please at least do a little R and D first. Blend it more or age it more or… buy it from someone else before you bottle it.

Pappy Van Winkle
https://www.instagram.com/p/B1b2WG9Ba8G/
Daniel Condliffe, bartender at JSix in San Diego
Because what whiskey means to each person is so different and flavors are so subjective, for me I think the easiest way to say something is overrated comes down to the actual value vs the perceived value of the product. A good example of that would have to be the Pappy Van Winkle lineup. If you're lucky enough to get a bottle of the 23-year at retail that's amazing and certainly a nice piece in a collection.
But is it worth paying the $2,400 that the secondary market has carried its perceived value to? Not for me. Too many people are happy to buy into a story with bourbon.
Maker's Mark
Phil Testa, beverage manager at The Rickey in New York City
Maker's Mark. It's so sweet. It mixes fine if you don't want to taste whiskey at all. I like the wax seal, but that's it. Otherwise, it's not for me.
Jack Daniel's
Laura Mitchell, bar lead at BEER PARK in Las Vegas
Jack Daniel's. There aren't many ways to mix Jack to make it smooth. Just use it in sours and cokes. You really shouldn't make a Manhattan with Jack.
Fireball
Nikki McCutcheon, beverage director at Magic Hour Rooftop Bar & Lounge in New York City
Not that I don't have a bottle at home, but… unfortunately, Fireball has become a novelty of the whiskey category in recent years. Typically, spirits that end up on billboard charts aren't highly recognized among coveted wine and spirits lists.
Blanton's
Darren Fabian, national beverage manager for Moxie's Grill & Bar
The most overrated whiskey, by far, is Blanton's. The lack of availability makes it a hard label to get behind.

Basil Hayden's
Chris Burmeister, bartender at Citizen Rail in Denver
Basil Hayden's. For a high rye bourbon, I'm looking for a little more complexity and bite, as well as some extra ABV instead of just 80-proof, at least for the price.
High West American Prairie Bourbon
Brandon Lockman, lead bartender at Red Star Tavern in Portland, Oregon
I have to say High West American Prairie Bourbon. It's pretty tasty, don't get me wrong. I'm just not fully onboard with the story (and it not being originally distilled in Park City).
The Macallan 25 Year
Stephen George, Beverage Manager at 20|Twenty Grill in Carlsbad, California
I hate to say it, but Macallan 25 Year. It's not so much "overrated" but instead overpriced. Any product that has a cost increase of 300% to 400% in less than a decade, without changing a thing, will probably fall into this category.

Writer's Pick: Jameson Irish Whiskey
https://www.instagram.com/p/B1OxlkQFaZR/
We know, Jameson is smooth and easy to drink (almost too easy). But I find myself looking for more than that. It's not a bad whiskey by any means. There are just many better Irish whiskeys (even from the brand's own portfolio).