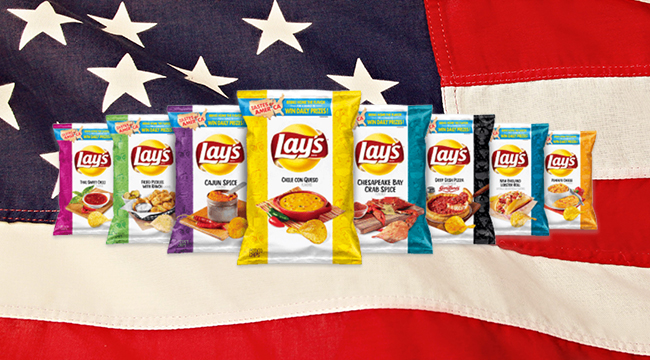 Every once in a while, Lay's introduces a line of new potato chip flavors. When those announcements come, each new flavor sparks my imagination. As I wait for them to drop, I'm inspired to ask the hard questions like: "What will they taste like?" and "How will they make a chip that tastes like lobster?" and also, "Speaking of lobster, why do I have lobster claws instead of hands?" You know, the same basic questions everyone asks.
This particular go-round, Lay's came up with a flight of chips that was "inspired by regional American flavors and foods," and not (as they replied in a fairly curt email to me) by the tears a lonely lobster girl cries at night. Surprising. Still, this is the largest run of new flavors the brand has ever rolled out at once, so people were pumped to try them. I was curious too, so I put aside my questions about whether or not a creature such as me has a soul and settled in to determine what the best new flavor of Lay's is.
Tasting notes: I tried all of these chips in random order, with my crustacean claws, on an empty stomach. I used white wine to clean my palate because, you know, I was going to drink white wine anyway. (Which also explains how I ended up with 1500 words of lobster girl micro fiction that my editor is sure to cut. [Yep. -ed])
8. Fried Pickles with Ranch
What it should be called: Dill Duds
What it tastes like: Dill. And nothing. Maybe sadness? Is sadness a flavor?
How it felt: A couple of days after we tried the chips, my husband walked out of the kitchen eating the pickle chips.
"WHY WOULD YOU EAT THOSE?" I screamed. "THEY'RE TERRIBLE!"
"Its a strategy," he said, "so that we don't have to look at them or think about them anymore. They'll be out of our lives forever."