Louisville's Old Forester is one the longest continually operating whiskey distilleries in the United States. Not even Prohibition could shut it down (it was one of the few distilleries that stayed open as a "medicinal" distillery during that era). That history has led to a lot of great bourbons and ryes, which have helped define multiple eras of whiskey and cocktail culture since 1870.
So when OF releases a special edition of their whiskey, people pay attention. President's Choice and Birthday Bourbon are the classic impossible-to-actually-get Old Forester bourbons. And The 117 Series has quickly become the newest addition to that group.
The latter is why I'm here today. Old Forester just released a brand-new The 117 Series bourbon and I've been lucky enough to try it a few times and form an opinion. Below, I'm going to break down what's in the bottle, how it tastes, and how to actually find this elusive bottle.
Spoiler alert, it's worth the effort to track down and at least try. Okay, that's enough preamble, let's dive right in!
Also Read: The Top 5 UPROXX Bourbon Posts Of The Last Six Months
Old Forester The 117 Series Bottled in Bond Kentucky Straight Bourbon Whiskey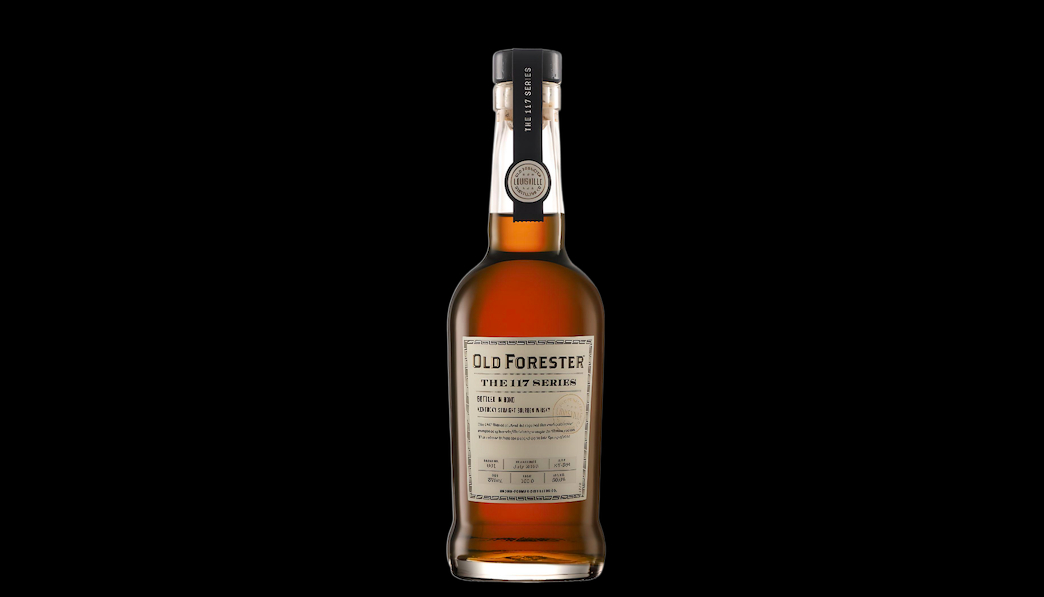 ABV: 50%
Average Price: $59
The Whiskey:
This new edition of the much sought-after The 117 Series is a throwback to old-school bottled-in-bond bottlings. The whiskey in the bottle was distilled in Louisville back in the spring of 2014 and filled into new oak in the same distilling season — as per bottled-in-bond law. That whiskey spent nine years mellowing before select barrels were chosen, batched, and proofed down with local water.
The focus was to take a one-time look at Old Forester bourbon that shines the brightest when proofed to bottled-in-bond levels.
Tasting Notes:
Nose: Blackberry hand pies iced in powdered sugar dance with a sense of vanilla buttercream, nutmeg-heavy eggnog, apricot brandy-infused marzipan, and a slight sense of an old cellar floor deep in the background.
Palate: The palate leans toward stewed pear and rich marmalade with a dark sense of cherry fruit leather, old dates, and figs before a rush of winter spice barks dipped in caramelized apple cider leads to sticky spearmint syrup-soaked tobacco.
Finish: That vanilla buttercream creates a luscious end with vibrant notes of stewed apricot, more marmalade, blackberry pie, and this whisper of mint tea cut with piney honey.
Bottom Line:
This is a delicious whiskey. It's fruity — like many Old Forester bourbons — but goes so much deeper. This is a great sipper that feels almost summer thanks to all the berries. It also feels a bit like a dessert whiskey. It's versatile and delicious, is what I'm getting at.
Ranking:
91/100 — There might be a few better 10-year-old bottled-in-bond bourbons (the closest analogs to this, really) but there aren't many.
Where To Buy:
Here's the rub. This is highly allocated. And unless you were in the right retailers in Kentucky in July, there's exactly zero chance of getting this at MSRP. But as with all these highly allocated Old Foresters bourbons (The 117 Series, President's Choice, and Birthday Bourbon), you will see these at select high-end bars, at auction, and on the secondary market for much-inflated prices.
The last edition of The 117 Series is available for around $400. Take that as an indicator of what you're going to have to pay to get this one too.