Back in March 2021, Old Forester dropped the first in a new line of bourbons with a limited-edition expression. The newly minted line is called "The 117 Series" and the first entry is "High Angels' Share." The new series and flagship bottle were created utilizing the palate of Old Forester's Master Taster Jackie Zykan, of whom we're big fans. So naturally, it had us pretty excited.
High Angels' Share also marks the first time in Old Forester's 150-year history that a woman's signature adorns the bottle. It's a well-deserved nod to Zykan's prowess and another step in the march towards better gender balance in bourbon.
While High Angels' Share is the first release in The 117 Series, it certainly won't be the last. Each future whiskey will carry on the experimental nature Old Forester has become known for. While their plans for future releases have not yet been made public, it's safe to say there will be bottlings that highlight specific barrelhouses, interesting blends, and much more. To say the launch of this series is exciting for aficionados is an absolute understatement.
"Creating The 117 Series has been a labor of love and seeing my signature on the label is one of the highlights of my career," Zykan said in a press release. "My mind is exploding with the endless possibilities of this smaller scale of experimentation and innovation. We're playing in uncharted territory here and those who love Old Forester, like we do, will have the chance to explore with us."
After tasting this initial release, we're definitely hyped for any and everything that is coming next. Here's what we thought of High Angels' Share.
Old Forester The 117 Series High Angels' Share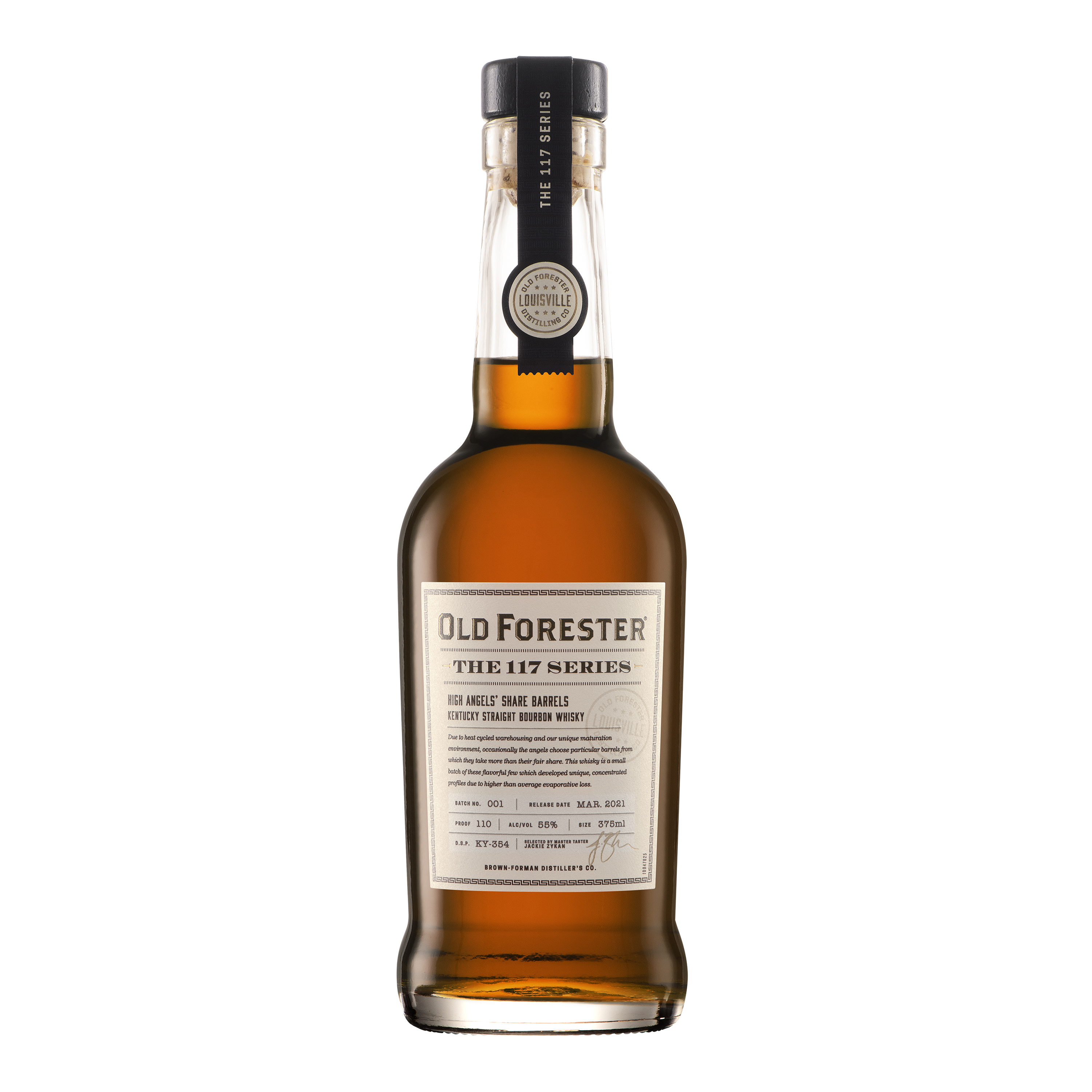 ABV: 55%
Price: $49
The Story:
The 117 Series is named for the location of Old Forester's original home in Louisville (KY), where the distillery resided from 1882 to 1919, only to return with a brand new distillery in 2018 on the same spot. The bourbon in the bottle is a marrying of casks selected specifically because they lost a large amount of their volume to evaporation (known as the angel's share) during the maturation process. The result is an exceedingly rich, full-bodied, highly complex juice.
It's bottled at 110 proof, so it should appeal to the most ardent, high-proof whiskey aficionados.
Tasting Notes:
On the nose, you'll find exciting, vibrant aromas of the musty rickhouse as well as caramelized sugar, raisins, subtle maple syrup, and rich, charred oak. The palate swirls with sticky toffee, raw sugar, candied pecans, and features a nice herbal backbone. It all finishes with a one-two punch of butterscotch candy and subtle peppery rye, leaving you with a lingering warmth.
The Bottle:
This is a classic Old Forester bottle. The label is a little word-heavy but to the point and subtle. Overall, it's a good-looking bottle for any shelf.
Bottom Line:
To truly appreciate a whiskey of this magnitude (and this potency), you'll want to pour it into a glass with a single ice cube or a few drops of water — that'll help open up the various, nuanced flavors.
This expression was made available to the public at Old Forester's retail shop on March 24th. While it probably won't be easy to find a bottle at the retail price of $49.99, the price doesn't seem to have spiked too much yet. This is still a very solid value (and piece of history!) as it nears the $80-$100 range.
Rating:
90/100 – Bottled at 110 proof, you'd assume this would be a little potent for some drinkers. But even with its high alcohol content, this expression still manages to be extremely mellow, rich, and highly sippable. Definitely, a whisky to seek out.