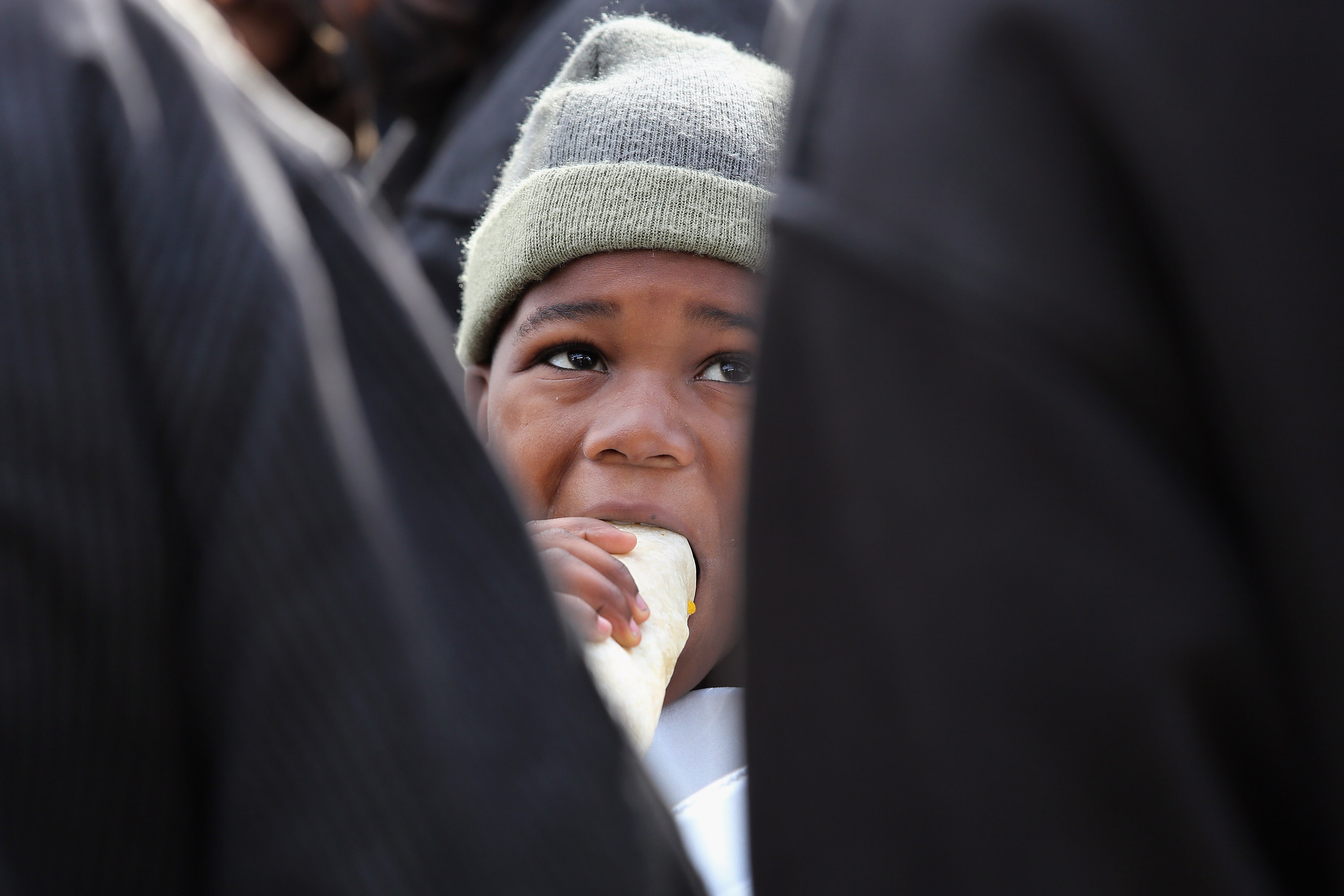 Those of us who don't live on the West Coast often connect the "O.C." with tv shows about rich kids whose problems include not being able to get the "big" Lexus and their sisters scuffing their new Jimmy Choos. But Garrett Dunbar, President and CEO of the Orange County Burrito Project has seen just how real the O.C. can get, and he's doing something to fix it.
Dunbar became passionate about helping the homeless when he showed up for his first day at a law school internship in Santa Ana and saw 500 homeless people living on the streets outside of county buildings. Buildings, he noted, filled with people who were supposed to be working to combat homelessness. Hearing his supervisors and other government officials tell him "someone's working on it" was unacceptable, so he decided to do a little digging to get to the root of the issue.
The upstart student went to the Orange County Sheriff's Office where he was given a card for the county's mental health services department. He quickly realized that if there were any resources for the homeless, the department's Web site full of broken links would certainly not help the homeless find them, if they could even get access to computers. Dunbar realized the only solution was to take matters into his own hands — by starting the OC Burrito Project.
In a world where charitable orgs are often needlessly complex, Dunbar's concept was simple: Use volunteers to cook, wrap, and deliver burritos to the county's homeless. The burrito aficionado had good reason for picking them over sandwiches or soup: "They're pretty easy in terms of the number of ingredients that you use. It's a nice little compact meal that's pretty filling and can have a high nutritional value."
Using his law skills, Dunbar looked up what it would take to become a registered 501c-3 nonprofit organization, did the paperwork, and quickly became a wrap star.

The OCBP has bloomed in a hurry, from the six people who showed up at Dunbar's apartment in November of 2015 to cook and wrap burritos made of ingredients purchased with his student loan money, to over a hundred volunteers who now help prepare food at a commercial kitchen at the Fourth Street Food Hall in Downtown Santa Ana. Dunbar spends the day cooking ingredients for the vegan burritos — simmering a special refried bean recipe, dicing onions, garlic, and tomatoes, adding cumin, chili pepper, cayenne, and some salt. He also puts a new spin on Chipotle's cilantro-lime rice by juicing real limes for an extra lime flavor, and preparing a green cabbage/red cabbage/carrot blend for a little extra crunch and nutrition. The burritos are topped with a roasted salsa that's worth lining up for on its own.
Once everything is prepped, the ingredients are set up in an assembly line for the volunteers, and after getting a short briefing, the tortillas are brought out and the rolling begins. In addition to the burrito line, there is a hygiene kit assembly line where donated items are packaged and handed out with the burritos and bottles of water — from the Fourth Street Market to Santa Ana's Civic Center Plaza. Volunteers walk the trip, day or night, to make sure they don't miss anyone along the way who could benefit from a package.
"A lot of people ask us if we're concerned about safety," Dunbar says, "but we've never had a problem. The entire group that's out there is so welcoming and appreciative of us coming and helping them. The whole point is to introduce our community members to the homeless and to really change their perspective."

What sets the OC Burrito Project apart from other assembly line-like hunger relief efforts is a vision that stretches beyond its catchy burrito-based name. One of Dunbar's future goals — having worked in the children's mental health field — is to address substance abuse among the young homeless population. Dunbar expressed that he would like to have counselors on staff to help people dealing with addiction get back on their feet.
Earlier this year, as the result of a simple Mother's Day greenhouse project turned massive aquaponics farm, Dunbar learned more about growing his own vegetables. Now he's eager to teach others grow, cook, and sell veggies — creating sustainable income for rehabilitated members of the homeless community to rebuild their lives on their own, either as entrepreneurs or restaurant workers.
"So many people have a preconceived idea of 'All the homeless are crazy!'," he says. "'They're all drug addicts! They all choose this life!' It's important to get people exposed and have their eyes opened and really see that we're just talking about regular people."
Regular people who like burritos, just like the rest of us.