The 90th Academy Awards are here, celebrating a strong selection of incredible movies. Naturally, we're pairing them with a similarly strong selection of incredible cocktails. Whether you're hosting a full-on viewing party, yelling at the television with a select group of friends, or playing our notorious drinking game, there's a beverage here with your name on it.
So, which cocktail wins "most debaucherous?" Read on to find out!
The Dark and Stormy: a time-honored classic cocktail that remains a crowd-pleaser. Both traditional and approachable, it's the blockbuster of the cocktail world. Here it gets a simple but exciting update.
Ingredients:
Dark rum
Ginger beer
Fresh lime juice
Thin slices of ginger
Lime for garnish
Directions:
Fill a glass with ice and combine equal parts rum and ginger beer. Add a splash of fresh lime juice.
Use a hand torch like the Bernzomatic to flame a piece of ginger and drop it in the cocktail while lit. Garnish with a fresh lime wedge.

Who better to craft a cocktail for an Oscars viewing party than an actress and cocktail enthusiast? Whitney Adams brings us this riff on the Bellini, utilizing Lillet rosé to add a lively, fruity pop to the famous Italian sparkler. Simple but sophisticated, it'll be the belle of the ball.
Ingredients:
1.5 oz white peach puree
1.5 oz Lillet rosé
4.5 oz chilled prosecco /li>
Directions:
Stir in mixing glass.  Pour in juice glass a la Harry's Bar in Venice and add a twist of lemon.
Don't wait for the summer to enjoy a spritz. This low ABV, bubbly, bittersweet cocktail lends itself to a second serving or two, meaning you'll have a classy cup in hand for the entirety of the awards. Enjoy now, but remember the recipe for the summer, when it will taste just as good sipped on a patio during filmmaking's famed "magic hour."
Ingredients:
3 oz Lillet Blanc
1/2 oz lemon juice
1 tsp raspberry jam
3 oz club soda
Garnish: lemon and marjoram
Directions:
Add the Lillet Blanc, lemon juice, and jam into your glass. Stir to combine. Add ice and the club soda. Finish with lemon garnish and sprigs of marjoram (or mint works too!).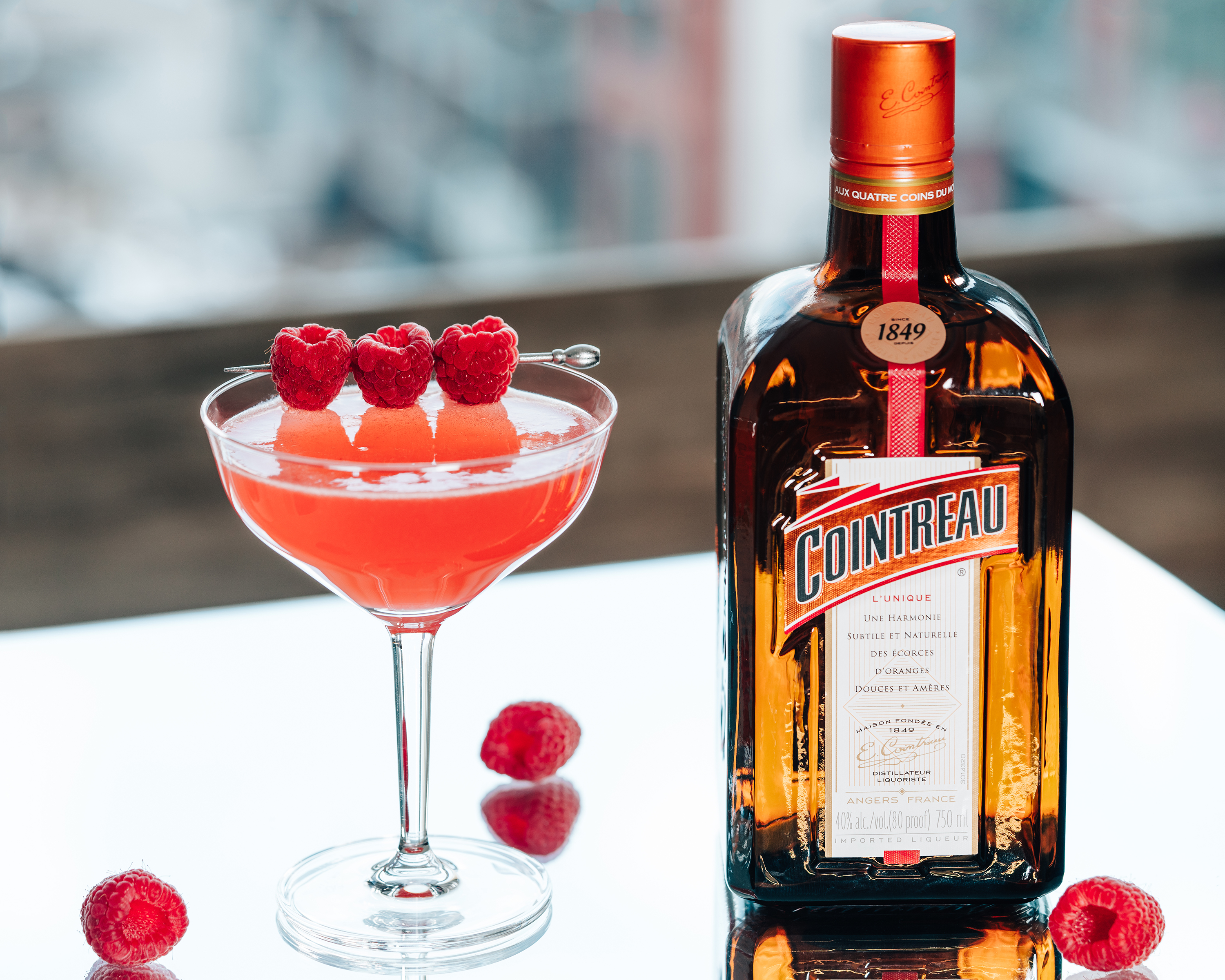 The Academy Awards sees Hollywood royalty strolling down the red carpet, which sure, looks fun for awhile, but you know what, so does a cocktail and the comfort of the couch, and no one there is asking you who designed your sweatpants. Skip the mile-high footwear, the penguin suits, and the primping, and dress your cocktail up to impress instead.
Ingredients:
1 oz. Cointreau
1/2 oz. fresh lemon juice
1/2 oz. honey syrup (equal parts honey and warm water to dilute)
3 raspberries
4 oz. Champagne
Directions:
Muddle the raspberries in the bottom of a cocktail shaker. Add Cointreau, fresh lemon juice, and honey syrup and shake with ice. Strain into a coupe glass. Top with Champagne and garnish with raspberries.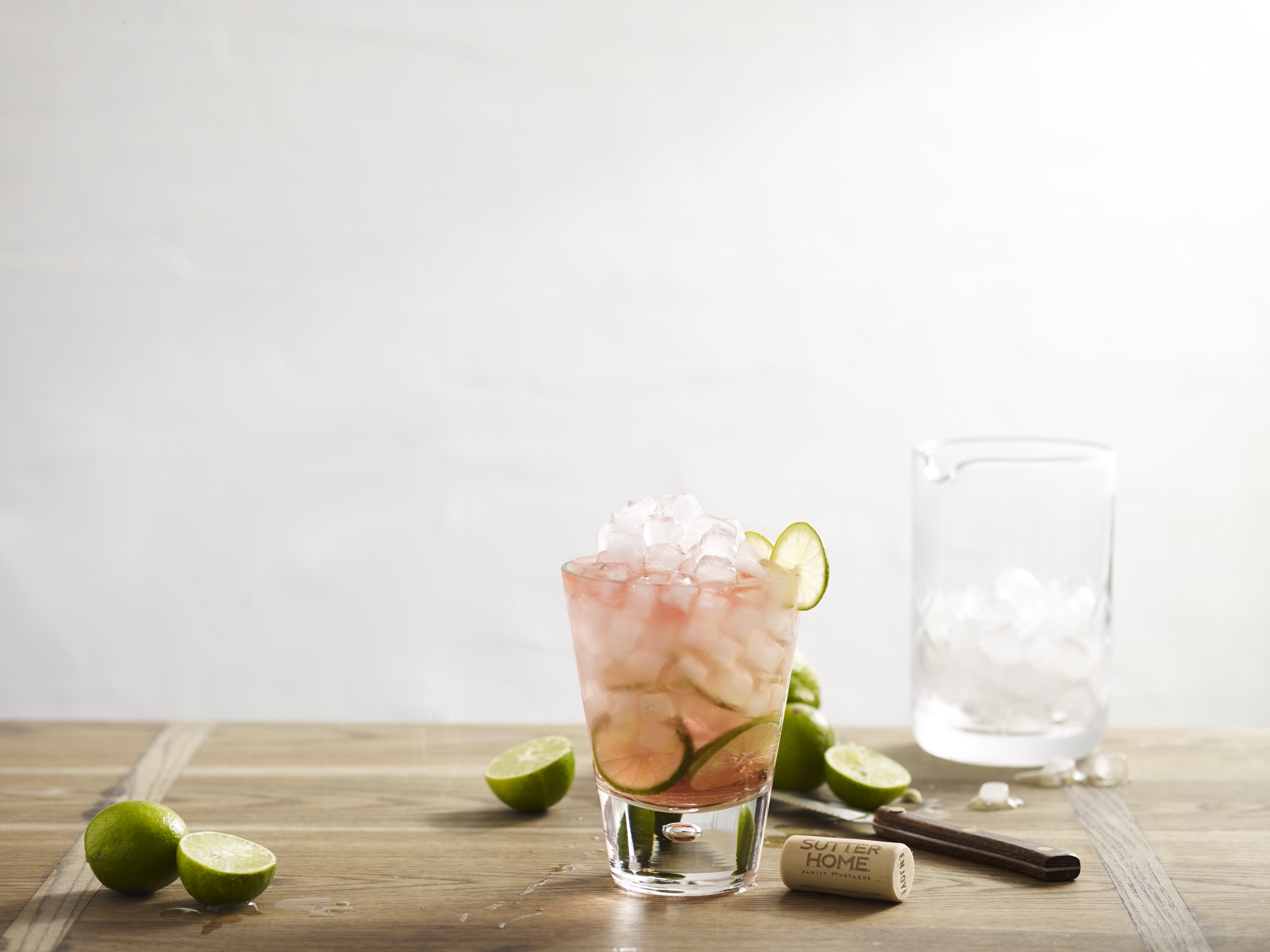 Floral and fruity, Sutter Home's Garden in a Glass is just that: a bouquet of liquors as enlivening on the tongue as blooms are to the nose. This lovely cocktail pairs well with spicy appetizers, making it a perfect offering for an Oscars viewing party.
Ingredients:
2 oz. Sutter Home White Zinfandel
2 oz. elderflower cordial
2 oz. St. Germain
1 lime wedge
Lime curl
Directions:
Fill a tall glass with ice. Add Sutter Home White Zinfandel, cordial, St. Germain and mix gently. Squeeze the lime into the glass, and rub the wedge around the edge of the glass before adding it to the drink. Garnish with the lime curl and serve.

The Prime Minister is a stunning, moody homage to the Oscar-nominated film, the Darkest Hour. Activated charcoal lends it an inky hue and a gentle hint of smoke, which plays nicely with the bite of tequila and the acidity of the lemon. The woodiness of the sage simple syrup rounds the cocktail out and adds another layer of complexity; a fitting tribute to the man for whom it was named.
Ingredients:
1 1/2 parts Hornitos Black Barrel Tequila
3/4 part fresh lemon juice
1/4 part sage simple syrup
1 capsule activated charcoal
Lemon wedge
Directions:
Combine equal parts sugar and water with 3-5 sage sprigs and bring to a boil to create sage simple syrup. Combine all ingredients in a shaker with ice and shake vigorously. Strain into a coupe glass. Garnish with a lemon wedge.
Bold and refreshing, The Publisher's Paloma does justice to its namesake, and would make a perfect counterpoint cocktail to The Prime Minister.
Ingredients:
2 parts Plata Tequila
1 part fresh lime juice
3/4 part ginger sage syrup
2 dashes Angostura® bitters
Top with grapefruit beer (appx. 1 part)
Grapefruit
Sage sprigs
Directions:
Combine equal parts sugar and water with 1 ginger slice and 4 sage sprigs and bring to a boil to create ginger sage syrup. Allow the mixture to cool, combine all ingredients except grapefruit beer in a shaker with ice and shake vigorously. Strain the mixture into a highball glass filled with ice and top with grapefruit beer. Garnish with a grilled grapefruit slice.
If Lady Bird is your pick for Best Picture, celebrate the film by toasting over The Lady. Strawberry, lemon, and seltzer mingle with a singularly smooth tequila. Cristalino's notes of butterscotch, vanilla, and honey make for a playful grownup strawberry lemonade that still demands to be taken seriously.
Ingredients:
1 1/4 parts Tequila
1/2 part fresh lemon juice
1/2 part simple syrup
Splash of seltzer
Strawberries
Directions:
Muddle one strawberry, combine remainder of ingredients except seltzer in a shaker with ice and shake vigorously. Strain over fresh ice and add a splash of seltzer. Garnish with a strawberry.

As plush and rich as the red carpet itself, Del Frisco's jewel-toned margarita makes a worthy liquid tribute to the Academy Awards.
Ingredients:
2 oz. Avion Reposado Tequila
1 oz Cointreau
2 oz POM pomegranate juice
1 1/2 oz sweet & sour
1/2 oz simple syrup
Directions:
Combine ingredients in a cocktail shaker with ice. Shake and strain into a salt-rimmed rocks glass over fresh ice. Garnish with a wedge of lime.