In the mid-2000s, Mark Hunter Aka The Cobrasnake made himself a star by being the kind of guy you'd love to party with. People liked him; he had that oh-so-hard-to-define "positive energy." This good vibe got him invited to the coolest clubs and the best parties in Los Angeles. The term back then was "club kid" and he was an icon of the scene.
Hunter was also a young, aspiring photographer with a digital camera. He began taking pictures and uploading images of his friends online. In this halcyon era, before smartphones allowed everyone to document their wildest nights on Instagram, it was a novel idea. His site exploded with intoxicating images of youth, drugs, and unbridled sexuality. Before we called them social influencers, Hunter was scoring shots of all the beautiful people — models, actors, musicians, and promoters.
The dude took off as a photographer. Literally hit the stratosphere. He launched careers and started trends. He was there, on the dance floor, taking pictures of people like Katy Perry and Steve Aoiki before they were famous. For years, he partied, took photos, and posted them; rinse and repeat.
But eventually Cobrasnake — as he was then known by just about everyone in LA — started to feel burnt out with the lifestyle. He wasn't healthy. Besides, times and technology had shifted. It felt like the party was ending, and he didn't want to be the last one standing alone on a sticky dance floor. Hunter began running and hiking. And he got healthier but he still wanted to be social. He still yearned for a community of cool people, doing cool things without caring about how anyone saw them. He wanted to be on the edge again.
From this idea — party scene meets a passion for health — Hunter created a crew of like-minded people. This time, it was centered around healthy activities instead of nights out. He called it the Cobra Fitness Club, and it immediately started gaining traction. It turns out people wanted to find the fun in the outdoors, they wanted to laugh while running LA's famous canyons, and they wanted a different sort of party.
Hunter may have started his career out documenting parties, but at some point he became the party. He's the draw for 30 people to throw on music and dance up a mountain. Cobra Fitness Club carries a cultish fascination because Hunter draws people in, and makes them feel a part of something. 10 years ago, he was letting the world in on a secret subset of cool kids, letting us peek behind closed doors at the wild nights of the young and the beautiful. Now, he's asking us to come follow him out of the dark clubs into the light. It's a new dawn, as he sees it, and every bit as fun.
I talked to Mark recently about how running, hiking, and getting into shape has affected his lens on the world, and how it has inspired a movement that takes his love of a good party and combines it with working out.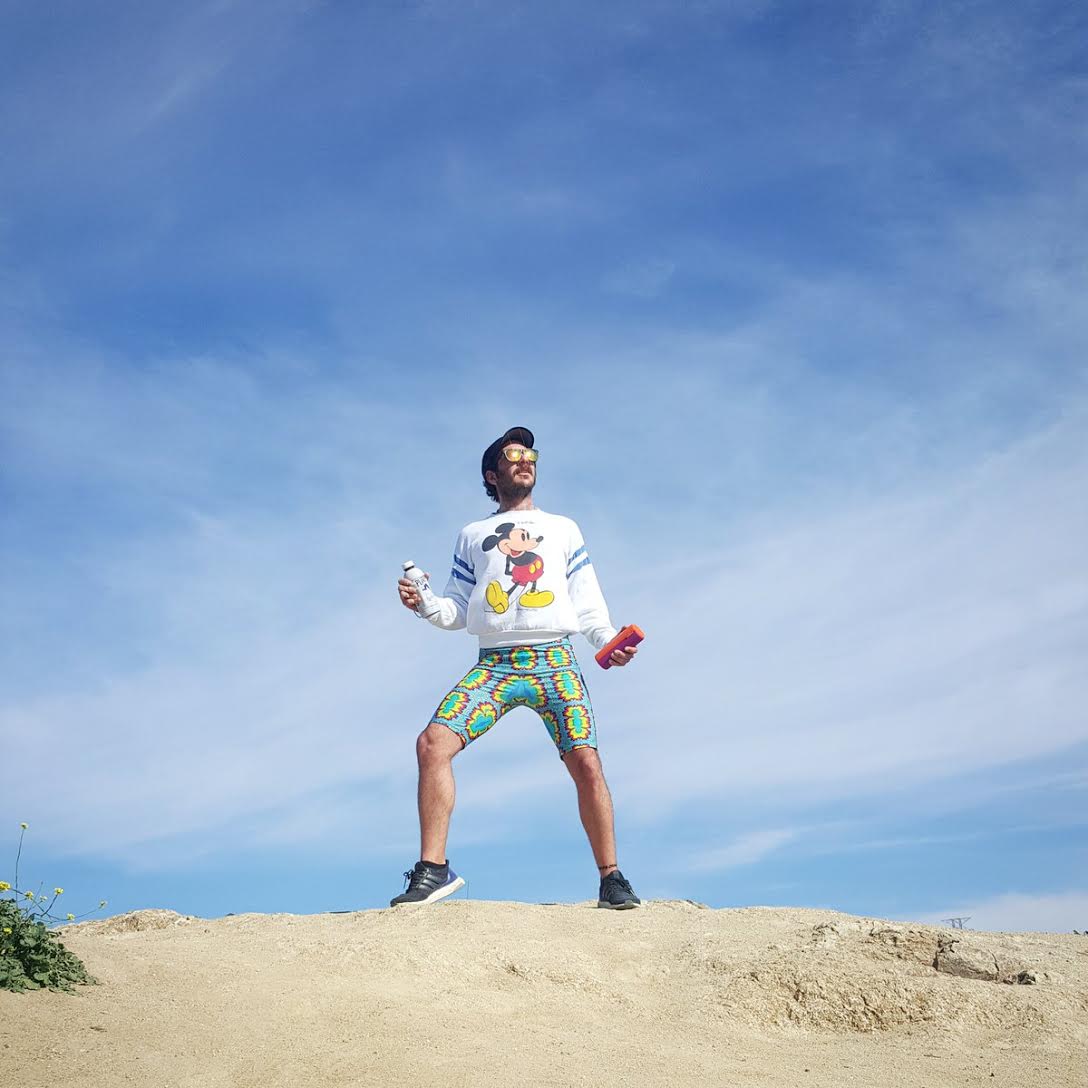 What made you want to start a fitness club?
My background is as a photographer. I was heavy in the nightlife scene, touring with Steve Aoki and Katy Perry and Jared Leto, and traveling nonstop. And after years and years and years of that, I just didn't feel great. And I was wondering why, 'cause I was still young and fun, but my body just wasn't happy. So I decided to push myself to go hiking. I live in LA, and right by Runyon, and so I made that part of my routine, to go up the mountain pretty much every day.
I started feeling much, much better. And looking fresher and happier. And people started noticing. That's what formed Cobra Fitness Club. Other people felt the same way that I used to feel, or were in good shape and the idea of working out with friends was really fun.
I was coined the "hipster Richard Simmons" because I like to inspire other people to have fun while they work out. I wanted to flip things around and make (working out) more about socializing and taking fun photos without being all hardcore and aggressive.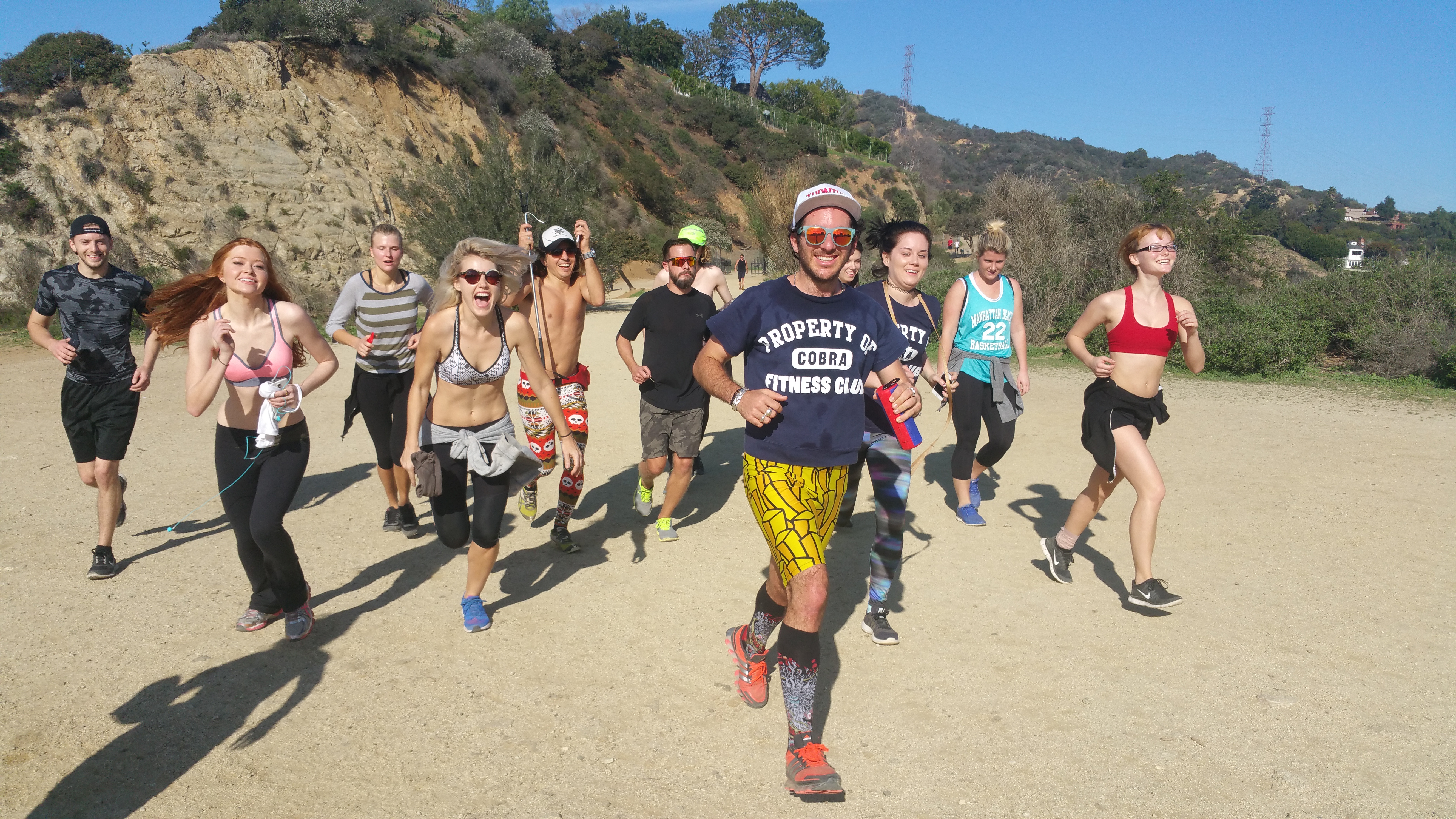 There's a sense of irreverence and humor in your posts about the club that definitely comes through. Do you feel like your previous life of photographing people partying brings spontaneity to the project? How have you infused that clubbing spirit into your workouts?
We try to have a party on the mountain. And the whole thing is that I'm inviting people that I meet through my profession as a photographer, so that's models, stylists, and other creatives. Those are all really fun people. So when you mix them together, you end up with a really good energy. And then we play music and jog up the mountain. We're very free-spirited.
And it just makes up the content, too, because people are climbing to reach the top of a mountain, and when they do, they're ecstatic. I capture that. We have so much fun taking those photos. I'm in the process of relaunching my own website, The Cobra Snake, and then also, the Cobra Fitness Instagram, and just posting endless content of these experiences.
Things have really changed in terms of how we consume social media since you started out posting club pictures. How does everybody being able to take their own pictures, and everybody having an Instagram account change how you approach social media? Do you ever feel like, "I need to back off of this?"
I still don't know how I feel. I'm pretty reluctant, because, and I'm not the only complaining about this, something about Instagram just isn't right. You look at your analytics, and it says the reach of your image is only a small fraction of your followers. And it's dumb because those followers want to see your content. I didn't buy a single follower so I have 90-something thousand people, and a photo might only reach 20,000 of them. And that's not really cool, because you're trying to build on that platform.
That's why I'm actually trying to bring back the blog and make it more about my own website that I control. You see a lot more content, and it's not so much about the likes and the comments. It's just about looking at the beautiful photos.
So I'm stoked on that. I think that you can't avoid social media, and it's a great tool. I owe a lot to Instagram, but at the same time, I really … I don't spend much time on it personally.
There's an article I read about your photography in the mid-2000s where you were saying how at that point in your life you were documenting the scene, but also, through that documenting, inspiring culture.
As you move into this space of healthy living, do you feel like you're inspiring a new kind of culture?
I do. Because I personally don't relate to many fitness icons out there. I'm not in the best shape, but I'm in great shape. People don't want to be told, you need to have a six-pack, and you need to shave your chest and be tan. There are other physiques. I can still run far, and I can still have fun. And so people relate to me in that way.
And then they also love that I'm making a movement where it goes beyond just me and having to work out with me. I want people to know that they can do this in their own communities. And it's about just getting outside. Because we're stuck on our phones and computers and our desk jobs. There's so much if you just go outside.
But there are a lot of models in your fitness club, and a lot of people whose job it is to have that "magazine ideal" body. How do you encourage people of all sizes to join in?
All fitness levels welcome. My mom sometimes comes! But in terms of the photographs, it's just if they want to be photographed or not. And I will feature those people. But a lot of the time, they want to be more private, and I respect that. In group photos, and the big hikes with 20, 30 people, you'll see all shapes and sizes. And I want everyone to come. I want to be able to transform them. And I want to inspire them. 'Cause you just need a little bit of a push.
I remember, it was hard for me (at first). I didn't feel great. I didn't want to go work out. And I definitely didn't want to be social. But then, it's those things that hold you accountable. You know that you have to come because you'll let people down if you don't show up. My own story is that I lost close to 30 pounds.


I used to live by Runyon, too, and I started walking up it every day a few years back. And you do transform, and you do it in a way that, I think is sneaky, because it is so enjoyable. And you have those beautiful views at the top.
And the sun's getting out and feeling that sun on you is so important. The fresh LA air. And then the beautiful doggies on the mountains. And if you're not near Runyon, there's Griffith Park, and if you're not on the east side, there's beautiful hikes by the beach. There are endless mountains in LA, which are so special.
Going back to the club scene you were so a part of, and connecting it to this new health fitness scene, do you find that you're drawn to or inspired by things that relate to music? How are you blending fun music with working out?
Yeah. I pride myself on the music I play. I try not to play all the most obvious new Drake songs, but every once in a while, I will. But then I always have some throwbacks.
I think that music brings us together. Like the fast-paced beats that you'll hear at a rave work great for running. And so I play songs that I remember listening to in the clubs back in the day or new Steve Aoki music that gets us going wild. It makes it really fun. And you have the social element which is so key. There are people that became boyfriend/girlfriend through our crew, or boyfriend/boyfriend or just friends, even. All types of relationships have formed. And they hang out outside of the hikes and the workouts. So that's really cool, too. You're just around a lot of nice, like-minded people.
I hosted a workout today at this place called Training Mate, and the instructor was like, "Wow, this was a really cool group. Everyone was friendly and fun. Usually when we do these things, sometimes people have attitude or an ego."
And so, I really don't let those people work out, 'cause that's not what it's about. You might be with this Instagram superstar, but she's going to be sweet. Or there's going to be a sexy dude, but he's going to be a nice sexy dude, and not a douche.


You're curating an atmosphere as well as a lifestyle in your workouts. So, what would you say are the three songs that are really motivating you right now?
I like All Stars. That's Martin Solveig. It's in Pitch Perfect 3, and I admit it, I saw that in theaters.
And then a current radio hit…I love Freaky Friday, Lil Dicky and Chris Brown. I was just doing the Nike 10K over the weekend, and that song really helped me stay on pace. And be motivated. And it's a fun track, even if it's not Friday. And then Africa, by Toto is a beautiful, beautiful song I play, coming down the mountain. You're celebrating your accomplishments, and you just can really feel and touch that vibe.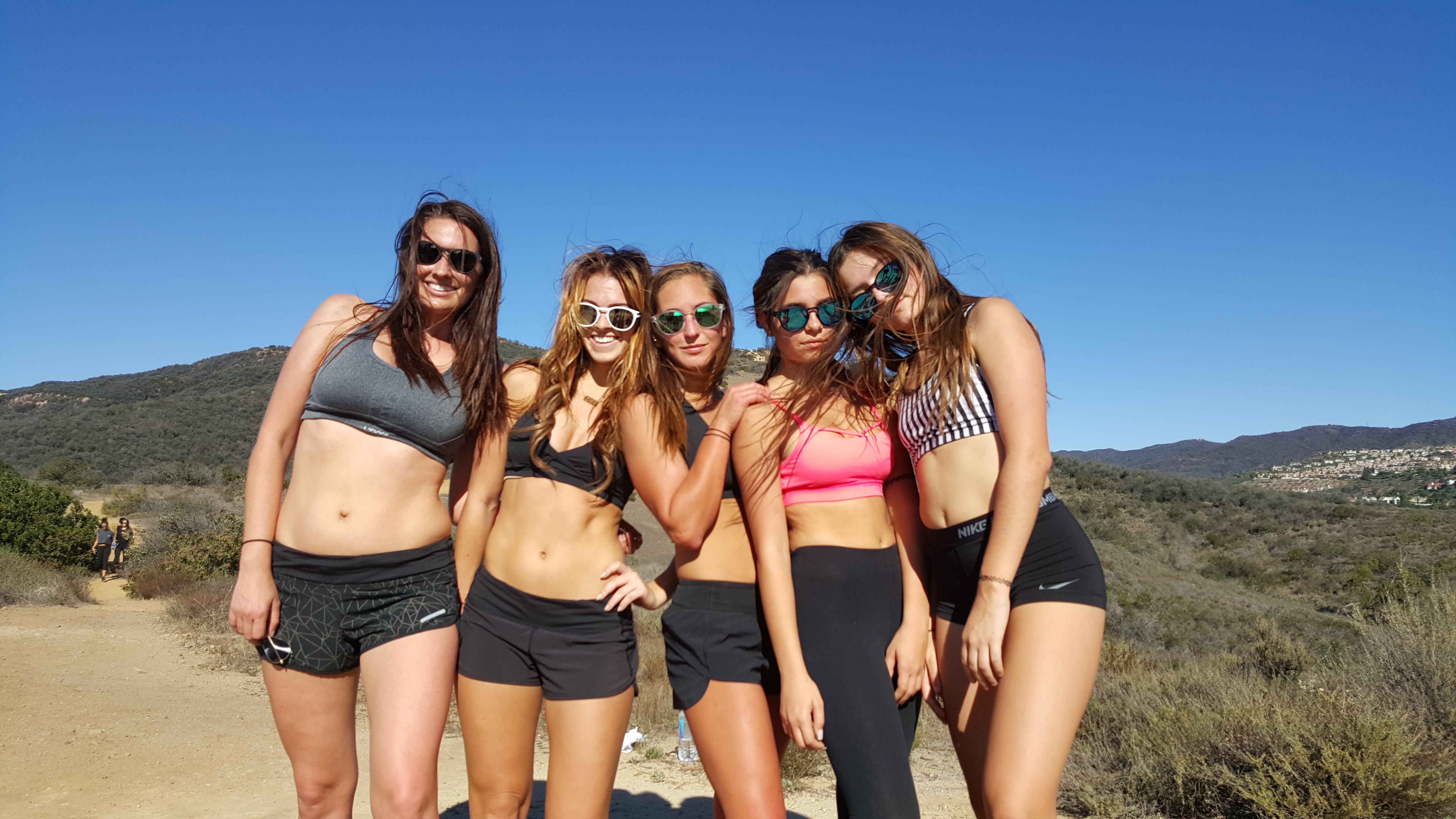 How do you feel like your photography has evolved as your life has?
I never liked to set up my photos in clubs. I liked to let what's happening, happen, and document that. And so I still do that. If I'm on a commercial job, working for a big, fancy client, I still will just create an atmosphere and a playground for the talent, and then shoot them. I don't really try to tell them what to do. It's the same when we're working out. We're climbing a mountain, some people are going to struggle, and that's going to be the photo I capture. Some people are going to burst up the hill and do a flip when they get to the top, and I'll shoot that. I really like to let everything happen really organically.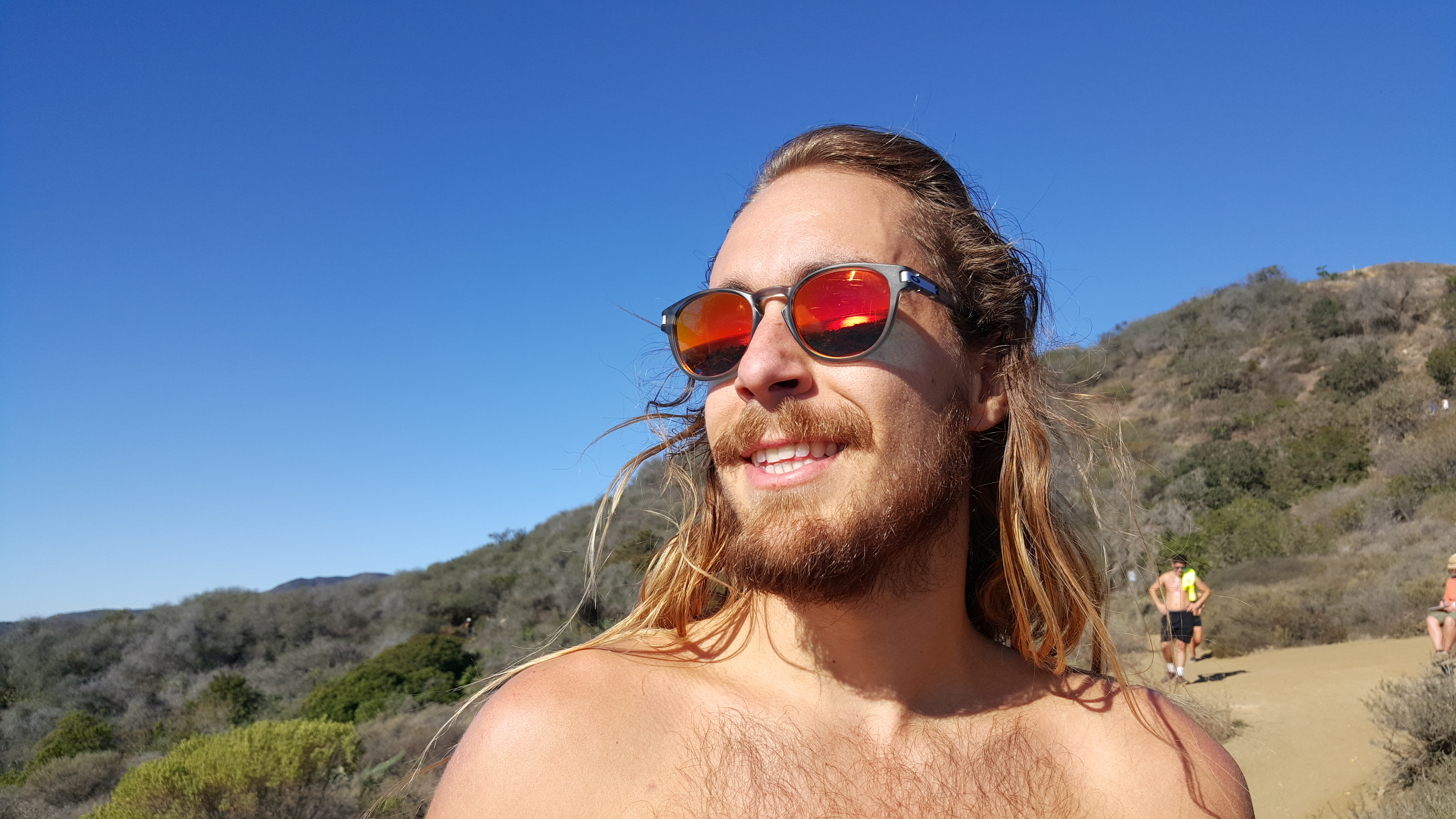 How do you embrace the next era of your life? I think that there could be a sense of sadness, where you're like, this era of my life is over. The world has changed. I don't feel good partying anymore. How did you find enthusiasm for this next thing?
So, there's a saying that I didn't make up, "Health is wealth". And no matter how successful you are or how hard you're working, you have to take care of yourself. And that's key. So for me, it's being able to celebrate it and make it something that I enjoy. People laughed at me when I said I was going to make a career out of shooting party photos. And I did it for over 10 years, and I'm still known from that. I proved everybody wrong.
And I think with fitness, I'm going to do the same thing. I'm going to be able to create this niche that doesn't really exist. And it's this irreverent, fun thing.
We might not have the fastest time, but we're going to have the best time. When I go to a half marathon with some of my crew, there are these other guys that are just trying to get first place. And that's not us. Yeah, we're going to try hard, but we're going to have fun. So that's really where it's different.
I'm bringing that sort of next-level party lifestyle into this healthy lifestyle, it's still going to be fun, and we can still listen to great music, but we're going to be sweating and drinking water instead of vodka.
You can follow Cobra Fitness Club on Instagram or on their website to get information on upcoming events and see pictures of their adventures.