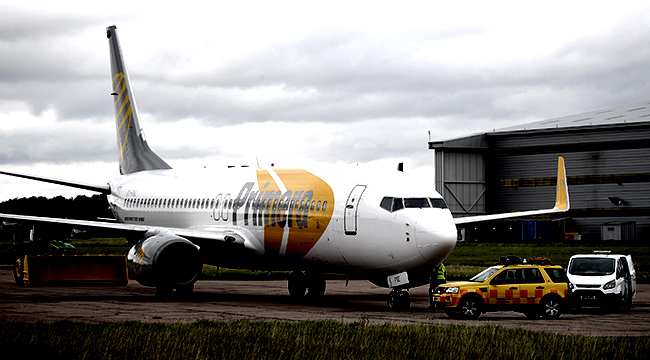 Last night, Primera Air employees from the head offices to airport staff walked away from their posts mid-service. The budget airline announced that they were letting go their entire staff, shutting down all customer service, and canceling all flights. Just like that, within mere minutes, an entire airline ceased to exist. 60,000 have been stranded on Primera's routes — which stretch across Europe and into Canada and the United States. It's a disaster for travelers.
Primera Air started gaining traction recently with the announcement that it'd be expanding service between East Coast cities in America and various European capitals for the dirt cheap price of $99 each way, basically giving carriers like Norwegian and Wowair a run for their money. All of that seems to have been a pie in the sky bolstering to cover up the fact that the airline was broke and falling into more debt every day. This led to crew walking away from idling planes and airport staff literally hitting the cancel button on flights and straight up walking away from passengers waiting to board those flights.
This also means cabin crew for Primera Air have been stranded abroad as their lift home is no longer flying.
Sadly, this isn't that crazy of a reality. Just last year, Monarch Air folded in a similar fashion and stranded hundreds of thousands of passengers away from home. In that instance, the British government had to step in to repatriate over 100,000 passengers back to the U.K. It was the largest government-led repatriation since World War freakin' II, making the biggest ever peacetime event of that sort. So, yeah, this shit can get very serious very fast.

If you've been stranded by Primera Air somewhere in Europe, Canada, or the United States (or you've already booked tickets with the airline), is there anything Primera Air can do for you? The short answer is going to sting because it's a hard no.
In the end, this might seem like something happening far away. That's fair. But, it's important to remember that American budget carriers like Frontier, Spirit, and Allegiant are on the ropes too with tell-tale signs no different than Monarch, AirBerlin, or Primera. Not to mention both United and American Airlines are in pretty rough shape. However, airlines that big usually end up being swallowed up by other big airlines and not collapsing to the point where crew and staff have to walk away. Virgin America becoming part of Alaska Air is the most recent example of this.
The lesson here, airlines come and go, so buy travel insurance before you fly if you want more security to avoid getting stranded.
(Via The Guardian)