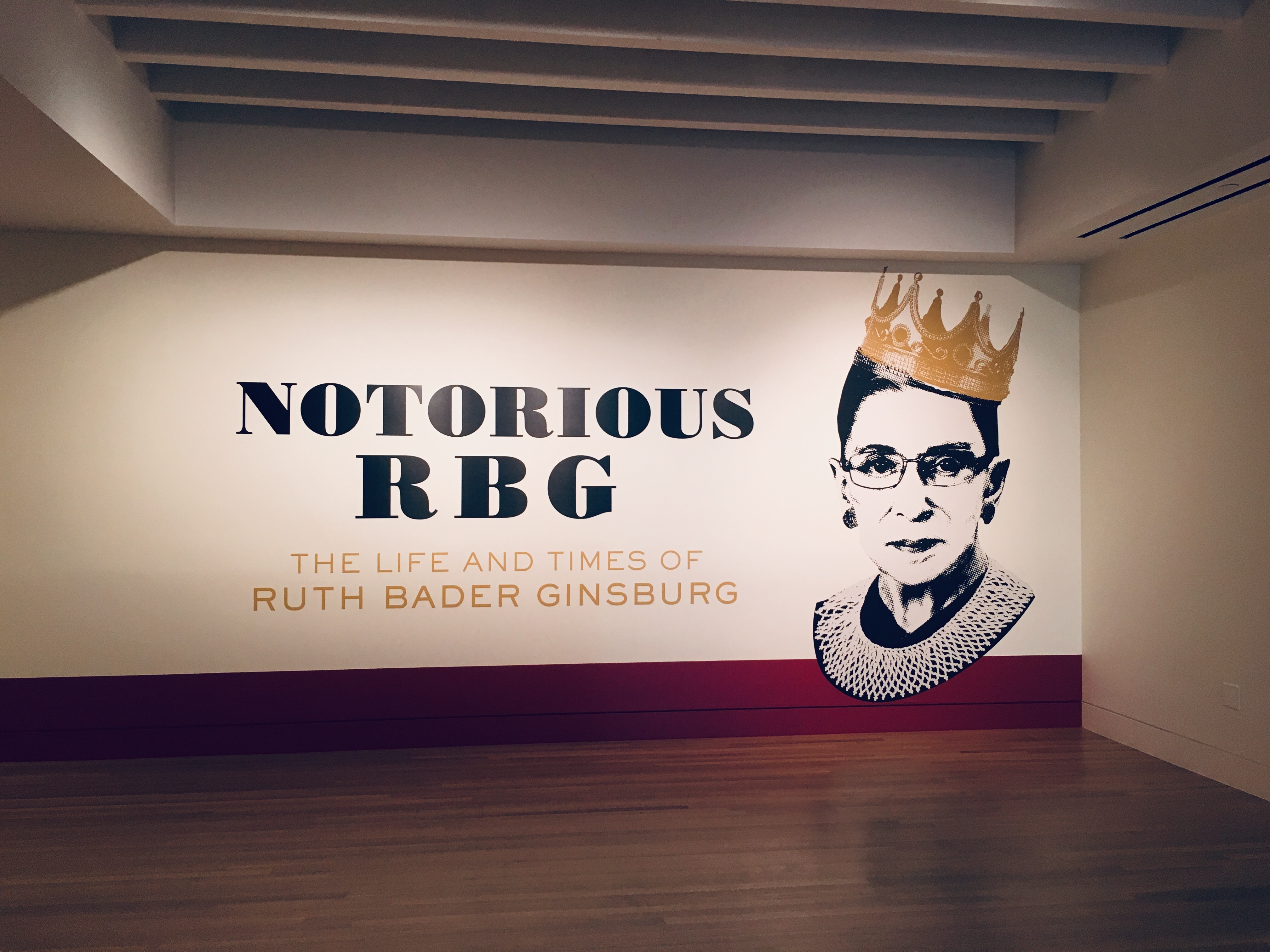 Supreme Court Justices are rarely described with words like "badass" or given their own action figures. In fact, the American electorate goes through most days not really thinking about the Supreme Court at all. In 2018, C-SPAN conducted a survey that found that 52% of likely voters could not name a sitting justice. But of those few responders who could, Justice Ruth Bader Ginsburg topped the list. It wasn't even close.
In the same survey conducted by C-SPAN, the second most well known Supreme Court Justice was Clarence Thomas. If that survey was conducted today, the #2 spot would undoubtedly belong to Justice Brett Kavanaugh. Meaning that two of the top three most widely-known Supreme Court Justices have had accusations of sexual assault or harassment leveled against them. The other is a badass feminist icon with a workout routine and a staggering amount of merch. So how did this happen? Why do the American people know so much about Ruth Bader Ginsburg without a single scandal to her name?
The answer is due, in part, to Tumblr. In 2013, Shana Knizhnik — then an NYU Law student — started a Tumblr by the name of Notorious R.B.G., a tongue-in-cheek reference to another Brooklyn born icon, Biggie Smalls. Inspired by Ginsburg's fiery dissenting opinion on the Supreme Court case Shelby County v. Holder, which was responsible for striking down a portion of the Voting Rights act, Knizhnik's Tumblr focused on the achievements of the Justice in a way that appealed to the meme-centric users of the blogging platform. She retranslated Ginsburg's important opinions through a rebloggable pop-culture-friendly lens.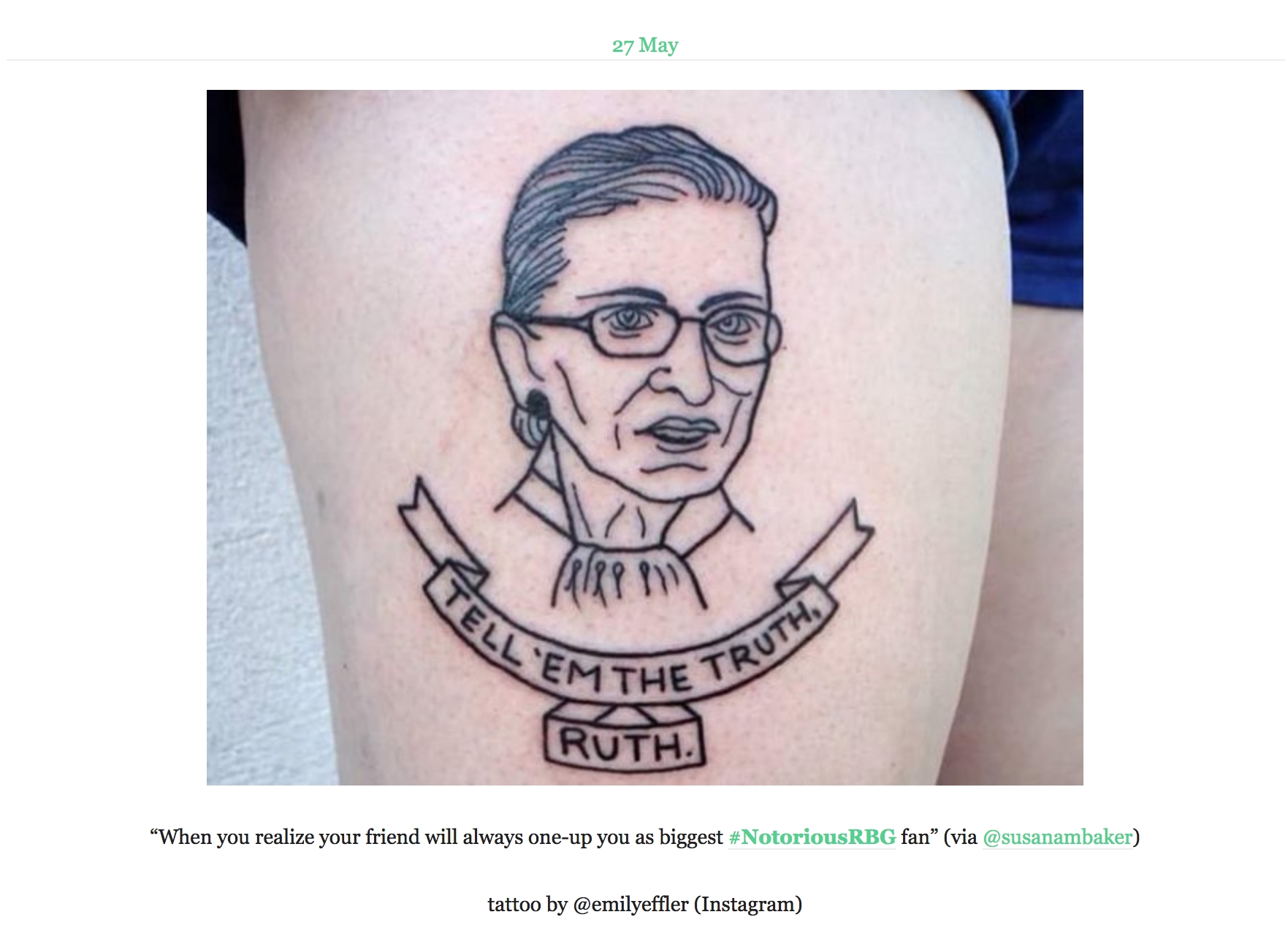 Since those halcyon days, Knizhnik and journalist Irin Camron have authored a New York Times bestselling book about the justice's life. Now, with the help of the Skirball Cultural Center in Los Angeles, there's a museum exhibit of the same name — "The Notorious RBG: The Life and Times of Ruth Bader Ginsburg."
Coinciding with the 25th anniversary of the justice's appointment to the court, the show works as a retrospective of Ginsburg's life in and outside of the courtroom. Through the use of archival photographs, documents, contemporary art, and interactive exhibits, it offers a visually rich look into who Ruth Bader Ginsburg is. It helps to highlight that a judge is not simply defined by how they conduct themselves in the courtroom, or the judicial decisions they make. They have an entire lifetime of experience and circumstance help to inform how they understand the constitution (and this, naysayers, is why Kavanaugh's past is so problematic).

The exhibit greets you with a portrait of Ginsburg, her signature lace jabot in the frame and a tilted crown on her head, recalling Biggie's most iconic photo. It's a simple image but it captures what makes this exhibit work so well. We know Ruth Bader Ginsburg is important — she sits on the Supreme Court after all — but putting her image in a hip-hop context immediately conveys to the viewer that RBG is a f*cking boss.
From there the exhibit takes on a chronological flow, peppered with photographs and contemporary art, ensuring you aren't ever too bombarded with information — a welcome respite for visual learners. Unfortunately, the Skirball Museum doesn't allow photographs within the exhibit, except at two photo-friendly stations. The first of these, below, is a collection of images in Ginsburg's silhouette.
The Biggie connection is about more than just imagery and name. Each section of the gallery alludes to a Big Poppa lyric or song title, adding continuity and cohesion to the comparison. It's quite thorough and if you stop to read everything, you'll find yourself at the exhibit for well over an hour.
Eventually, the collection of photographs, some of Ginsburg's most famous dissents, and recreations of significant spaces in the justice's life lead the viewer to the far more fun second photo station. It's a recreation of the Supreme Court, complete with a collection of robes of varying sizes — allowing guests to cosplay as the notorious RBG herself.
Trust me, I tried like hell to get a photo, but the number of people trying on robes and posing for their own photos ensured that that wouldn't happen if I planned on beating rush hour back home. This lady has the kids hyped.
While photos weren't allowed in the rest of the exhibit, the museum gift shop kind of works as its own mini-art show. Coffee mugs, graphic tees, magnets, action figures, a book detailing Ginsburg's workout routine, and all sorts of other weird and wonderful RBG memorabilia can be found for purchase. The fact that it exists in such quantity assumes some level of demand, which is fascinating because… again, we're talking about a justice of the Supreme Court.
Ruth Bader Ginsburg has to be the only Supreme Court Justice with breath mints and refrigerator magnets. (Though the MAGA-crowd is sure to print 'I like Beer' drink cozies soon enough.)


At its heart, while the Skirball's exhibit focuses on just one Supreme Court Justice and the tremendous life she's lead, it also helps to highlight the importance of the Supreme Court as a whole. Delving into the lives that help to inform the decisions made by our justices is something we need more of going forward, it helps to encourage civic engagement and, by proxy, it interests us in the constitution.
Take it from a person who frequently nodded off during history class, we need to find a way to make important information more engaging for a youth that is defined by a media ecosystem that overwhelms us with a constant barrage of controversy, entertainment, and trivial bullshit. You can sit on your high horse all day and say that we "ought to know" about the justices on the Supreme Court. Sure, but if you want people to truly care, engagement is the key. Not belittling people who are more likely to open Tumblr than they are a newspaper.
The Notorious RBG exhibit succeeds in engaging an audience through reference points and means that they can understand, and that's something that deserves no dissenting opinion.
The Notorious RBG: The Life and Times of Ruth Bader Ginsburg is running from now until March 10th, 2019 at the Skirball Cultural Center in Los Angeles.