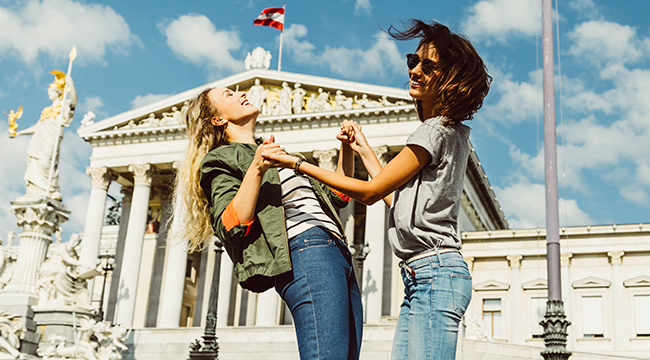 No matter how awesome the city you live in is, there's always going to be a downside. A frustration that is dreadful enough to make you consider ditching it for a "better" place. Driving in LA, winter in Chicago, a crowded New York subway in the summer (which is bad enough to make you question why cities are a thing we choose to live in at all) — these challenges seem to make your daily life a little worse. You begin to wonder, "Is there a unicorn-like city out there that's perfect for me?"
Thanks to Mercer's annual ranking of cities with the best quality of life, we now know which metropolises might really be almost perfect. They've used rigorous metrics to identify the best cities to live in worldwide and *SPOILER* an American city didn't even make the top 30. As a little background, Mercer is a global consulting company that analyzes health, wealth, and career solutions. Their annual ranking on the quality of life of cities worldwide is determined by 10 factors which include a city's recreational opportunities, housing, economic environment, consumer goods availability, public services and transport, natural environment, social-cultural environment, education, health care, and a city and country's political and social environment.
Just reading those factors seems to explain why American cities aren't ranking highly. So get your work visas ready and start planning an escape. Here are the top ten most liveable cities on earth!
10. Basel, Switzerland
If you've ever been to Art Basel in Miami then you have this beautiful little city to thank — the art fair originated there and then added global locations. Along with great culture, Basel has an amazing beer and food scene, and with 300 days of sun a year, it's a great place to stave off Seasonal Affective Disorder and the cheery vibes are literally palpable on the street.

9. Geneva, Switzerland
Geneva is another city that's hard to argue with. There's a beauty to the place that'll take your breath away. The lake, Alps, cobbled streets, and colorful houses all make this city very intoxicating. Add in easy access to open space that's lush and clean and you've got a great place to live.
8. Copenhagen, Denmark
Copenhagen is built to make sure you live a good life. The blend of sea air, amazing food culture, and liberal ideals make for a pleasant place to live your best life. Every corner seems to have a park for lounging and watching the world go by with a fine beer in your hand, a spliff between your fingers, and a smile on your face.
7. Frankfurt, Germany
Frankfurt may not have the beerhall draw of Munich or the crazy party atmosphere of Berlin but it still rocks. Germany's financial capital is easy to get to and well put together. Life is easy. The beer is cheap. The food is plentiful and comforting.
6. Düsseldorf, Germany
Just down the road from Frankfurt sits another great German city. Düsseldorf is a hub for all things German with great beer bars, huge plates of comforting pork, and plenty of parks to walk off all those calories.
5. Auckland, New Zealand
New Zealand feels like a dream. It's far away, has postcard-perfect vistas, and there's never a pub too far away. The city is clean, green, and easy-going, making this place a pretty big draw that might just hook you for life.
4. Munich, Germany
Munich is a beautiful city. The old-school architecture, massive beer gardens, huge city parks, great public transportation, and general safety all add up to an easy (and fun) place to visit and maybe even live. Plus, there's a spot in the city where you can catch a wave if you have a surfboard with you. That's a win.

3. Vancouver, Canada
Vancouver is another breathtakingly beautiful spot. Huge, craggy mountains rise up from the sea with a city sitting in between. Vancouver has a fantastic mix of food cultures, architecture, and style. It's the sort of place where you can spend the morning skiing some of the best slopes in the world and then hit a beach after lunch.
2. Zürich, Switzerland
https://www.instagram.com/p/BvAC4E7HTq9/
We're back in Switzerland for number two. Zürich is idyllic. Surround by pristine Alpine peaks, punctuated by church steeples, built around living a good life, Zürich really has it all. The public transportation is comprehensive. The food scene is one of the best in Europe. It's very easy to fall in love with this place and want to spend the rest of your days there.
1. Vienna, Austria
Take everything great about the previous nine entries and apply them here. Vienna kind of has it all. Public transportation, check. Great food and drink scene, check. Access to gorgeous Alpine nature, double check. Easy-living city, but of course. Vienna feels like a dream that you don't want to wake up from.
***
From the looks of it, Germany and Switzerland have a lock on the whole quality of life thing, with both countries snagging three spots in the top 10. If you're curious what about which American cities ranked highest, San Francisco and Boston ranked 35th (obviously rent wasn't a factor), followed by Honolulu at 37th, New York at 44th, Seattle at 46th and Chicago at 49th. Los Angeles didn't land in the top 50 which, considering you have the beach and near perfect weather year round, must mean they found some serious negatives in the other categories.
Check out the rest of the top 25 below, or check out Mercer's ranking to see the full 231.
25. Oslo, Norway
24. Stockholm, Sweden
23. Nuremberg, Germany
22. Montreal, Canada
21. Perth, Australia
20. Hamburg, Germany
19. Ottawa, Canada
18. Luxembourg, Luxembourg
17. Melbourne, Australia
16. Toronto, Canada
15. Wellington, New Zealand
14. Bern, Switzerland
13. Berlin, Germany
12. Amsterdam, Netherlands
11. Sydney, Australia
10. Basel, Switzerland
9. Geneva, Switzerland

8. Copenhagen, Denmark
7. Frankfurt, Germany
6. Düsseldorf, Germany
5. Auckland, New Zealand
4. Munich, Germany
3. Vancouver, Canada
2. Zurich, Switzerland
1. Vienna, Austria