With airplane bathrooms getting smaller, the US travel industry losing jobs and money hand over fist, and free checked luggage (even internationally) going the way of the dodo, we all need some good travel news. This week Brazil provided a pinch, by making it easier to visit the land of wild jungles, stunning beaches, and sprawling cities.
As of yesterday, Americans will be able to apply for and receive a Brazilian visa online, cutting out expensive trips or postage to Brazilian consulates around the USA. To add a very sweet cherry on top of this sundae, the Brazilians have also lowered the tourist visa fee for Americans from $160 to $40. Trust us, an extra $120 goes a long way in Brazil.
The reason for this move is that Brazil's tourism industry has slowed, especially when it comes to American tourists. According to the ABC News report, American tourist numbers fell from 675,000 in 2014 to 570,000 in 2016. Keep in mind, Brazil hosted the Olympics in 2016 and still drew fewer Americans than previous years, when Brazil was on everyone's hot list. ABC notes that continued high crime and the Zika outbreak are the main culprits at play in the dwindling numbers. While those reasons square with reality, Zika is retreating (and a threat in the United States as well).
The head of Brazil's Ministry of Tourism told the Associated Press that, "Tourism became part of the economic agenda just a year and a half ago" which coincides with the country's decrease in backpacker popularity. With this new push comes additional investment — expect to see a lot more of Brazil in Instagram feeds, commercials, and Facebook ads.
With this news in mind, we thought we'd put together a visual tour of some of our favorite regions and places in Brazil that 100 percent deserve your attention in 2018.
BAHIA
Brazil is a massive country. It's basically the size of America without California. So, there's a ton to see, with variation around every corner. A great place to start with Brazil is Bahia.
Much of the tourism industry in Bahia is centered on the beaches of Salvador and little hamlets like Porto Seguro because those places (and everywhere in between) are postcard beautiful. Salvador famously hosts an old-school carnival every year that amps the party up on the streets and brings a throwback authentic feel to the whole affair.
Around Bahia, a tourist can find everything from swanky beach resorts to thatched-roof huts, available for every budget. The food is meat and fruit-centric and always cheap. And the parties are second to none. It is Brazil after all.
AMAZONAS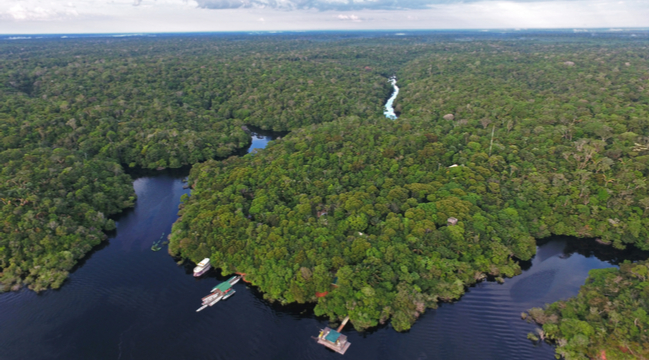 Taking on the Amazon isn't for the light of heart. It's a dense jungle full of snakes as long as a city block and uncontacted tribes fighting for survival. It's also the focus of much of Brazil's food revival, as legendary chefs like Alex Atala remix the old world of indigenous Amazonas with the new world ways of modern cuisine.
Grab some Joseph Conrad and head upriver, deep into the heart of the Amazon. Adventure awaits. Just don't go all Kurtz on us.
MINAS GERAIS
Next to the picturesque beaches of the Bahia is the mountainous region of Minas Gerais. Many of the villages you'll find here were once colonial mining towns that have been preserved as relics of a bygone era. There's a mystical quality to these mountains. At the center of it all is the state's capital, Belo Horizonte. It's a massive cosmopolis that's teaming with food, drinks, love, and adventure.
Don't sleep on the central market. You can spend the whole day there popping into curious shops, eating amazing food, and sharing a beer or two with the locals.
SAO PAULO
Focusing in a bit more, hitting Sao Paulo is a must for any city-loving globetrotter. It's also probably the easiest spot to fly directly to in the whole country.
The city is a megapolis of pale high rises, motley graffiti, tavernas teeming with travelers and locals alike, and an abundance of vibrant life. You can get lost here in the concrete canyons and quiet cafes. And that's a good thing.
RIO DE JANEIRO
Rio has a very different vibe than Sao Paulo. Whereas Sao Paulo trades in class and big city attitudes, Rio takes the passengers seat and lets all that slide by the wayside. The city itself is shockingly beautiful from a natural perspective. Black streaked rocks plummet into azure seas with idyllic sandy beaches brimming with impossibly beautiful people. In between are cafes, bars, galleries, slums, resorts, hostels, restaurants, and art that make this one of the best cities this planet has to offer.
Don't miss a night out feasting and drinking in Lapa and then spending the next day on the beach nursing a well-earned hangover.