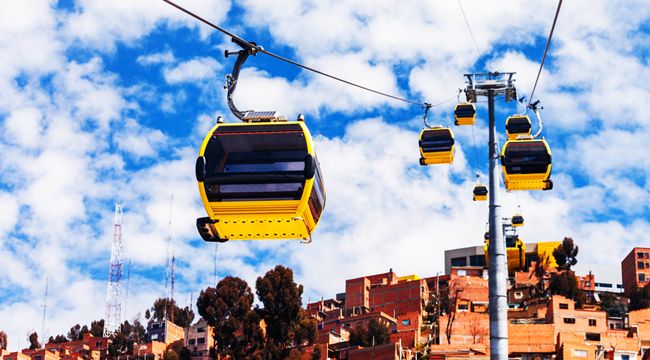 Traveling to exotic destinations can be a life-changing experience. The memories you make while trekking the world with friends and family will last you far longer than a flatscreen. On top of just getting to see new places, travel can also immerse you in a culture you might not otherwise have ever had a chance to understand. It's truly transformative.
The only problem is — unless you have a limitless supply of cash — your options can sometimes feel limited. Plane tickets across vast oceans will slice into your budget (unless you can get a hot deal). Hotels seem to be getting more and more expensive every passing year. Plus, once you're on the ground, you still have to pay for food and drinks and excursions. What's the point of going somewhere just to eat granola bars?
The money adds up quickly. Luckily, the fine folks at Lonely Planet are here to help with their "Best Value Destinations To Visit In 2018." Check the top ten out below.
Tallinn, Estonia
The capital of Estonia might not seem like your dream vacation. But, the largest city in the country, situated on the shores of the Gulf of Finland, is full of breathtaking medieval architecture as well as museums, cathedrals, markets, and restaurants.
The best part is this city-on-the-cusp is easy to get to with cheap flights from Stockholm, St. Petersburg, Riga, and many other European capitals.
Lanzarote, Canary Islands, Spain
One of the most exotic places on earth, experienced travelers have been visiting Lanzarote for years. Even with the increase in tourism, hotels, food, and attraction prices have not yet caught up to those of mainland Europe.
While on the islands, be sure to take in the unique and breathtaking rock formations at Los Hervideros and the out-of-this-world scenery at Parque Nacional de Timanfaya. It's a hiker's dream that will make all of your Instagram followers swoon with jealousy.
Arizona, USA
The first US location on this list, Arizona is perfect for the budget-traveler as it's full of classic roadside attractions and reasonably-priced motels. It's also brimming with hiking trails for all levels from beginner to expert. While there, be sure to visit Saguaro National Park and definitely don't forget to stop by the South Rim of the Grand Canyon.
If you want something a little tamer, the state is also home to many spring-training sites for Major League Baseball teams and Scottsdale is full of world-class golf courses.
La Paz, Bolivia
The highest capital city in the world, La Paz sits between 3,300 and 4,000 meters above sea level. So, you're pretty much guaranteed to get a great view wherever you are in the city. La Paz is a history-driven tourist dream — full of 19th-century churches, pre-conquest museums, and myriad markets.
One of the most budget-friendly cities in South America, La Paz has many high-quality restaurants and boutique hotels with prices still far below their South American counterparts.
Poland
https://www.instagram.com/p/BP2yOTRlu9i/?tagged=krakowcitycenter
While the rest of Europe seems to be getting more expensive to visit every year, somehow Poland has managed to stay far below the average. Krakow is the obvious choice with its historic City Center, countless cafes, markets, and shops. Warsaw is no different as it seems food and drinks, hotels, and attractions in the whole country are much more inexpensive than popular European destinations like Prague, Munich, and London.
Essaouira, Morocco
Morocco is definitely an up-and-coming destination for adventurous travelers. The problem is that most people stick to Marrakesh because they don't know any better. If you're in Marrakesh, Essaouira is a short day trip. But, now you don't even have to start your journey in the country's capital as there are cheap direct flights to Essaouira from Britain and France.
This affordable port city boasts a combination of Portuguese, Berber, and French architecture, open air markets, and nearby picture-perfect beaches.
https://www.instagram.com/p/BfX87taHfPI/?taken-at=331315
United Kingdom
https://www.instagram.com/p/BfbRLDDhHI1/?taken-at=215088470
When you think of budget-friendly travel, you probably don't immediately think of the UK as London is one of the more expensive cities to visit in Europe. But, with the weakening of the pound because of Brexit, the time is right to visit other UK cities like Cornwall, Devon, York, Edinburgh, and Glasgow.
Baja, California
The Baja Peninsula is the second-longest peninsula in the world (the first is the Arabian Peninsula). Getting there from the US is quite simple and budget-friendly as you can drive from California and don't have to pay for airfare. The booming Valle de Guadalupe wine region is like a trip to Sonoma or Napa with the addition of Mexican food and culture, for a lot less money.
Drive further south and you'll run until countless small, authentic Mexican towns with affordable lodging and restaurants.
https://www.instagram.com/p/BfbnLHUn3dW/?tagged=bajacalifornia
Jacksonville, USA
This northern Florida city is more than just home to the NFL's Jaguars. It's also home miles of beaches, great food and drinks, and live music. The city is known for it's cheap hotels, amazing barbecue, and booming craft beer market.
Also… #SpringBreak.
https://www.instagram.com/p/BfbgAUGApXe/?taken-at=214027650
https://www.instagram.com/p/Be_2AFnlMvz/?taken-at=472970
Hunan, China
Hunan's tourist sites include Zhangjiajie National Forest Park, one of the most breathtaking places on earth with over 200 strange tower-like peaks sticking out of the forest below. View them all from the longest glass bridge in the world. The capital city of Changsha is the hometown of Mao Zedong and is full of inexpensive food, drinks, and hotels.