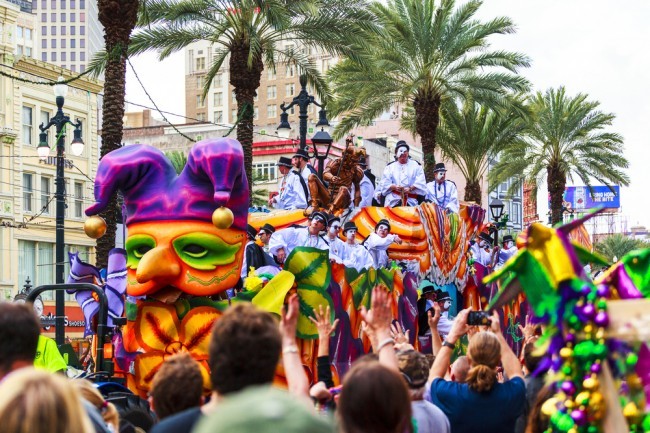 Even if you don't find yourself anywhere near the Big Easy this week, you should still sip on some delicious Mardi Gras-themed cocktails. What's the point of celebrating Fat Tuesday if you don't even get to enjoy some jelly donuts and a mixed drink or two? But what to drink?
You could go the traditional route and have a Hurricane or sip on a beer from Abita. Or, you could listen to some bartenders and drink what they're drinking. That's probably a better bet. Bartenders usually know what they're talking about.
Hurricane
A ViewHouse Hurricane. Instead of using traditional pre-made mix, ViewHouse's Hurricanes are made fresh to order every time, making them refreshing and not overly sweet. It's a festive pairing with our Spicy Shrimp Po' Boy feature for Mardi Gras.

– Alyssa Kratochyil from ViewHouse Eatery in Denver
Brandy Milk Punch
Paul (Ann's husband) and I are riding in Zulu (in the parade) so we obviously have an early morning wake up call. I plan to start the ride with one of my favorite brunch cocktails — Brandy Milk Punch. It's an indulgent drink. Prefect for the most indulgent time of year.

– Ann Tuennerman, Founder of Tales of the Cocktail.
Pimm's Cup
Pimm's Cup with lots of tart homemade lemonade and muddled cucumber. Pimm's Cup puts the "slim" in Fat Tuesday.

– Brennan's of Houston's Bar Chef Richard Middleton.
Trinidadian Nut Punch
My cocktail pick for Mardi Gras/Carnival is the Trinidadian Nut Punch that we've added to our menu at Arbella to celebrate the Carnival festivities. It's a take on the classic peanut punch enjoyed throughout the Caribbean during carnival season, it's well balanced and has a really great richness and texture to it. It's made of rum, milk, peanut butter, cinnamon and banana and it's a good departure from the typical, sugary Mardi Gras drinks.

– Eric Trousdale, Head Bartender of Arbella.
Police & Thieves Swizzle
Eveleighin West Hollywood
This cocktail, a take on the New Orleans classic Hurricane, is made with rum, pineapple juice, lime juice, Banane du Brésil, falernum, angostura bitters, and more rum.
Mardi Gras is a celebration of all things decadent, and in the spirit of a Hurricane, the swizzle is definitely in the family. Traditionally swizzles are rum based and strong as hell, with the crushed ice making it perfect for the hot muggy summer weather of the Big Easy.

– China Morbosa, bartender at Eveleigh.
Manhattan Special
This drink is a mixture of cognac, rum, coffee liqueur, sweet vermouth and Bittercube Cherry Bark-Vanilla bitters.
This cocktail is on offer daily from our current menu at Harvard & Stone, and, despite the name, is very referential to New Orleans. Chicory Coffee, Cognac, Rum, Sweet Vermouth and bitters all have a place in the NOLA drinks canon, and this is an option for our guests who are looking for something like—but a little bit different than—a Vieux Carre or a De La Louisiane.

– Aaron Poslky, bartender at Harvard & Stone.
King Cocktail
Z Bar in Reno, Nevada
Get into the Mardi Gras spirit with the "King Cocktail" featuring Cognac Park VS, Kringly Cream Liqueur, pecan syrup, cream, and cherry vanilla bitters.
Inspired by its namesake, King Cake, this cocktail tastes just as delicious as the traditional Mardi Gras dessert. For a fun party game, drop a King Cake Baby into one of the Cocktails and give a door prize to the guest who finds the trinket at the bottom of their glass. 
King Cake Daiquiri
This Nola take on the classic daiquiri is made with rum, lime juice, Cocktail & Sons King Cake Syrup and has an absinthe rinse.
A refreshing daiquiri that is easy to make and travels well is perfect for Mardi Gras. By the glass
or by the pitcher, it will please all who comes by for the parades. And you need to get your king cake in any form as much as possible before Mardi Gras day.

– Abigail Gull of Compere Lapin.