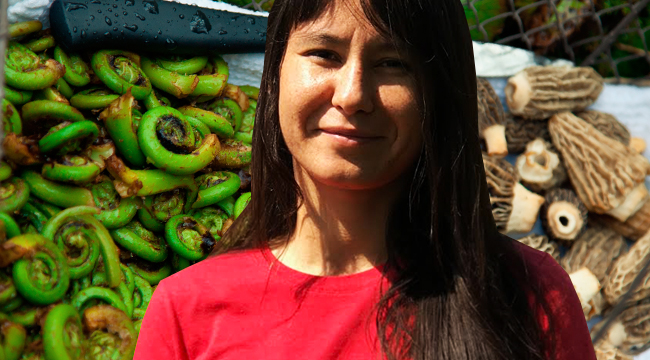 Tashia Hart doesn't take shit for granted. The world she lives in will never allow her that luxury. Hart grew up on the Red Lake Reservation in northern Minnesota, part of the Anishinaabe people who populate the lands stretching west, north, and south from the Great Lakes region. Her early life played out like a tale that most Indigenous Americans know all too well: poverty, identity crises, abuses, and silence.
Hart fought hard to break free of the doldrums of reservation life and find her own path through food, nature, and art. She went to college and studied food via biology, which eventually led to a career as a Culinary Ethnobotanist. Her job is to study, celebrate, and elevate wild and foraged foods from her homelands, acting in concert with people like The Sioux Chef and i-Collective. In the process, Hart has become an integral part of a movement of chefs, thinkers, artists, and writers who are taking purchase back of their culture, foodways, and identity in 2018 America.
To that end, we thought we'd sit down with Hart for a second time, to talk about the intricacies and divisive nature of a holiday that we're taught "celebrates" the unity of colonial and Indigenous people. In doing so, we were able to investigate the depth to which Indigenous people have to split their personalities to survive in America to this day.
Before we dive in, let's get a little context. A lot of Indigenous people do not and, likely, will never celebrate Thanksgiving. In their eyes, doing so would be celebrating their people's demise at the hands of massacring Christian fundamentalists who pursued wealth above all else. For Indigenous Americans, it doesn't end in the 1600s. The power that this holiday holds carries on throughout history.
Perhaps ironically, it was Abraham Lincoln who enshrined Thanksgiving as a national holiday in 1863. That came less than a year after Lincoln ordered the largest mass execution in U.S. history of 38 Dakota men in Mankato, Minnesota. It was also less than a year before Lincoln ethnically cleansed the Navajo from Arizona in the Long Walk which ended up enslaving many Navajo and killing nearly 90 percent of the adult population. So, yes, Thanksgiving is a beguiling holiday in Indigenous America for a litany of reasons. And Tashia Hart is here to explore that.
Thanksgiving is more often than not fraught for Indigenous people in America. Some would argue it's entirely unavoidable. What is this holiday to you?