Is it ever really worth buying super expensive whiskey? That's a tough question. I'd say if you're just going to drink it, probably no. There's so much great whiskey out there for great prices that spending a ton on one just seems unnecessary. If you're building an investment portfolio, however, well, then probably yes.
That conundrum arose when I was tasting a brand new, super expensive, very rare bourbon whiskey the other day. Specifically, a Rare Hare 1953 Straight Bourbon Whiskey Finished in XXO Cognac Casks.
Rare Hare 1953 is the lux brand from Playboy's spirits line. Playboy got into the spirits game last year with a special Extra Añejo release from Codigo. This year, they're dipping their toes into the ever-expanding bourbon market with a very rare release of 17-year-old bourbon at a hefty price tag. The thing is, that high price tag is the bottle's MSRP (suggested retail price). This whiskey is supposed to cost $589, so you're truly paying for a rarity. For comparison's sake, that $1,000 bottle of WL Weller you see on some shelves should really cost $99 (its MSRP). That's a massive difference between the true cost and the inflated cost of a whiskey.
So, is Rare Hare 1953 Straight Bourbon actually worth the nearly $600 price tag? Let's dive into the juice and find out.
Also Read: The Top 5 UPROXX Bourbon Posts Of The Last Six Months
Rare Hare 1953 Straight Bourbon Whiskey Finished in XXO Cognac Casks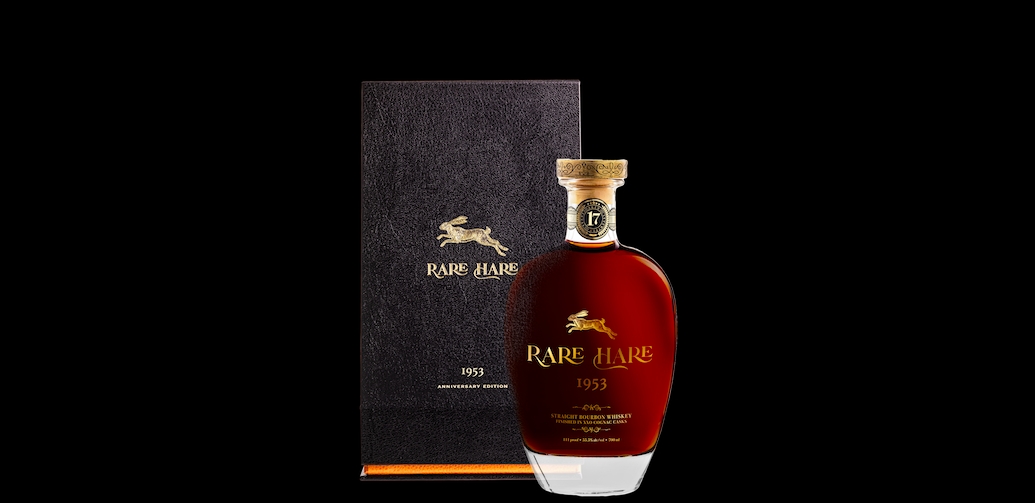 ABV: 55.5%
Average Price: $589
The Whiskey:
The juice in the bottle is a blend of 17-year-old bourbons from undisclosed sources. Those 17-year-old barrels were blended and then re-barreled into XXO Cognac casks (barrels that held brandy for at least 14 years in Cognac, France) for an additional 12 months of mellowing. Finally, that juice is vatted and bottled as-is into 1,953 bottles.
Tasting Notes:
The nose is shockingly subtle for its age with mild lines of dark fruit leather next to brandy-soaked raisins with a twinge of tart cherry and a clear yet soft graininess that's very Tennessee hollow on a cold fall day, with amber and golden leaves falling on a forest floor. There's a hint of clove and toffee on the nose that leads into the palate with a sense of sharp cinnamon spice next to a touch of black licorice that's kind of like a black Necco Wafer. The mid-palate eases off the sharp spices towards a gentle espresso ice cream with a hit of nutmeg and plenty of vanilla oils and a whisper of old peach buried deep in there. The end leans back into that autumnal forest with a barky chewiness that's slightly sweet and fruity next to a final note of salted toffee drizzle over a thin line of sour cherry tobacco leaf.
The Bottle/Presentation:
The bottle is a beauty on its own with a curvy edge and heavy bottom. The label is embossed and the neck label is understated and slightly art deco. The box has a swanky presentation with a leather exterior and wooden interior with NFC technology that'll lead you to the Rare Hare Society offering exclusive luxury travel experiences, intimate events, private barrel releases, and more. Overall, this is a great-looking gift bottle with a little something extra.
Bottom Line:
This is very Tennessee whiskey, so that's going to be a deal-breaker for a lot of folks. I love Tennesse whiskey, so I'm into it. That all said, this felt like a bit of a show-off pour more than one I'd actually want to return to day in and day out.
Ranking:
89.9/100 — This is the most solid of solid B-pluses. It's really nice but nothing we haven't seen before.
Value?
I can see reaching for this if someone asks for a pour, but I'm not going to stand in line to snag a bottle. I'd say save it for your vault. It is a rare whiskey that we are not going to see again. There are only 1,953 bottles, period. That number is constantly dwindling — mine's open! So there will be value in that rarity down the road.
And if not, you have a really solid 17-year-old whiskey to sip on throughout the year. That's a win either way.