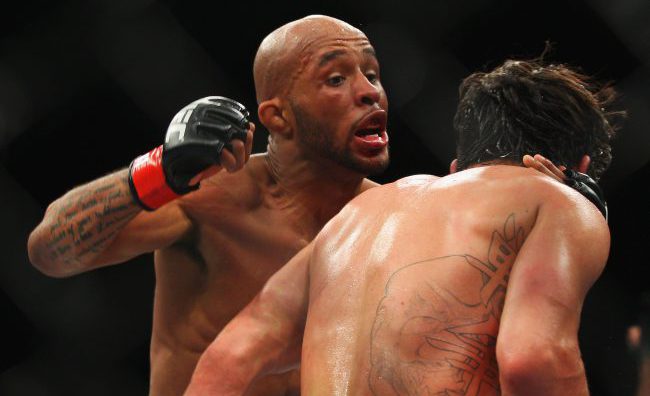 This was supposed to be a glorious week for the UFC. Instead, it's one where Dana White has been forced to deal with not one, but two main events that have fallen apart. Word of that second hamstrung fight was revealed today when Globo reported that UFC 201 will be without flyweight champ Demetrious Johnson at the top of the card.
Johnson, who may be the best pound-for-pound fighter in the game today, has suffered an injury during training and will not be able to compete in the co-main event for the July 30 card. That means former Elite XC bantamweight champion Wilson Reis is without an opponent or a title shot for the Atlanta event and leaves the welterweight title tilt between Robbie Lawler and Tyron Woodley as the evening's sole main event. Well, at least for now.
This is certainly disappointing news for a UFC card that's been unfairly overlooked as a rest stop between the colossal UFC 200 card and the Diaz vs. McGregor 2 equipped UFC 202 offering. Johnson has been the flyweight division's sole champ since winning the title in 2012 and he's unquestionably the biggest star competing at this weight class. Unlike Jon Jones getting yanked over USADA testing, there's still room to maneuver around this setback. Details are still materializing about what the injury was that has Johnson off the bill and even with the media blitz going on at the moment, we're sure more information will pop up about this big UFC 201 development soon.
(via Globo, Ariel Helwani & Fox Sports)