Robert Rodriguez doesn't do subtlety with his action movies. The writer/director/editor/almost-every-other-on-set-job-title behind the El Mariachi Trilogy is known for working with small budgets and maximizing every cent to produce action movies — whether for adults or kids — that don't take themselves too seriously and embrace the oftentimes campy and ridiculousness. It's something that Rodriguez started doing over 20 years ago with El Mariachi, a small indie movie about a gun-toting guitar player that morphed into a modern-day tribute to Sergio Leone's Dollars Trilogy.
Desperado, the second film in the series, celebrates its 20th anniversary this year and Rodriguez himself is celebrating his 47th birthday this weekend. To mark the occasion, here's some bullet-riddled trivia you might not know about Robert Rodriguez's over-the-top saga of the Mexican guitar player known only as el Mariachi.

El Mariachi's budget was incredibly cheap.
Robert Rodriguez has always taken pride in being a DIY filmmaker and was able to make his first feature film for only around $7,000. He estimated, though, that if he didn't have to pay for film processing costs the total bill on the movie would only have been around $600. The director was able to shoot the movie for so little by cutting corners like using a broken hospital wheelchair to film the moving camera shots.

El Mariachi's budget came from laboratory testing.
Being that Rodriguez was a broke filmmaker trying to make a feature film without any help from a studio, he had to raise money any way he could. The most productive — and possibly most insane — way was to submit himself to laboratory medical testing. Over the course of 30 days, the aspiring director/writer was able to make $3,000 and write much of the movie's script.

Rodriguez put El Mariachi's critics in the movie to shut them up.
Some of the people in the city of Acuña, Mexico where El Mariachi was filming weren't happy about Rodriguez closing down their streets. Two local newscasters, in particular, were talking negatively about the movie, so in order to shut them up Rodriguez offered them parts in the movie as a hotel owner and bartender.

Filming El Mariachi resulted in an attempted jail break.
Rodriguez convinced the local police department to let him use their jail and several of their guns for filming. This meant, though, that for several interior shots the jail's prisoners would have to be removed from their cells. During the filming of the movie's opening scene the inmates were taken outside and one prisoner took advantage of the opportunity and took off running, but was quickly apprehended.

EVERYBODY wanted to be on set for Salma Hayek's Desperado love scene.
Robert Rodriguez recalled that while filming the Desperado love scene between Salma Hayek and Antonio Banderas only he and the script supervisor were scheduled to be on set that day. However, when it came time for the cameras to start rolling the entire crew miraculously appeared on set.

Desperado originally had an NC-17 rating.
The MPAA requested that many of the movie's gunfight scenes be removed or edited down if the film was going to have an R rating. Among those scenes that were deemed too violent included a bloodier death scene for Danny Trejo's knife-throwing henchman character and a scene in which Antonio Banderas uses his crotch gun to blow the balls off a pony-tailed thug in a church. Even much of the blood was deemed too realistic for the censors.
It was Quentin Tarantino's idea to turn Mariachi into a trilogy.
Robert Rodriguez's original plan was simply to retell El Mariachi with a bigger Hollywood budget, but it was Tarantino who saw the potential for it to be a modern-day homage to Sergio Leone's Dollars Trilogy.
"I said, 'Let's just do another Mariachi,' not thinking about a whole series, and Quentin walks onto the set and goes, 'This is your Dollars tribute! Now you have to make part three!' 'What are you talking about?' 'Sergio Leone, dude. Mariachi is your A Fistful Of Dollars; this'll be your For A Few Dollars More, now you gotta do The Good, The Bad, And The Ugly. It's gotta be epic. And you gotta call it Once Upon A Time In Mexico.' [Laughs.] And I was like, 'What? Yeah, whatever.'"

Rock band Los Lobos is sitting in the audience.
Rodriguez asked Mexican-American rock band Los Lobos to compose the Desperado's opening song that Antonio Banderas sings in his dream sequence. The band agreed and can be seen sitting amongst the audience members while the Mariachi sings in the nightclub.

Robert Rodriguez knew he wanted to put Danny Trejo in a starring role after Desperado.
It took fifteen years for it to happen, but the beginnings of Machete started with Danny Trejo's appearance in Desperado. Rodriguez explained that Trejo stole the scene and it was right then that he knew he'd have to develop a larger project for the character actor.
"The whole town would surround [Trejo]. They just assumed, 'That must be the star of the movie.' He's the most enthusiastic actor I've ever worked with. And it makes you wanna make roles for him. He earned [Machete] back in '94."

Danny Trejo and Robert Rodriguez discovered they were related while filming Desperado.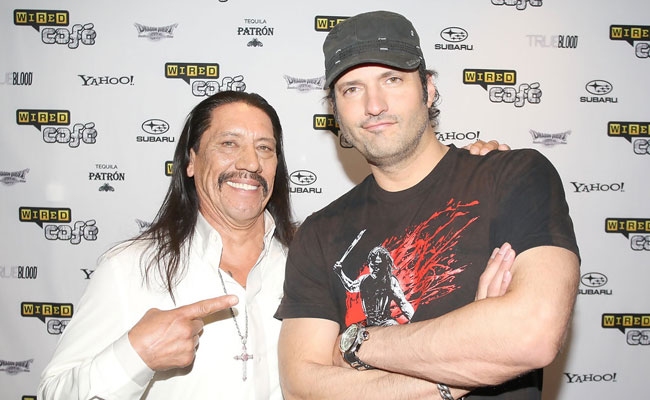 Trejo landed the part of the tattooed, knife-throwing assassin because of his body of work playing tough guys, but what Rodriguez didn't know was that he'd hired his second cousin. Trejo explained that it took another relative to point out that he was working with a family member.
"Yeah, he's my second cousin, but we didn't find that out until we were actually doing Desperado. When I was down in Acuña, Mexico, and my relatives came down from San Antonio to visit me, my uncle said, 'Hey, that's your cousin!' So we're lifelong friends now."

Border trouble meant the cast had to use prop guns.
The actual guns that Rodriguez had planned to use on Once Upon a Time in Mexico got confiscated by authorities at the border. Rather than wait for them to arrive, the actors used rubber prop guns for the first two weeks of filming and visual effects were added in during post production. The phony replacements reportedly threw-off Antonio Banderas, though, and at first he shouted "bam" during the gunfight battles.
The Mexican military weren't fans.
Rodriguez approached the Mexican military about using a few of their vehicles for various chase scenes and, initially, they agreed. It was only after Rodriguez explained that the general in his movie was the villain that they pulled out to avoid bad press. Producers reached out to collectors to supply all of the military vehicles for the film.

Mickey Rourke's dog was too fat to appear in Once Upon a Time in Mexico.
Mickey Rourke owned a chihuahua at the time and his character in the movie is constantly seen with one under his arm, so it's only natural to think that he'd use his own dog, right? Nope. Not the case because his dog was simply too fat, Rodriguez said.
"I said, 'Hey, bring your dog because since you're going to be in Mexico, it would be great if your character had a dog as a souvenir and you're always hiding it from the boss.' He said, 'Oh, my dog's too out of shape.' He showed me the whole dog and it's actually really fat. So I found him another dog in Mexico that was smaller and that he could hide easier."

It was Once Upon a Time in Mexico that convinced Johnny Depp to do Pirates of the Caribbean.
Mexico and Pirates were both released the same year, but Mexico had actually been filmed in 2001 and had its release delayed for two years. Johnny Depp shot all of his scenes in just nine days, but had so much fun making his first action movie that he hung out for extra days on set and asked Rodriguez to put him in another scene. Rodriguez agreed and gave him the role of the priest that Antonio Banderas talks to in the church. Rodriguez said that Depp told him doing the movie had such an impact on him that it helped convince him to sign on for those Disney pirate movies.
"He shot that before Pirates, and I told him, 'I didn't think you liked to do action.' He said, 'You converted me.' He had so much fun. I don't want to give anything away, but he plays a really surprising turn towards the second half of the movie, and he does it in such a great way. I can see why he would just run off there and sign up for Pirates, because he had so much fun doing this action and comedy."

The final film has several callbacks to characters from the previous movies.
Besides starring the same central character and a return from Salma Hayek, the rest of the Once Upon a Time in Mexico cast is filled with new faces. Even Danny Trejo and Cheech Marin, who both returned for the third movie are playing, different dirtbags, since they were killed off in Desperado. The movie still makes several references to earlier characters, though. The first happens when El Mariachi opens his guitar case and several of Navajas' knives are strapped to the inside of the lid. Another nod is made with the cell phone that Johnny Depp's character gives to Antonio Banderas, which has a ringtone that is the same opening song from Desperado.