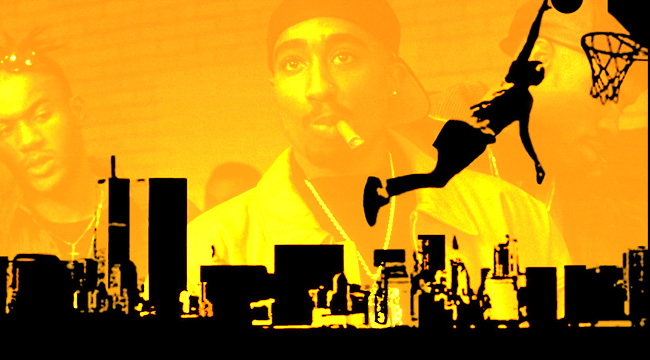 History won't soon forget Tupac Shakur. The brightest star of West Coast hip-hop scene (even though he was born in New York City), Shakur helped make hip-hop a mainstream cultural staple whose impact goes beyond popular music into art, fashion, media, sport, and politics in the '90s. Born to Afeni Shakur, a former member of the Black Panther party who was accused of plotting to blow up department stores in 1969, Tupac Shakur had activism in his blood (and in some of his music). He was a poet and an art school kid who trained in Baltimore as an actor and dancer while growing up. Shakur would have loved to see the fruits of his labor and the broad spread of his influence because it surely matched his own ambitions, but he was shot dead at the age of 25 in September of 1996 just before, as co-star and friend Marlon Wayans explained to ESPN, he had the chance to undergo a great shift.
"I think Pac was about to come to his come-to-Jesus moment where he actually became the philanthropist and the teacher that he honestly could have and should have been."
As an actor, Shakur ached to be challenged and avoid standard issue "crazy fool with a gun" bad guy roles. His work as Bishop in Juice and Lucky in Poetic Justice revealed captivating potential. But it's in Above The Rim where the power of his acting talent, influence, and experience was most clearly evident as the film effortlessly merged basketball culture, '90s gangsta rap and G-funk (by way of its landmark soundtrack), and a fresh take on being caught between an abundance of choices.

Establishing Realism Through Streetball And The Soundtrack
As Birdie, Shakur ably moves between quiet menace and jubilant villainy as he tries to lure Kyle Watson (Duane Martin), a Harlem high school basketball star, away from the straight and narrow so that he can help guide his team, The Birdmen, to victory in The Shootout, a local streetball tournament. For Birdie, it's about pride. He's the King of his small slice of the neighborhood and grabbing a win is vital to the reinforcement of that fact. But without the effort to frame basketball as a key part of the community — showcasing the work done to beautify Rucker Park prior to The Shoutout and the packed crowds at Kyle's games — Birdie's obsession would have seemed inauthentic.
Credit director and co-writer Jeff Pollack, producer and co-plotter Benny Medina, and screenwriter Barry Michael Cooper (New Jack City) with not only recognizing that but also with prioritizing the look and feel of the sometimes punishing on-court action. "The camera movement on the court at the Rucker, and the symbiosis between the players, the crowd, and the court itself, was stunning," said Cooper in an essay about the making of Above The Rim for Complex. "The mesmerizing visual choreography designed by Jeff [Pollack] and DP Tom Priestly (who was also Francis Kenny's camera operator on New Jack City) set the tone for every other basketball flick that would follow."
Born in Harlem, Cooper imbued Above The Rim with the weight of history that he had absorbed as a teenager in the 1970s while sitting in the bleachers of Rucker Park watching a parade of notable New York streetball wizards — some of whom would eventually advance to the NBA and many others who would not. Tom "Shep" Sheppard (Leon) is a tribute to the latter, but he also served as an inadvertent instigator in Birdie's lean toward a life of crime.
As Shep's one-time tagalong little brother, Birdie is left behind when the tragic death of Shep's teammate and friend, Nutso (who falls from a roof while playing one-on-one on a poorly located basketball court), robs him of the drive to capitalize on his basketball talents and chases him out of town. As Birdie explains in a tense scene beside their mother's grave after Shep comes back to the neighborhood some years later to work as a security guard at the high school, it was he who lifted their family out of the poorhouse thanks to his hustle, not the atrophied dream that Shep's talents would lead to success. "You ain't the motherf*ckin man no more, I'm the one!" says Birdie, emphatic and guided by a desire to prove to Shep that he was long ago usurped after his big brother spurns his offer of a partnership.
The graveyard scene is notable for more than its ability to highlight the fire that Shakur could bring to a scene and the inner resentment that Birdie felt toward his brother. Playing softly under the scene before fading to silence when Birdie and Shep begin their conversation, Shakur's other notable contribution to Above The Rim is made clear — his work on the film's loaded soundtrack. In addition to "Pain," Shakur teamed up with Treach from Naughty By Nature and Riddle for "Loyal To The Game," and his group, Thug Life, for "Pour Out A Little Liquor" (though only the latter made it onto the CD release of the soundtrack with the other songs coming out as bonus tracks on the cassette). Produced by Dr. Dre and Suge Knight for Death Row Records, the Above The Rim soundtrack peaked at number two on the Billboard 200 chart and was flush with R&B and West Coast rap royals like Warren G and Nate Dogg ("Regulate"), Lady Of Rage ("Afro Puffs"), and SWV ("Anything").
Though hip-hop doesn't factor into Above The Rim as heavily as basketball, the soundtrack offers a representation of the soundscape of early 1990s New York that makes it easier for the film to feel feasible and real. It didn't hurt as a marketing tool, either.
The Power Of Choices
While there are similarities between Kyle and Shep, it's important to note that Birdie doesn't choose him because he wants to "save" him from the clichéd hope that basketball will be a launchpad out of the ghetto. Birdie simply views that hope as worthless, especially in comparison to the life of excess that he has built up for himself and his crew. To Birdie, Kyle isn't Shep re-born (even though Shep can't help but notice the common threads), he's just a dumb kid with a lot of talent and a hunger for the superstar lifestyle that he can exploit for his own gains. And for awhile, Birdie's message comes in clearer than Shep's (who is first a stranger and then a threat because he's dating his mother) and Coach Rollins' (David Bailey) because Kyle, like Birdie, believes he is invincible and incapable of suffering consequences.
Kyle isn't a stand-in for Shakur, either. But there are some parallels: Raised in the Bronx and Queens without a father and surrounded by plenty of bad choices, it was art, music, and the power of his mind, not sports, that helped elevate Shakur to a better life, though he stumbled often as an adult in indefensible ways that betrayed the gentleness that many, including Wayans, said he possessed.
"Everybody thinks he was this thug, this gangster. First of all, he was a performance high school kid. Pac was very smart and he was very silly. He was a clown. He wasn't real gangster but he acted gangster. He was a Method actor, so he went a little too far."
Wayans would tell Vibe that Shakur's time in prison had changed him, robbing him of his "fun fire." According to a radio interview with Menace II Society co-director Allen Hughes (who was attacked by Shakur some time after firing him from the movie), though, it was seeing himself on the big screen as Bishop in Juice that led to a hardcore transformation for Shakur, though longtime friend Treach disputes that widely held theory. Regardless of the spark, at some point, Shakur made a choice in an effort to live up to a reputation that, according to comments made by Public Enemy's Chuck D to Time, may have helped his bottom line: "Take the high road, and your record never sees the light of day. Take the low road, and you sell a million copies."
Still, while there was financial benefit to be found, Shakur bristled at how he was categorized and urged people to consider his full body of work and his broad interests before defining him. His true motives may have gone much deeper, as well. In an interview with Hughes, former MTV News reporter Sway recounted a story where Shakur let him in on his plans for the future of his music. A future that sounded more in line with his more thought-provoking works and the man who, when he was 10, told a minister he wanted to be a revolutionary when he grew up.
"When we did one of his last interviews, one of the things he said to me was, 'Sway, man, I'm making the hardest music I can and saying what people want to hear most so I can get the most amount of people who need to hear this to follow me and then I'm gonna come back and tell them what they need to hear most,' but he didn't get a chance to do it."
Allusions to his eventual death are scattered through Shakur's music (especially in his later work, which was generated at a breakneck pace in the year preceding his murder). He also spoke openly about the possibility of a premature end with the press in a lost interview with Entertainment Weekly that was later animated for a series on PBS. Despite the clarity that Shakur had about the consequences of his choice to embrace the gangsta lifestyle — for money and/or as a prelude to his rise as a poetic and political leader — he never fully turned away, not even after he was shot five times in New York during a robbery while on trial for sexual assault (he was found guilty and spent nine months in jail) in 1994. Months before his death, Shakur was sentenced to more time in prison after violating his probation (though that sentence was later put on hold while he pursued appeals on other charges) and he cut an incendiary (and classic) diss track about his East Coast rival Biggie Smalls wherein Shakur claimed he had slept with Smalls' wife. While those things certainly don't justify his violent end, he was clearly walking down a dangerous path.

Epilogue
Of course, life isn't a movie. Altering one's trajectory and recognizing a mistake isn't nearly as simple in reality and endings are rarely uplifting, clean, or just. In Above The Rim, Kyle, unlike Shakur, knows to turn back, eventually rejecting Birdie after he is outed as an irredeemable villain for bullying Kyle's friend, killing a homeless man, and blackmailing Kyle before ordering a hit on him at center court after losing The Shootout.
Above The Rim ends with Kyle playing basketball at Georgetown following that moral stand, Shep happily watching him on TV beside his girlfriend/Kyle's mother after he shakes off his demons and shines again on the court, and Birdie mortally wounded. It's a Hollywood ending that emphasizes the value of making the right choice as opposed to taking a criminal shortcut that leads to a dead end and it's, honestly, a bit preachy and so tidy as to strain the film's hard-won authenticity. But despite all that, Above The Rim retains its own place in history because, like Tupac Shakur, it understands how to bury hard-to-swallow messages within something that is sure to appeal to the masses.