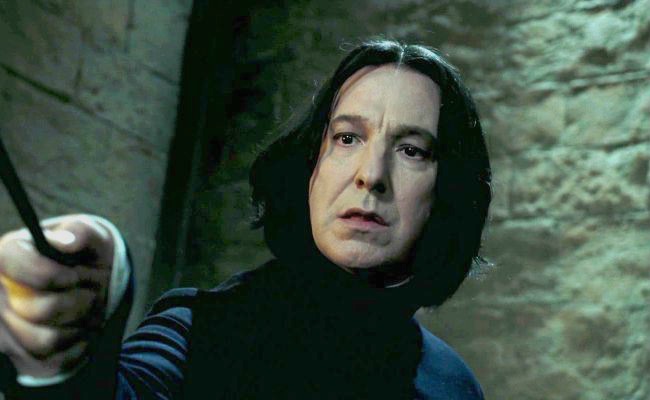 Alan Rickman, who had high-profile roles as Hans Gruber in Die Hard, the Sheriff of Nottingham in Robin Hood: Prince of Thieves, and "Dr. Lazarus" in Galaxy Quest, is best known for portraying Severus Snape in the Harry Potter movies. The eight films, which grossed nearly $8 billion at the box office, won Rickman a legion of younger fans who grew fond of the oily-haired wizard and the sacrifices he made. But Rickman didn't always love playing Snape.
A collection of letters from from the actor's personal collection, which are set to be auctioned off, hint at Rickman's frustrations with the franchise. "Thank you for making HP2 a success," one correspondence from producer David Heyman reads. "I know, at times, you are frustrated but please know that you are an integral part of the films. And you are brilliant." Another, written by Rickman, says, "It's as if David Yates has decided that this is not important in the scheme of things i.e. teen audience appeal." That one is titled "Inside Snape's Head."
Rickman's letters – which also include one from Harry Potter author J.K. Rowling who thanks the actor for "doing justice to my most complex character" – are going up for auction at the ABA Rare Book Fair in London and have been valued at [over $1.2 million]. (Via)
If you're an eccentric HP fan with money to spend, here's more information on the auction. Be sure to add "…Mr. Potter" to the end of every letter.
(Via the Independent)