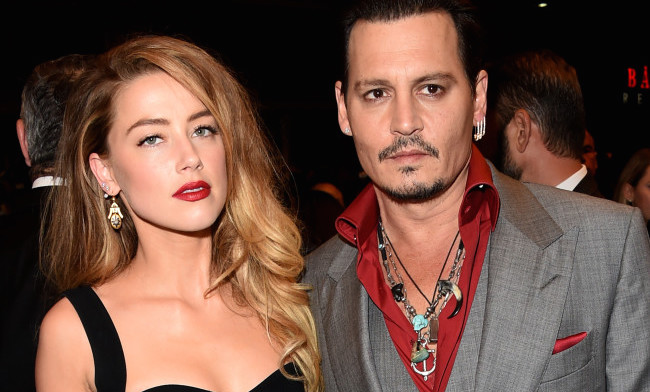 What a week it's been for Amber Heard and Johnny Depp. On Monday, Heard filed for divorce just days after Depp's mother passed away. Then, allegations of spousal abuse occurred when Heard showed up to court with a bruise on her face and claimed that Depp physically assaulted her. According t0 TMZ, Depp offered his wife of 15 months 'hush money', but instead Heard filed for divorce and asked for a restraining order. The temporary restraining order was granted on Friday and the Pirates of the Caribbean star has to stay 100 yards away from Heard. The next hearing will be on June, 17.
Variety had details of the restraining order which Heard stated,"I am extremely afraid of Johnny and for my safety." The incident in question happened last weekend when Depp allegedly threw an iPhone at his wife causing a bruise on her face is apparently not an isolated event. Heard stated to the court that Depp has a massive drug and alcohol problem:
"Depending on his interaction with alcohol and drugs. Johnny has a long-held and widely-acknowledged public and private history of drug and alcohol abuse. He has a short fuse. He is often paranoid and his temper is exceptionally scary."
The Los Angeles Police Department investigated the iPhone incident, but found no evidence of assault and Heard decided against pursuing a criminal report. In court, Heard also discussed another violent outburst that allegedly occurred back in April during her birthday party held at the condo she and Depp share in Los Angeles.
"On Saturday, April 21, 2016, I celebrated my birthday with friends and family at the (Downtown LA) residence. As everyone was preparing to leave, Johnny showed up inebriated and high. After my guests left, Johnny and I had a discussion about his absence from my birthday celebration which deteriorated into a bad argument that started with Johnny throwing a magnum size bottle of champagne against the wall and a wine glass on me and the floor.

Johnny was also screaming and threatening me, taunting for me to stand up. After several minutes, Johnny stormed out of the condominium, not before tossing aside and breaking nearly everything in his path. I did not see him for another month."
Depp, who has been traveling to promote Alice Through the Looking Glass has been radio silent about the allegations. The film, which opened Friday is the sequel to 2010's Alice in Wonderland. Partially due to controversy surrounding Depp (and lousy reviews) the film is set to only make a paltry $40 million during the Memorial Day Weekend.
(Via: Variety)