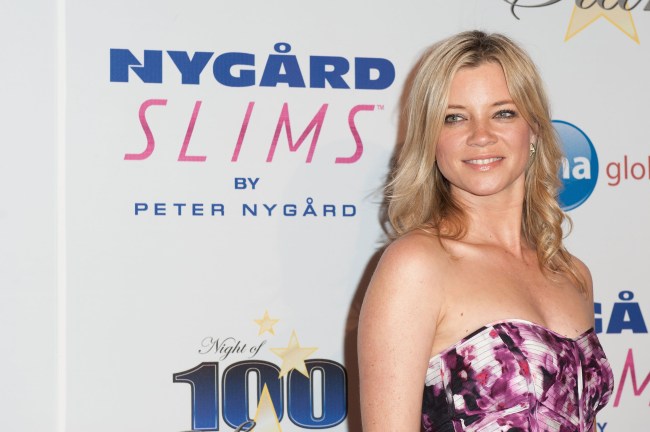 Amy Smart is an actress probably best known for her roles on TV shows like Felicity and Justified and in films like Road Trip, Just Friends, Varsity Blues and The Butterfly Effect. You may also remember her from Scrubs, Shameless, and a host of films she's had supporting roles in. Currently, she's starring in Break Point alongside J.K. Simmons, Jeremy Sisto and Chris Parnell (read his Uproxx 20 here). It opened in theaters nationwide on September 4.
Amy was nice enough to take a few minutes out of her busy schedule recently to answer a few questions from us.
1. You walk into a bar. What do you order from the bartender?
Depends on my mood. A vodka soda, a cosmo, or a glass of wine.
2. Who's your favorite person to follow on Twitter and/or Instagram?
My sister in law — I love seeing pics of my nieces!
3. What's currently waiting for you on your DVR?
Third season of Ray Donovan.
4. It's your last meal — what are you going out with?
A big Thai dinner — pad Thai, spring rolls, and curries. Oh, and some sushi rolls!
5. What websites do you visit on a regular basis?
6. What's the most frequently played song on your mobile device?
"Rakhe Rakhanhar" by Nirinjan Kaur Khalsa. I find it grounding and peaceful when life is rushing by so quickly. Also, I love it cause I practice Kundalini Yoga.
7. The first face that comes to mind when you think "punchable?"
Umm… a face isn't coming to mind, sorry.
8. What's the last thing you googled?
Where to get replacement parts for our Electrolux grill. Its totally rusted out inside.
9. Dogs or cats?
Hard to say which one. I had two cats for over 16 years and have two dogs now. I think I'm more of a cat person, though.
10. Best concert of your life was…?
U2… I also loved seeing Martin Sexton.
11. What book are you most likely to give as a gift?
A book by Paramahansa Yogananda, Autobiography of a Yogi.
12. What's the nicest thing anyone has ever done for you?
When Carter asked me to marry him. He had this elaborate engagement. It was so thoughtful and loving… wow, was I surprised.
13. South Park or Family Guy?
South Park.
14. You have an entire day to do whatever you want. What would you do?
Meditate in the morning. Go to a farmers market, buy some great produce and gorgeous flowers. Head to the lake for a swim and picnic with my husband [assuming it's in the summer :)]. Come home and take the dogs for a walk. Finish the evening with some wine and a great dinner or head to the movies.
15. What movie can you not resist watching if it's on?
Dirty Dancing.
16. The sports team or teams you're most passionate about?
I like watching tennis.
17. Where did you eat the best meal of your life?
A five course meal in Italy.
18. The last movie you saw in a theater?
Straight Outta Compton.
19. Who was your first celebrity crush?
When I was really young, I loved Wham! And then New Kids on the Block — Joey, to be specific.
20. What would you cook if Nic Cage was coming to your house for dinner?
Probably a pasta dish.
PREVIOUSLY: Chris Geere