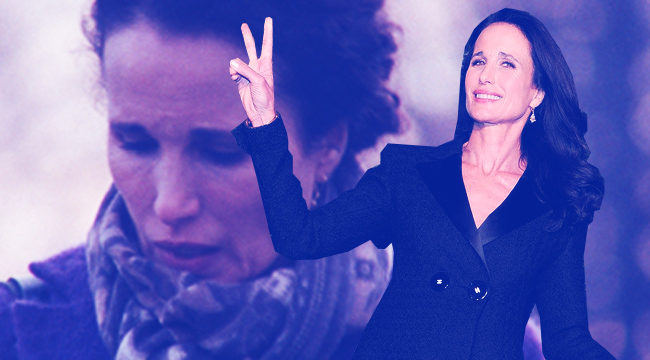 Have you ever read Andie MacDowell's Twitter feed? It's an earnest ray of positivity seeped in the muck that is this world right now. If these tweets weren't written by Andie MacDowell, there would be at least some hesitation at to the sincerity of these words. Is this irony? What does it all mean? But when it's Andie MacDowell, we take it at its core meaning. Over MacDowell's 30-plus year career, when have we ever doubted something she's said. MacDowell is here to spread positivity, but she is not here to suffer fools.
MacDowell can currently be seen in Russell Harbaugh's Love After Love, which is playing at the Tribeca Film Festival. She plays Suzanne, the mother of two adult sons (played by Chris O'Dowd and James Adomian) who are all coping with the death of Suzanne's husband, which happens early in the film. Love After Love is a meditation on grief and how people don't react the same way.
MacDowell is a delight to interview – a straight shooter who is open to talking about anything. (At one point she started quoting lines from Hudson Hawk and even did the dolphin sound.) To the point that, when reciting her films that play often in heavy cable television rotation, I haphazardly threw out Greystoke: The Legend of Tarzan, which I immediately wished I could take back. (It was MacDowell's first role and she infamously had her voice dubbed over by Glenn Close – which is both ludicrous that happened and is a testament to MacDowell because many actors might just give up after an experience like that. But I certainly hadn't intended to bring up her worst experience as an actor.) Instead of balking, which she'd have every right to do, MacDowell spoke openly and candidly about her experience. (And remembers a prominent film critic who came to her defense.)
MacDowell also spoke about the much more recent experience of seeing Groundhog Day on Broadway. (Spoiler: She loved it.)
Your Twitter account is great. It's so peaceful and positive.
That's what I'm working on. That's my vibe.
Yesterday you tweeted about how peaceful gardening is. My new project has been trying to garden from a New York City windowsill.