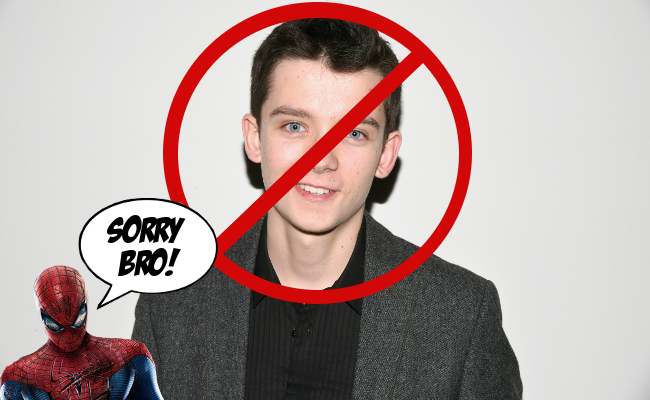 A few weeks ago, the inside-scoopers at Latino Review dropped the exclusive bombshell that Marvel's next choice to play Spider-Man is fresh-faced Ender's Game star Asa Butterfield. A lot of sites, us included, ran with the news, albeit with disclaimers about the perils of unnamed sources, and you'll never ever guess what happened – it turned out that it was premature, if not completely false. But that's not necessarily LR's fault, because it seems that Butterfield, ever the fan of chatting with his fans on Reddit, might have blown his shot at playing Peter Parker by talking about it on the website.
Whatever the reason, The Wrap's Jeff Sneider revealed on Meet the Movie Press Live that Butterfield is now off of Marvel's short list.
I heard earlier this week, you know, in calling around about the short list, those six actors that THR had mentioned, I learned that they had narrowed it down to three. And those three, from what I had heard, were Tom Holland, Charlie Plummer, and Matthew Lince. NOT Asa Butterfield. I hear that Asa Butterfield is no longer in contention for Spider-Man.

Here's the way it was sort of described to me… Marvel likes Charlie Plummer, Sony likes Tom Holland, and I still think Amy Pascal wants Nat Wolff or whatever. Either way, the reason that you haven't seen a decision yet is they seem to be at odds, Marvel and Sony.
The source of the conflict, Sneider says, is that Sony is still paying the bill for Spidey, while Marvel is simply involved for creative guidance. Also, do you want Plummer to portray the adorable teen version of Spidey or Holland, who is going on 20? Sneider predicts it will be Holland, but how about instead of worrying about age, we just focus on whether or not Jon Bernthal can carry the actor so that they can recreate the adorable scene from the Civil War comic books, when the Punisher brought Spidey to Captain America?
It was so touching and unusual to see from the violent Punisher, so Tony Stark could certainly shout, "Get a room, fun boys!" as he flies by.
(Sneider's Spidey news starts at play, but there's some Doctor Strange and other news before it, if you're interested.)