For a quirky little comedy about ghosts, Beetlejuice has done quite well establishing itself as a timeless classic. Not only was it one of director Tim Burton's seminal early works, it also features excellent performances from Michael Keaton, Winona Ryder, Alec Baldwin, and more. Made on a modest budget in 1988, the film raked in $73 million (160 million adjusted for inflation) and was the 10th biggest box office hit of the year.
Let's take a look back on the movie and some of the lesser known facts about how it was made and whether a Beetlejuice sequel is actually going to happen.
How the cast came together.
Tim Burton had to work his ass off to get all the actors he wanted for Beetlejuice. Geena Davis was on board from the start, but Winona Ryder, Catherine O'Hara, and Michael Keaton all initially passed on the film. The director ended up flying out to meet O'Hara and convince her to take the part. Catherine O'Hara wasn't originally set to be in the movie at all – the role of Delia Deetz went to Anjelica Huston initially, but she had to withdraw from the film due to illness.
The role of goth teenager Lydia Deetz was difficult to fill, as well… Sarah Jessica Parker, Brooke Shields, Jennifer Connelly, and Molly Ringwald all turned down the role. Juliette Lewis auditioned for the part, as well, but it ended up going to a 16-year-old Winona Ryder after Burton saw her acting debut in the 1986 coming of age flick Lucas.
Burton stacked the cast with his favorite celebrities from previous eras. '60s crooner Robert Goulet and talk show host Dick Cavett were given roles as the Deetz's snobby friends, and Tim has said he hounded '30s actress Sylvia Sidney incessantly until she agreed to play the salty undead social worker Juno. Burton also had his eyes on another singer for a key role: He originally wanted Rat Pack member Sammy Davis, Jr. to play Beetlejuice.
Sammy Davis, Jr. wasn't the only unique casting option for Beetlejuice. Producers also considered Dudley Moore (of Arthur and "10" fame) and comedian Sam Kinison for the role (Kinison's manager never bothered to inform him of the studio's interest). Studio head David Geffen of Geffen Records and Geffen Pictures fame lobbied for Michael Keaton, who was best known at the time for his role in the romantic comedy Mr. Mom. Tim Burton was sold after meeting Keaton, so much so that he brought Keaton on board to be his Batman.
Beetlejuice is tied with Batman for Michael Keaton's favorite role ever.
Considering the movie is named after his character, Michael Keaton has a surprisingly small amount of screen time as Beetlejuice — only 17 minutes. It took barely two weeks for him to film all his scenes, much of which was ad-libbed. Keaton credited the crew for encouraging his creativity on set. The first time he showed up in costume, everyone on the soundstage started chanting "Juice! Juice! Juice!"
Tim Burton left much of the character's development up to Keaton, simply saying Beetlejuice had "lived in every time period, but was of no time period." Keaton used the creative freedom to add various elements to Beetlejuice — the crazy hair, the mold, and the false teeth were all his ideas. He allegedly based his performance on the character Chop Top from Texas Chainsaw Massacre 2.
Test audiences ended up liking Keaton's portrayal as Beetlejuice so much that Burton ended up going back and giving the character a less grim ending. Instead of being trapped inside the model town with sandworms all around him, they sent him to purgatory in the afterlife waiting room.
DAY-O!
If there's one scene from Beetlejuice that stands out in everyone's minds, it's got to be the musical possession scene featuring Harry Belafonte's Day-O (The Banana Boat Song). What's really amazing about it is how close it came to not making it into the movie at all.
Tim Burton's original musical choice was a song by doo-wop singers The Ink Spots, but Catherine O'Hara convinced him that a calypso song would bring more energy to the scene. Actor Jeffrey Jones was the one to suggest the Belafonte song, and the cast spent five days filming the choreographed number.
The dancing and lip-syncing ended up being the least of Tim Burton's problems. Various attempts at special effects involving the shrimp failed miserably before they retooled the entire dinner gag, sticking six puppeteers under the table with shrimp colored claw arms for the big finale.
All the hard work it took to film the scene didn't impress the studio — they thought the scene was strange and out of place and pressured Tim Burton to leave it on the cutting room floor. And on the floor it stayed, until a late decision by Burton and composer Danny Elfman put it back in its rightful place, with Elfman teasing elements of the Banana Boat Song throughout the movie's soundtrack.
This wasn't the only bit of terribly misguided studio interference on the film. They also hated the movie name "Beetlejuice" and pressured Burton to rename the movie "House Ghosts," which is an impressive name in its absolute blandness. Burton jokingly suggested "Scared Sheetless" as an alternative title and was shocked when studio execs went along with the name.
Catherine O'Hara got more than just a paycheck when she made Beetlejuice.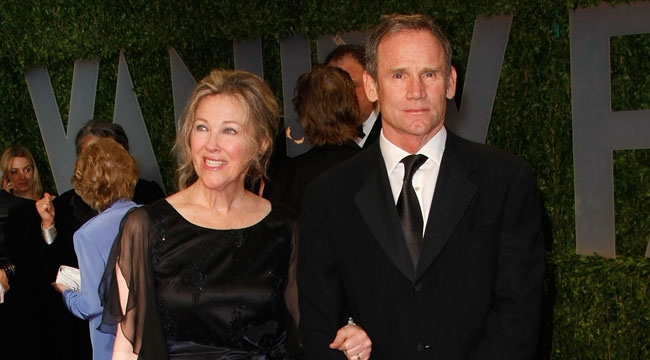 Catherine O'Hara met her husband, production designer Bo Welch, on the set of Beetlejuice. Here's Bo telling Uproxx how Tim Burton basically set them up:
"Towards the end of the movie, Tim told me, we were shooting in Vermont, 'You should ask Catherine out.' And I said, 'What?' And he said, 'Yeah, you should ask her out.' It didn't even occur to me that I was even supposed to talk to actors. But since Tim told me to, I did, and then we dated and we're married and here we are today. Basically, he told me to ask her out [laughs]. And I said, 'Really? Alright.'"
Tim Burton's girlfriend has a nice set of legs.
Remember the magician's apprentice in the afterlife waiting room who had obviously died getting sawed in half? That character's legs were played by Tim Burton's girlfriend at the time.
Beetlejuice Goes Hawaiian: The sequel that was never made.
Beetlejuice was a major box office success, pulling in three times as much money as it cost to make. So it shouldn't surprise anyone that Warner Bros. wanted a sequel made. What is surprising: Tim Burton was completely on board with the idea, and put together a treatment where the Deetz family travels to Hawaii with plans to open a hotel resort. Local residents both alive and dead fight back against the development plans, and the final showdown involved Beetlejuice turning into a giant monster called "Juicifer," and Winona Ryder's character summoning a tidal wave to sweep all the supernatural creatures into the ocean.
Yeah. This almost happened. Both Michael Keaton and Winona Ryder were on board, but Tim Burton got distracted making Batman movies and the whole thing was shelved. That's not to say Warner Bros. didn't try to resurrect the idea over the years. During one of his Evening with Kevin Smith soirées, Kevin revealed that Beetlejuice Goes Hawaiian was one of the projects offered to him when Hollywood thought he was some sort of nerd Scorsese. "Didn't we say all we needed to say in the first Beetlejuice?" Smith sighed. "Must we go tropical?"
And now, the Beetlejuice sequel that may finally happen…
It's been 27 years since the original Beetlejuice came out (dear God that makes me feel old), but, apparently, there's still a lot of heat for a sequel. Tim Burton has been casually talking up the idea for decades, but things seem to have gotten pretty serious recently. While promoting his latest movie, Big Eyes, Burton said, "There's only one Beetlejuice, and that's Michael. There is a script, and I would love to work with him again. I think there is now a better chance than ever!"
Michael Keaton has expressed interest in revisiting the role of Beetlejuice, and Winona Ryder confirmed she was on board, telling Seth Myers, "It was very hush-hush top secret… but then Tim Burton said, 'Oh yeah, we're doing it, and Winona's going to be in it.' If he said it, I can say it."
Talking to IGN, Burton expanded on the status of the project. "There's a script now that I think is closer to what it could be, and I'm excited about it. I wouldn't call it so much a sequel, but it'll have some characters [from the original Beetlejuice]. It's a bit too early to say, but it's definitely something that's on my radar and something I'd love to do."
The director even went so far as to give a timeline for when production might start, saying he would roll into making the sequel right off of wrapping Miss Peregrine's Home for Peculiar Children at the end of 2015. Whether that fits into Michael Keaton's revitalized schedule is unclear at the moment. It's also worth noting that Tim Burton is notorious for getting distracted by new pet ideas, and his list of abandoned movie ideas is even longer than that of Guillermo del Toro.
Whether Beetlejuice 2 ever happens, we'll always have the original to appreciate. And hopefully you can appreciate it a bit more now that you're all read up on fascinating facts behind its making.