Last Updated: May 18th
We take comedy very seriously here at Uproxx, which is why we made sure to craft a streaming recs list that has it all. From Will Ferrell-fronted action romps to stoner adventures, classic teen hijinks, and some more cerebral fare — there's something here for everyone, as long as you're looking to laugh.
Here are the best comedies streaming on Netflix right now.
Related: The Best Shows On Netflix Right Now
Bad Trip (2021)
Run Time: 86 min | IMDb: 6.6/10
Eric Andre borrows Sacha Baron Cohen's schtick — combining scripted storytelling with secretly-filmed real-world pranks — to create this hybrid comedy masterpiece about two best friends on the road trip of their lives. Andre plays Chris while the always fantastic Lil Rel Howery plays his BFF Bud. The two head from Florida to New York (chased by Bud's mentally unsound escaped convict of a sister played by Tiffany Haddish) while taking in America's heartland by way of rodeo nights and unfortunately gorilla encounters at local zoos.
Forgetting Sarah Marshall (2008)
Run Time: 110 min | IMDb: 7.2/10
Terrible breakups are a universal experience and Jason Segel manages to tap into the deep yet hilarious insecurity that plagues us all in the aftermath. When he's dumped by his movie star girlfriend, Peter goes on vacation (and mild stalking) to forget his sorrows (and also cry a lot). Along the way, he discovers a little self-worth, a new lease on life, and love, because even with the gross-out humor, this is still a romantic comedy. A hilarious cameo from Paul Rudd and a scene-stealing turn from Russell Brand make this a romcom that will pass even the pickiest viewer's test for the perfect lazy Sunday movie.
Thunder Force (2021)
Run Time: 106 min | IMDb: 4.4/10
Melissa McCarthy is the queen of physical comedy and she throws all of her weight into this role, playing a woman who accidentally injects herself with a serum that grants her super-strength. She partners with Octavia Spencer, who plays a scientist, and her former friend, as the two take on a new crop of super villains — hopefully without making an even bigger mess of things.
Monty Python and the Holy Grail (1975)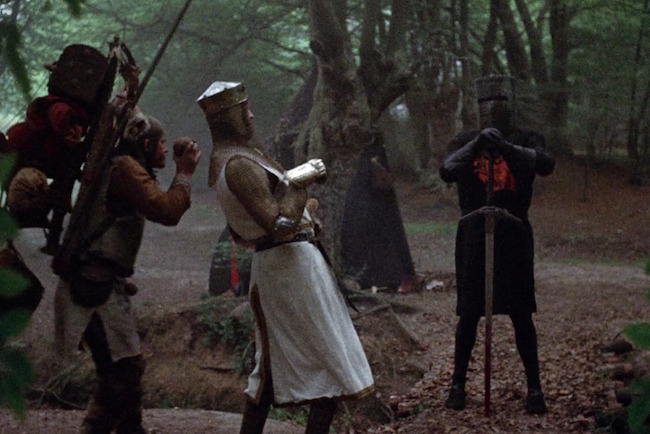 Run Time: 91 min | IMDb: 8.3/10
Even if you've never seen any of the Monty Python films, you most certainly know of Monty Python and the Holy Grail. It's been quoted, memed, gif-ed, and idolized by comedy fans for generations. At its core, it's a parody of the legends of King Arthur and his knights. It's stocked with an impressive cast — John Cleese, Graham Chapman, Terry Gilliam, etc — and its full of eccentric characters, bizarre adventures, and gut-bustingly funny jokes. Think failed Trojan Rabbits, modern-day murder investigations, animated monsters, and musical numbers. Intellectual midgets everywhere will love it.