MEGA-SPOILERS for Black Widow and The Falcon and the Winter Soldier will be found below.
Scarlett Johansson's Natasha Romanoff finally got her solo movie with Black Widow, which sets up Florence Pugh's Yelena Belova as torch carrier into Phase Four and beyond. As is customary with Marvel movies, a post-credits scene went down, and it's a significant one. Let's talk it out, including what it means for the MCU and the assembling of Disney+ shows coming out way.
The post-credits scene takes following after the film's climactic battle and the events of Avengers: Endgame. Yelena and Natasha had bid each other farewell as the former went with their "parents" and the newly freed Widows. The latter went back to Avengers-land, where she intended to free a few members and head towards the events of Infinity War. And obviously, Natasha sacrificed herself for the Soul Stone, beating Hawkeye to a determined scramble to leap to death. In doing so, Natasha meant for Hawkeye to return to his family and finally scrubbed her ledger free of the remaining red while helping to save half the life in the universe, along with her adoptive superhero family.
Well, we see Yelena (who finally got that dog) visit Natasha's grave, where her moment of sisterly love is interrupted by a certain enigmatic The Falcon and the Winter Soldier character, who was the best honest-to-god surprise cameo in MCU history: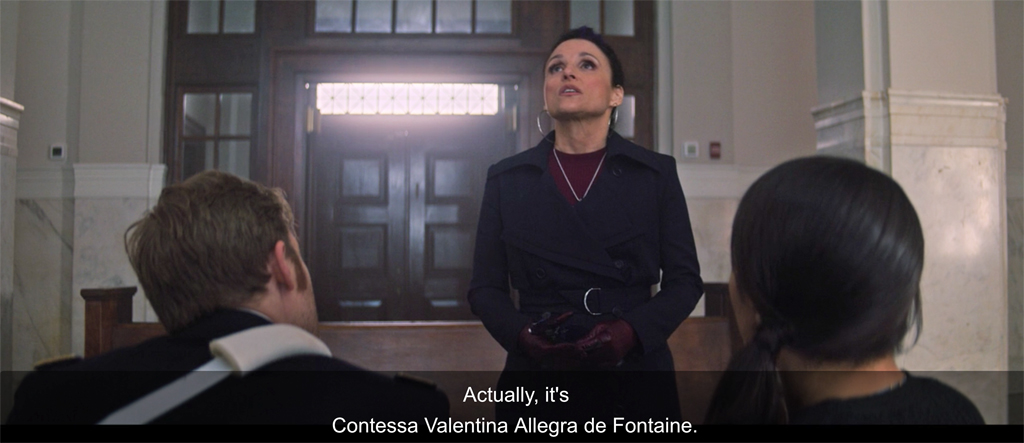 Yup, it's the legendary Julia Louis-Dreyfus as Contessa Valentina Allegra de Fontaine. She prefers to be referred to as "Val," and she's allegedly allergic to the midwest (meaning that Natasha's apparently buried in Ohio, where she at least knew three years of relative normalcy). And Yelena's been working with Val? We need answers on that issue at some point, which it feels like we'll receive in Hawkeye.
Yelena seems unimpressed to see Val, and they're obviously not strangers. She remarks that she's enjoying off-time and that Val should bugger off. "Coming here makes you look desperate," Natasha's sister quips. "I want a raise." It's clear that Val's been doing more recruiting in addition to her enlistment of John Walker, the failed Captain America, near the end of The Falcon and the Winter Soldier. Yet it's not entirely clear whether this scene actually follows that show or vice versa. Vanity Fair previously reported that Marvel Studios originally wanted to debut Val in Black Widow, but plans changed, so who knows? Maybe Yelena joined Val before John did (as U.S. Agent), but the order doesn't really matter. Instead, we're learning that Yelena at least semi-regrets joining up with Val, who's annoying at best (with her nose-blowing intrusion) or nefarious at worst.
Interestingly enough, Val has a message for Yelena here. "I've got your next target," she tells the trained killer. "Maybe you'd like a shot at the man responsible for your sister's death." With that, Val hands over a photo of Hawkeye while remarking, "Kind of a cutie, don't you think?" Val's lying, unless one counts Hawkeye's failure to sacrifice him first as being "responsible."
Is this hit at the behest of Power Broker/Sharon Carter, who's obviously got a beef against the O.G. Avengers? If one were to heavily speculate on where this hit-revelation goes, and Yelena goes after Clint Barton to avenge Natasha, we can expect Yelena to pop up on the upcoming Hawkeye show, where she'd undoubtedly meet up with Kate Bishop (Hailee Steinfeld), who's rumored to be taking over the Hawkeye mantle at some point, which possibly factors into setting up the Young Avengers. Yelena is highly speculated to join that group, but to do so, she'd need to wiggle out from under Val's thumb first. If all is true, it's a heck of a way to team up future MCU leaders.
All of this also means that — given that one must watch The Falcon and the Winter Soldier to pick up on this Val Easter egg — Marvel Studios is making it damn near impossible to opt out of any of the Disney+ shows. One can't blame them, right? This is definitely one way to make me curious about Hawkeye, which wasn't high up on my list of most anticipated shows. More Yelena would be a big selling point there.
Again, though, we don't truly know who Val is, beyond not being the Power Broker. It's possible that Val (and this is one place that Val goes in the comics) is actually Madame Hydra, who possesses a mysterious past with parents who were Leviathan sleeper agents. Val's also been a leading S.H.I.E.L.D. member and once kicked Nick Fury's ass during a training session. Well, we're not likely to get answers anytime soon, at least until Hawkeye arrives, possibly in late 2021. She's truly a wild card, but at least we know that the MCU's not one-and-done with either Val or Yelena Belova, and no one can complain about that development.
'Black Widow' is currently in theaters and streaming on Disney+ via Premier Access.