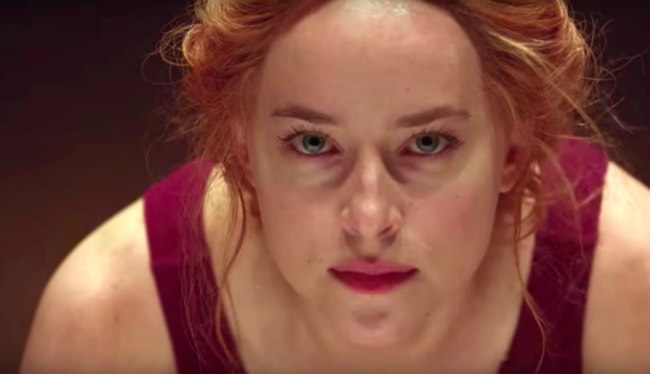 Dakota Johnson has worked with Luca Guadagnino twice, on A Bigger Splash and the upcoming (and extremely scary/sexy) Suspiria remake. The actor and director are not at "Scorsese and Dicaprio" level yet, but they would inch closer, should the rumored Call Me By Your Name sequel come to fruition.
Guadagnino has said he's "serious" about a follow-up to the 2017 coming-of-age film, which was nominated for Best Picture, Best Actor (Timothée Chalamet), Best Adapted Screenplay, and Best Original Song ("Mystery of Love" by Sufjan Stevens), while Armie Hammer insists the film "will happen because there are already people working on it and trying to make it happen."
Speaking of Hammer: his character would have a wife in the sequel (he informs Chalamet's Elio about her in the final moments of the original, leading to the fireplace scene, but we never see her). Guadagnino wants Johnson to play the "New England kind of hoochie woman," he told the New Yorker, with "maybe five children." But he knows he's getting ahead of himself. Guadagnino has to resolve a problem first: the sequel "cannot be Call Me by Your Name Two."
As for (Don't Call It) Suspiria (Two):
Where [Dario] Argento's version, set at a dance school, was brightly colored and campy, Guadagnino builds his setting unironically, in layers, from a Fassbinderian backdrop of browns and blues and grays. The movie reaches downward, to Germany's ugly past treatment of bodies, and upward, to a mental realm of ritual and symbol: Freudian, creative, and occult. And it tells a coming-of-age story about mastering creative and destructive strength. Suspiria is very much a horror film: flesh is ripped; bones are broken; heads explode. Guadagnino also calls it the most personal movie that he has made. (Via)
Suspiria, in all its head-exploding glory, opens on October 26.
(Via The New Yorker)