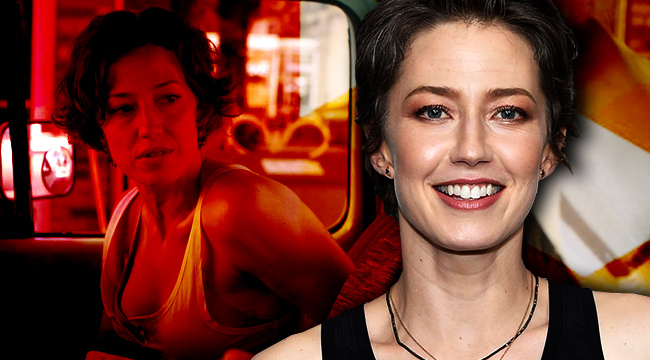 Carrie Coon is having quite a year. She's just been nominated for an Emmy for her lead performance in Fargo, her critically acclaimed performance in The Leftovers still has people talking – oh, and she's currently filming roles for both a Steve McQueen film and a Steven Spielberg film. Yes, this is A Good Year.
Carrie Coon's IMDb page is fairly impressive. Her list of films is short (that's changing), but it begins with David Fincher's Gone Girl. (To be honest, I just assumed there would be a couple of bit parts in scattered other films because most actors have this kind of stuff on her resumé. She jokes that she's "a snob," but she really does only pick top of the line films.)
Which is why it's weird that Strange Weather is only her second film. In Katherine Dieckmann's Strange Weather — out in limited release on Friday, July 28th — Coon plays Byrd – a woman who accompanies Holly Hunter's Darcy on a Southern road trip to confront a man whom Darcy holds responsible for her son's suicide. (The film has dark themes, but it's a little lighter than that description would imply.)
Honestly, Carrie Coon is a delight to interview. She's extremely quick-witted and any topic can lead pretty much anywhere – like when she asks me to walk my pet turtle near Kate McKinnon's neighborhood with the hopes of getting her attention, then mentions that Coon would like to do a movie with her.
I enjoy your Twitter.
Hey, Twitter. I know, I'm kind of a newbie to the Twitter.
You're good at it.
I do my best. I'm really bad at the Instagram. I never post on it. I get in trouble all the time from my PR firms. They're like, "Post things that you care about, Carrie. You can post about books you're reading." You have a 19-year-old turtle.
I do.
Yeah, crazy.
They live a long time. I wasn't aware of that when I bought him…
Yeah, hundreds of years, some of them. You weren't? Turtles notoriously live a long time.
I was just out of college and I really didn't think it through, let's put it that way.
No, of course not. Do you also have a tattoo?
I don't, so the turtle was the tattoo of my life.
The turtle was your tattoo. Well, that seems like a better choice. You're actually caring for another living thing. Anyway, I digress.