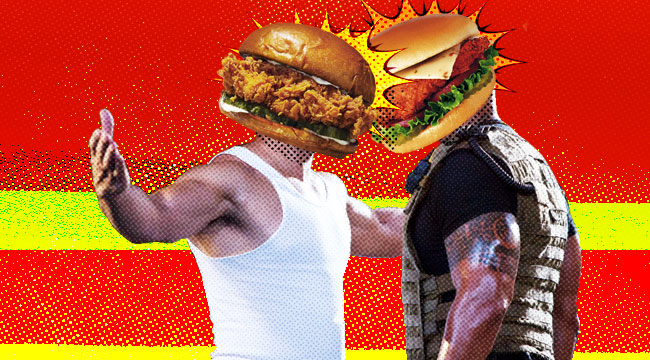 All discourse on the Internet follows a simple three-stage path:
STAGE ONE: Something happens
STAGE TWO: Everything flies off the rails
STAGE THREE: It all gets very dumb
With that in mind, we are very pleased to welcome you to Stage Three of the Chicken Wars, which started late last week with the rollout of Popeyes' new chicken sandwich and are still burning white-hot today. Yes, it is time to get dumb. Really, really dumb. Dumb in a powerful and reckless way. Dumb in a way that suggests someone flipped a cap open and pressed a red button labeled NOS and rocketed the discussion forward at breakneck speed, past logic and good sense and into madness and chaos. Presenting…
The Fast and the Scrumptious: Fast food chicken sandwiches as represented by films from the Fast & Furious franchise.
Yes, we are doing this. We're sorry and you're welcome.