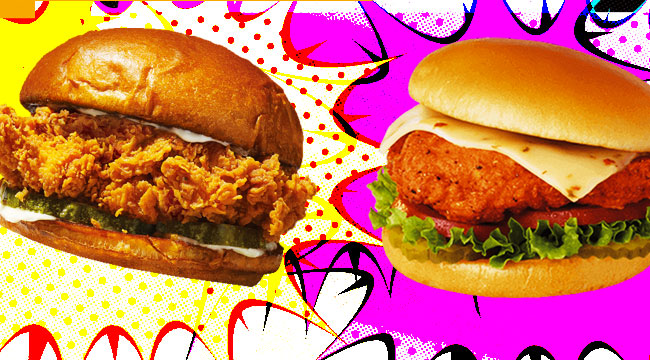 This Monday, Popeyes officially dropped their long-awaited new chicken sandwich to instant acclaim. Not only did Twitter erupt into a frenzy as sandwich-heads far and wide jumped at the chance to crown a new Queen as the greatest chicken sandwich of all time, but the hype is so strong that several Popeyes across the country are selling out of the sandwich completely. In fact, just last night — while eating a Popeyes Chicken Sandwich for the second time this week — I saw the chaos unfold after a line of people were told they wouldn't be able to get sandwiches of their own.
The scene was, frankly, frightening. For a moment, I pitied everyone still waiting in the drive-thru, now wrapped around the block. Then, as I took a bite from my sandwich, I quickly forgot about them.
Currently, the keeper of the crown for the greatest chicken sandwich of all time arguably belongs to Chick-fil-A, it's why the two chains are at the center of the firey Twitter debate (sorry Wendy's) in the first place. And since Chick-fil-A is the subject, we now have to wade into politics for a second. Sorry. We wish we didn't have to talk about politics every time we wanted to talk about a goddamn chicken sandwich either, but this is what happens when the keeper of the crown supports bigoted organizations.
The Politics
Chick-fil-A having the best fast-food chicken sandwich is a fact that an increasing number of us have a problem with, due to the company's very recent monetary support of organizations that blame homosexuals for the sexual, physical, and mental abuse of children, like the Paul Anderson Youth Home; force employees to sign a contract that explicitly bars them from homosexual acts, like the Fellowship of Christian Athletes; or has discriminated against transgender families in the past, like the Salvation Army. If you can separate politics from food, good for you. But a lot of people, just can't stomach Chick-fil-A in good conscious and that's their right.
Of course, this outrage is not enough to stop Chick-fil-A from currently being one of the fastest-growing fast-food chains in the nation, but that's not really the point. The company donated almost $2 million to these organizations as recently as 2017, while simultaneously claiming to not have a political or social agenda after previous controversies. That's dishonest, and for many, it was the final straw.
Okay, cleansing breath and moving on…

Why Is Everyone Freaking Out About Popeyes New Chicken Sandwiches?
Popeyes new sandwich is already a certifiable hit. It's garnering rave reviews among critics and hungry people alike and inspiring some seriously over-the-top headlines. Vice called the sandwich a masterpiece, The Takeout proudly proclaimed it to be better than Chick-fil-A, and The New Yorker's headline on the sandwich "The Popeyes Chicken Sandwich Is Here to Save America" is not at all overblown.
Just kidding, it's insane. Calm down, nerds.
All y'all who said Popeyes chicken sandwich is better than Chick-fil-A needs to fight me.

— csim (@CsimSays) August 21, 2019
That's a lot of hype for a chicken sandwich. The damn thing is near inescapable and that's because it is really, truly delicious.
But! But! … Is. It. BETTER?
All right Already, Who Makes The Better Sandwich?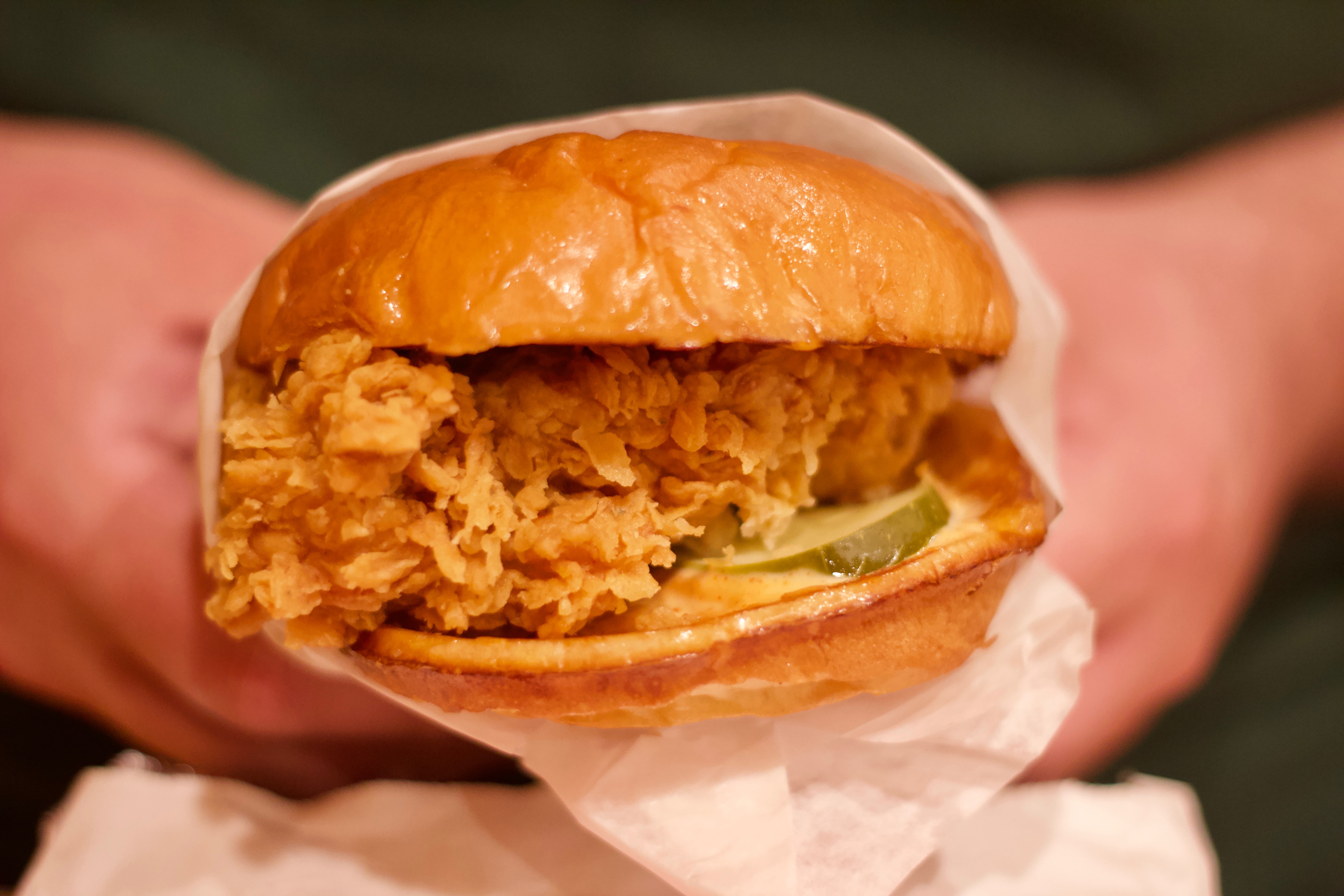 I've had the new Popeyes chicken sandwich on two separate occasions this week. The "Classic" rendition consists of a breaded chicken breast filet, pickles, and mayo atop a buttery brioche bun, and the "Spicy" version is the same exact sandwich, except the mayo is swapped out for a "spicy cajun" sauce — which has mayo in it. Both experiences were ten out of ten on any reasonable "fast food" or even "fast-casual" scale.
Eating the sandwich is a thrill for the senses. Once you've unwrapped it, you'll instantly be greeted by that familiar and comforting smell of freshly fried chicken. Upon biting, the batter acts an auditory signal that awakens your tastebuds to the savory indulgence of the breast filet. (Okay, that might be a bit dramatic, but I'm trying to get that New Yorker $$$!)
The flavors hit you in waves. First, you're greeted by the buttery brioche, then the acidity of the pickles immediately balanced out by the mayo, and finally making way for the star of the show — a very slight honey-tinged breast filet that is surprisingly sweet, incredibly juicy, and was good enough to make me mutter aloud, "Jesus Christ."
When the flavors come together it offers hands-down the best menu item at Popeyes, and that's really saying something. But we're not just here to talk about whether the sandwich is good (it's better than good), we're here to answer the important question of the week: Is the Popeyes Chicken Sandwich better than Chick-fil-A?
Yes. No. Well… look, it's complicated.
That answer will probably drive you up a wall but really, it depends. If your question is if Popeyes "Classic" chicken sandwich is better than Chick-fil-A's standard chicken sandwich then the answer is "yes." If you want to know if the Popeyes "Spicy" chicken sandwich is better than Chick-fil-A's spicy chicken sandwich the answer is "maybe." And if your question is who makes the best fast-food chicken sandwich, then my answer is still Chick-fil-A, specifically the Spicy Deluxe Chicken Sandwich.
Chick-fil-A's Spicy Deluxe just offers something that Popeyes new spicy chicken sandwich doesn't. Both sandwiches contain a jaw-dropping list of additives and questionable ingredients, but Chick-fil-A's Spicy Deluxe is seriously elevated by the inclusion of fresh greens, tomato, and pepper jack cheese, not to mention the fact that the chicken itself is spicy. This is my major problem with Popeyes new spicy chicken sandwich — there's no heat.
This is puzzling considering Popeyes regular chicken comes in both mild and spicy renditions. Why wasn't the same treatment given to the chicken inside the sandwich? Instead, we're given a spicy cajun sauce that just doesn't bring an adequate kick. Worse yet, it feels lazy.
On the flip side, you could argue that Chick-fil-A's standard sandwich has an eerie Mike Pence-ian sterility about it. It's the only chicken sandwich I'd ever describe as "clean," and that can be downright unappetizing. Popeyes sandwich is heavy, brash — the type of sandwich that leaves a mess on your tray and can knock you deep into a food coma. If what you want from a chicken sandwich is a savory food bomb, Popeyes won't disappoint. If you're a Chick-fil-A fan who is looking for a similarly uniform, high-quality chicken sandwich that fills the void left behind by your once favorite chain… this just isn't that.
Still, the sandwich is amazing. We vouch for it. It's not an imitation of Chick-fil-A, it's its own thing. And that's great.

Lastly… Is There Such Thing As A Non-Problematic Chicken Sandwich?
At the end of the day, only you get to decide where you want to spend your money. Whether you've left Chick-fil-A behind because of their politics, felt ashamed waiting in fast food drive-thru, or really couldn't care less about any of this stuff, we support your decision to feel and do whatever the hell you want about it. Because though we called out Chick-fil-A last year, the hard truth is we aren't sure an ethical fast-food chicken sandwich even exists.
Aside from the dire conditions found at factory farms across the country, one of Popeyes major chicken suppliers is Simmons Food Inc. According to research done by Reveal, Simmons Food Inc uses the organization Christian Alcoholics & Addicts in Recovery (CAAIR) at their chicken processing plants. CAAIR is a rehab program that was started by chicken company executives who were struggling to find workers and decided to form a Christian rehab program that could supply processing plants with a cheap labor force under the guise of helping them overcome addiction rather than serving jail time for their drug-related crimes.
Reveal found that CAAIR program members complained about gnarled and overworked hands from hours spent hanging chickens from shackles, workplace accidents that have maimed workers or caused serious bacterial infections, and being sent back to prison if they couldn't keep working. Workers in the CAAIR program did not receive compensation for their work, the money generated went directly into CAAIR's pocket. So if you hoped that Popeyes new Chicken Sandwich was some sort of savior, politically and ethically speaking, hate to break it to you but it probably isn't.
At the end of the day, the only way to ensure you can enjoy a completely problematic-free chicken sandwich is to make it yourself. Otherwise, you're likely to get stuck wrestling with supply chain and downstream donation concerns. By the time you put those sticky issues to bed, the sandwich you crave might already be sold out.