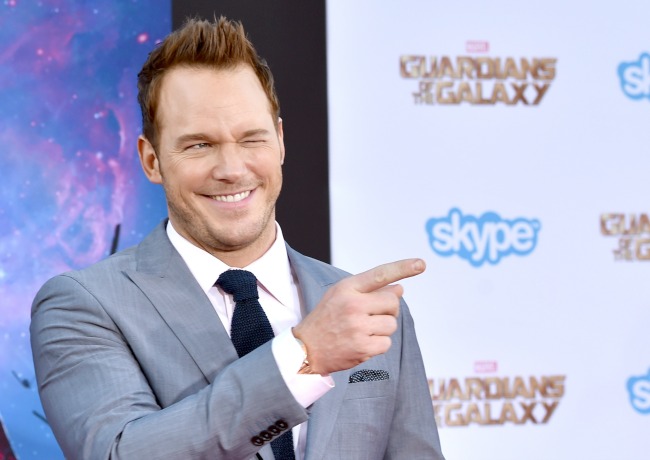 Chris Pratt's theoretical resume is far more impressive than his actual one, and that one has Guardians of the Galaxy and Jurassic World on it. Since it was announced that Parks and Recreation's Andy Dwyer would play Star-Lord, the actor has been attached to Passengers and to reboots for Knight Rider, The Magnificent Seven, and Ghostbusters, but no rumor is as dizzying as the one that puts a fedora on Johnny Karate's head and envisions him as the new Indiana Jones.
Prior to Friday night, Pratt had kept a buttoned lip about the possibility that he would replace Harrison Ford in a full reboot of the beloved franchise, but apparently when someone gives you a bra with dinosaurs on it, it is customary to say a few words about possibly playing one of the most iconic roles of the last 30 years.
While Chris Pratt wouldn't admit to knowing anything about all those rumors about him being in the running to play Indiana Jones, the Guardians of the Galaxy actor did say it would be an "awesome opportunity" to play the character, during a press appearance to talk about his Hasty Pudding Man of the Year award.
Bit of an understatement, but at least Pratt's first public comments about this latest rumor aren't doused in fear even though it would be understandable if they were. This isn't like resurrecting the Jurassic Park franchise. Even if Jurassic World fails, Pratt has some cover because the real stars are the dinosaurs and the effects. With an Indiana Jones reboot, all eyes would be on whoever takes the whip out of Harrison Ford's hands and many of those eyes would be shooting daggers at New Indy.
It would be quite an "opportunity," but it would also be an immense responsibility. Whoever winds up in the role will surely understand that, but they'll also have to possess a bit of "I don't give a f*ck," because swagger would seem to be a prerequisite for the job. Maybe even a little insanity, because if you take that role, you're jumping into the nerd snake pit and you have to believe that you're going to at least meet expectations. Maybe Chris Pratt does or maybe he'll never get the chance to consider it fully, but at least now we know that he's aware of the possibility and he isn't screaming and running in the other direction.
Via Comic Book