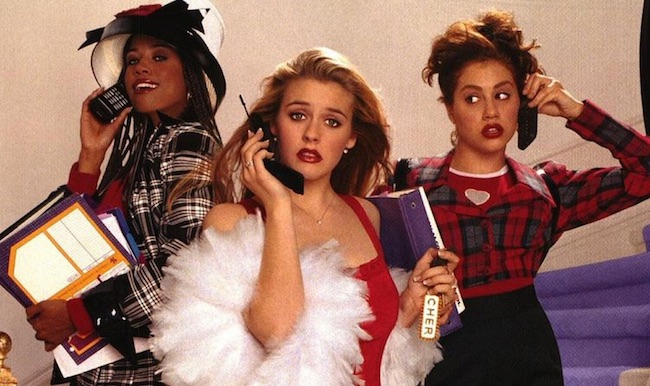 We're not sure how you improve on perfection, but so it goes with most remakes. But this one really makes little sense: Clueless, Amy Heckerling's classic rehash of Jane Austen's Emma for mid-'90s Beverly Hills (not to mention well-oiled catchphrase machine), is the next on the reboot conveyor. At least it has smart people behind it, namely the writers of Girls Trip (Tracy Oliver, who will produce), and GLOW (Marquita Robinson, who will write).
Deadline reports that the project is very much in the early stage, which either means it could die on the vine or that those old enough to remember seeing it when it was new have plenty of time to adjust to the notion of a world with a Clueless that doesn't star Alicia Silverstone, ageless time lord Paul Rudd, the late Brittany Murphy, and eventual Republican Stacey Dash.

The original, released in 1995, was not only one of the sharpest, wittiest comedies of the Gen-X era; it's arguably the finest Austen adaptation to date. It arrived at the start of the Austen movie renaissance that was kickstarted by the heroic trio of Ang Lee's Emma Thompson-adapted and -starring Sense and Sensibility and the BBC adaptations of Persuasion and Pride and Prejudice (the one with Jennifer Ehle and a soaked-shirted Colin Firth). There was also, one year later, a straight period version of Emma with Gwyneth Paltrow that was fine but decidedly no Clueless.
There's no Austen resurgence afoot right now, save 2016's excellent and hilarious Love & Friendship, which sicced filmmaker Whit Stillman and a never-better Kate Beckinsale on the Victorian author's early juvenile novel Lady Susan. (Although there is a new Emma adaptation in the works, with The Witch star Anya Taylor-Joy.) There's not even strong teen movie wave going on. So what gives? Perhaps Oliver and Robinson just really like Clueless. Hey, we get it.
In the meantime, no actor has been cast in any role, not even ditzy but secretly sort-of-intelligent matchmaker hero Cher. May we suggest Clueless superfans Seth Rogen or Jake Gyllenhaal?
(Via Deadline)