David Foster Wallace, the post-modern maximalist known for his 1,079-page opus Infinite Jest, popular essays like "A Supposedly Fun Thing I'll Never Do Again," and his posthumous novel The Pale King, would have been 53 today.
Since his death in 2008, DFW moments and references have found their way into pop culture, and with each reference in TV and film, a DFW fan swoons with delight. I spoke with DT Max, who wrote the biography of Wallace Every Love Story is a Ghost Story, and he noted, "It's interesting to see David percolating culture in this way. It's not really surprising. A lot of creative people, including people in film and TV, were into him." Max speculates that the references may have made Wallace uncomfortable and said, "[Wallace] had mixed feelings about the level of fame he had. And I think he would have ignored it… he was always afraid he would be seduced by these things so he went out of his way to stay away from them."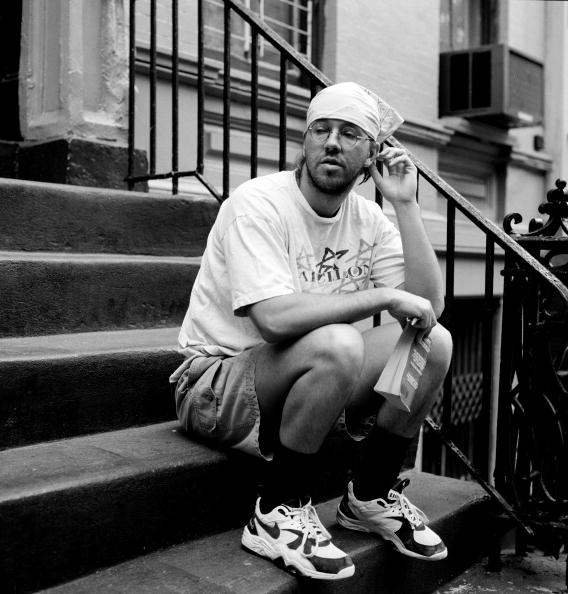 It's interesting, too, considering Wallace was addicted to television. As Max wrote in his Wallace bio, "Wallace hardly had a normal relationship with television, let alone his life," and that TV was his "drug of last resort." And In Wallace's essay on television, "E Univus Pluram: Television and U.S. Fiction" (The Review of Contemporary Fiction, 1993) he wrote: "Television, from the surface on down, is about desire. Fictionally speaking, desire is the sugar in human food."
While his novel Infinite Jest examined entertainment's toll on society, his later novel, The Pale King, explored boredom. "I think he certainly would have argued, towards the end of his life, that people are afraid of the sounds of their own mind," Max said, "So television is one way to blot out the sound of their own minds. And that boredom, or mindfulness — which is a type of boredom, sometimes was an attempt on his part to really listen to the sound of his mind."
And so with that in mind, here are some favorite DFW moments from TV, film, and music:
Parks and Recreation

Parks and Recreation went all out with their DFW love in the Season 5 episode "Partridge," which made numerous references to Infinite Jest. The idea was sparked by Adam Scott's character Ben Wyatt visiting his hometown of Partridge, Minnesota (Infinite Jest character Ortho Stice is from Partridge, Kansas). The book is a favorite of Parks & Rec creator Mike Schur (he wrote his college thesis on it, and owns the film rights to the novel). He conceived the idea with the episode's writer Dave King and said that, "Basically every character name and every building, every major reference you can see has some kind of reference point within the book. It was purely for our own amusement."
Weeds

In "Ducks and Tigers," from Season 5, Hunter Parrish's character Silas starts reading Infinite Jest as a way to impress Esteban's daughter.
The Simpsons

"A Totally Fun Thing That Bart Will Never Do Again" from The Simpsons Season 23 takes notes from Wallace's Harper's essay, "A Supposedly Fun Thing I'll Never Do Again" in which Wallace spends a painful week on a cruise ship. Like Wallace, the Simpsons take a cruise. Unlike Wallace, Bart finds the experience wonderful and — to the despair of the rest of his family — tries to find a way to make the cruise last even longer.
Liberal Arts

In Josh Radnor's film Liberal Arts (2012), Radnor's character Jesse Fisher discusses Infinite Jest on a couple of occasions. And Fischer's friend Dean [played by John Magaro] ends up in the hospital for his attempted suicide, echoing Wallace's personal experiences and eventual death.
The Decemberists' "Calamity Song"

In The Decemberists' music video for "Calamity Song" (directed by Mike Schur) the Enfield Tennis Academy tennis match at Eschaton, a famous scene from Infinite Jest, is recreated. Decemberist frontman Colin Meloy had just finished the book when he wrote the song, which inspired the lyrics and, in turn, the video.
The Office

The Office featured a character named David Wallace, the chief financial officer at Dunder Mifflin played by Andy Buckley. Mike Schur was involved. So it's safe to assume the name was intentional.