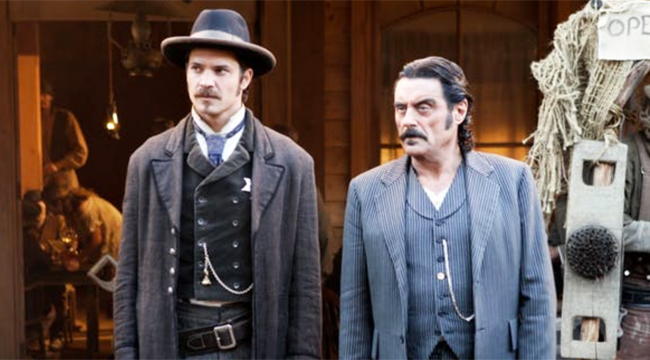 In late July, the long-rumored and much-talked about Deadwood movie finally came true when HBO confirmed that David Milch's profoundly profane series about the darker elements of the wild west would return. Since the official announcement, however, HBO, Milch and the returning cast members associated with the project have largely kept quiet about everything from what the script's story entailed to a possible production start date. Thanks to W. Earl Brown, who plays Al Swearingen's (Ian McShane) right-hand man, Dan Dority, that's no longer the case.
Brown took to Twitter late Monday night to exclaim that he had "just read the final draft" of Milch's script. Needless to say, the actor was quite pleased with what he'd seen. "In the course of those two hours, my emotions ricocheted in every fucking direction: exhilaration to melancholy; hoots of joy to screams of despair. The Maestro has topped himself," he wrote. "The structure is essentially the same as the first version I read a year and a half ago, but the complexities of the relationships, the emotional peaks and depths, are all sharpened to a razor fine edge. It's gut wrenching.."

He then began answering Deadwood fan questions about the movie to the best of his ability. Among other things, Brown confirmed that the story would take place 10 years after the conclusion of the series' third and final season.
The actor also revealed which living cast members would not be returning, and why (at least those he knew about), and partially explained that Milch and company would not be recasting roles previously played by now-deceased actors like Powers Boothe, who played Cy Tolliver.
As for a production start date, Brown said that principal photography will begin on October 5th.