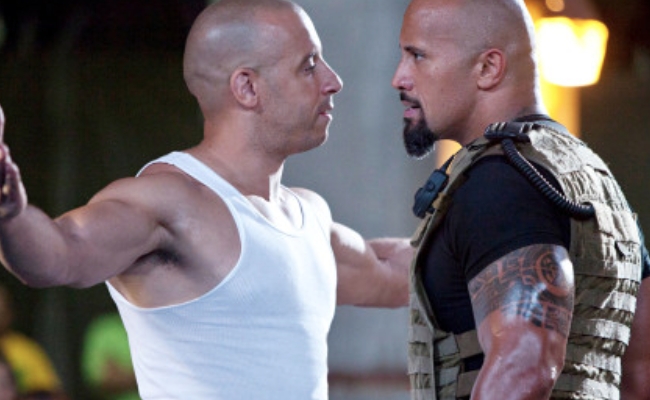 Vin Diesel and Dwayne Johnson's feud is as messy as it is entertaining. It began with The Rock calling certain The Fate of the Furious co-stars "candy asses." As we later learned, he was referring to Diesel, and from there, Tyrese got involved, and there were Instagram slights, and The Rock announced a spinoff with Jason Statham, and the release date for Furious 9 was pushed back… and so on. The two famous bald men (one of whom, Diesel, edged the other to become 2017's top-grossing actor) seemed ready to let bygones be bygones, but I'm not so sure after reading Johnson's Rolling Stone profile.
"Vin and I had a few discussions, including an important face-to-face in my trailer," he said. "And what I came to realize is that we have a fundamental difference in philosophies on how we approach moviemaking and collaborating. It took me some time, but I'm grateful for that clarity. Whether we work together again or not." That sounds promising-ish, but does The Rock think he'll back for more adventures with Toretto, Ortiz, and the rest of the Corona-loving gang?
"I'm not quite sure," he says. "Right now I'm concentrating on making the spinoff as good as it can be" – Hobbs and Shaw, co-starring Jason Statham, due next year. "But I wish him all the best, and I harbor no ill will there, just because of the clarity we have." He considers this, then lets out a big, sly laugh. "Actually, you can erase that last part about 'no ill will.' We'll just keep it with the clarity." (Via)
Expect a response from Tyrese on Instagram any moment now.
(Via Rolling Stone)