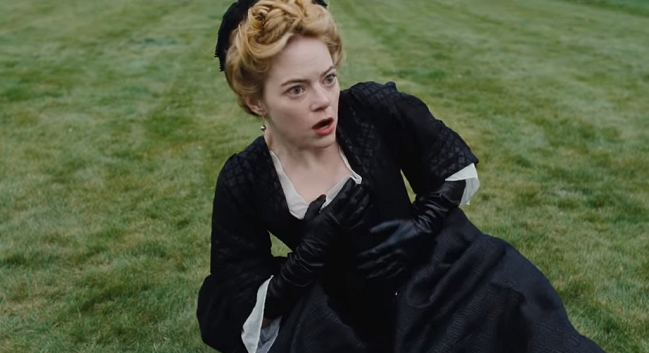 Emma Stone's new movie, The Favourite, has already debuted at some film festivals, and it's getting a limited release in November. Stone stopped by The Graham Norton Show on Friday to promote the movie. With the help of Eddie Redmayne, Jude Law, and Melissa McCarthy, Stone explained the dangers of what Norton calls a "corset role." It is both an amusing and uncomfortable conversation. Not as uncomfortable as actually wearing a corset, but still pretty uncomfortable.
"It's historically accurate, but I couldn't f*cking breathe. And I would smell menthol and it sort of made me think that I was in, like a wide open space. So I'd just smell a little bit of menthol and be in a wide open space for 30-seconds and then be back to not breathing. But then after about a month, my organs shifted because they have to. It was only temporary, but it was gross."
Historical accuracy sounds like a real pain in the neck. Of course, if you're wearing a corset that pain in the next might be a kidney looking for a new place to live. Stone also said that she couldn't sit while wearing her historically accurate corset, so she was forced to lean awkwardly on couches while she smelled menthol and pretended she was elsewhere.
While we may never know exactly what organ went where, we should at least be able to figure out where her leaning board was. They sound like wonderful things that more people should have access to at their jobs, even when they aren't wearing a corset.