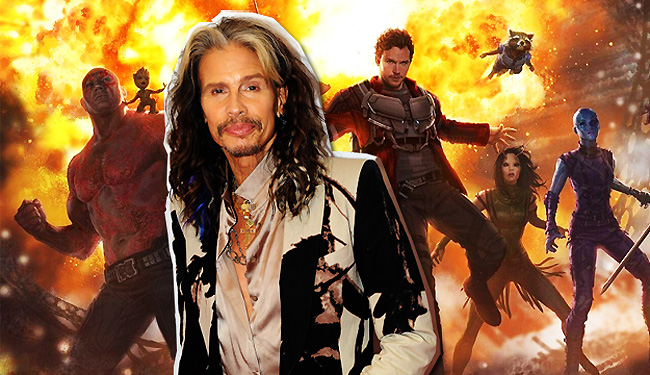 Steven Tyler wears a lot of hats, both literally and figuratively, and we recently learned the Aerosmith frontman really wants to add a role in a future Guardians of the Galaxy movie to his extensive resumé. But Tyler isn't going to bebopping across the cosmos unless GotG mastermind James Gunn is on board. Well, thankfully for Tyler, it sounds like he is.
During a recent Facebook Q&A session, Gunn responded to Tyler's request to be in the currently-hypothetical Guardians of the Galaxy Vol. 3.
"Yes, I did hear that Steven Tyler wants to be in Guardians of the Galaxy. He gave Guardians of the Galaxy a shout-out the other day in an interview. He said, 'James Gunn are you listening?' The answer is: Steven, yes I am listening. And I'm a big fan of Steven Tyler's. I had the pleasure of directing his daughter Liv in a movie (Super) in which she was fantastic, and I met him for a few seconds at a screening of that movie. He's a cool guy. And of course I would love to work with Steven Tyler sometime."
Gunn also sent out this supportive tweet…
Of course, this is all jumping the gun a bit, since Guardians of the Galaxy Vol. 2 isn't even out yet, but come on, you know Marvel is doing the trilogy thing with GotG. So yeah, since you can apparently just ask to be in GotG Vol. 3, I'll take a nice supporting role with not too much makeup and a nice, juicy paycheck. Thanks.
Guardians of the Galaxy Vol. 2 hits theaters May 5, 2017.
(Via Screen Rant)