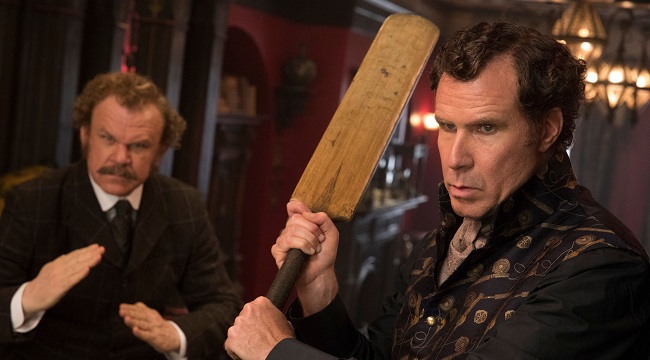 Two days before the potential mess that is the Academy Awards, the Razzies — aka the anti-Oscars, rewarding the worst in the past year's cinema — announced their big winners, as per The Hollywood Reporter. The awards body, which have existed since 1981, have been particularly bold in their plaudits, and this year was no different. The big winner, if you will, was the powerfully disliked Holmes & Watson. Ditto President Donald J. Trump.
Holmes & Watson, the third tag team effort from the previously dynamic duo of Will Ferrell and John C. Reilly, took home four Golden Raspberry Awards, including Worst Picture, Worst Supporting Actor for Reilly, Worst Remake, Rip-Off or Sequel, and Worst Director. It's worth noting that Reilly had an otherwise terrific 2018, doing some of his best work in The Sisters Brothers and Stan & Ollie (in which he wore make-up and prosthetics to embody screen comedy legend Oliver Hardy), and was reliably delightful as the lead in Ralph Breaks the Internet.
Speaking of Razzie winners who had an otherwise good 2018, Melissa McCarthy won Worst Actress for the super blue puppet comedy The Happytown Murders. But she won another, more distinguished Razzie as well: the Razzie Redeemer Award, which praised her for the fact that she "went from a multi-Razzie darling to a critically acclaimed Oscar nominee for her out-of-caricature role in Can You Ever Forgive Me?" (It's worth noting that she's been Oscar-nominated before, for Bridesmaids back in 2011.)
Worst Screenplay went to Fifty Shades Freed, but the remaining awards went to Dinesh D'Souza's "documentary" (read: poorly argued far right propaganda machine) Death of a Nation, in which the pundit and presidentially pardoned felon tried to argue, among other things, that alt-right white supremacist and Donald Trump superfan Richard Spencer is somehow a secret progressive.
Death of a Nation's Razzies, alas, weren't for the film itself, but for Donald Trump, who appears in stock footage in the film, and therefore won Worst Actor and Worst Screen Combo (with "His Self-Perpetuating Pettiness," which okay). Kellyanne Conway also scored Worst Supporting Actress.
And somehow Gotti got off scot-free.
The complete list of winners can be read here.
(Via THR)