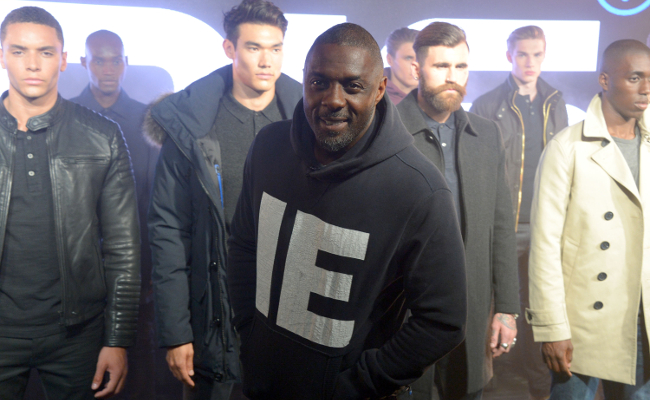 Variety has made its full profile of the upcoming Idris Elba film, Beasts of No Nation available, and the anecdotes from the difficult shoot (along with director Cary Fukunaga's response to his rumored feud with True Detective creator Nic Pizzolatto) don't disappoint.
Apparently, Elba, who plays an African man who recruits a boy into his army, fell off a cliff while shooting a crucial scene. A ridge broke his fall, otherwise he would've fallen 90 feet:
"I remember slipping and catching onto this big branch that was sticking up, and I literally was like, 'Whoa!' " recalls Elba. "It was a moment where I was like, 'This is the real deal.' "
As for Fukunaga, he tells Variety that he felt tired just when the shoot was about to start, in Ghana, and turned out to be sick with stage-two malaria that pushed production back a week. He says: "It's like someone gave you a sleeping pill, along with a pounding headache and a hot-and-cold fever. My entire body ached. My kidneys were aching."
That's not all, though. Fukunaga had to fill in as camera operator when the one he hired became injured. The production also had to pay for the food and clothing of extras who were detained in the Ivory Coast on suspicion of being mercenaries, while Fukunaga had to constantly rewrite the script after actors would lose interest and stop showing up for work. To top it all off, the director had another brush with death when he stepped on a poisonous black mamba snake during the shoot.
And still, that's not all:
The film ballooned $1 million over budget, and Fukunaga found himself struggling to keep it together. "Every day, it felt like we were on a sinking ship," he says. "I thought, this is going to be 'Lost in La Mancha.' We were shooting in rainy season. Sets were washing away." Fukunaga shed 20 pounds from his 180-pound frame. Because he didn't trust the local meat — "In Africa, you see chickens and pigs eating garbage," he says — his diet frequently consisted of a salad of onions, cucumbers and avocado. "I just found out last week I'd been carrying a parasite for the last year, so that was probably part of the weight loss," Fukunaga says. "I'm on a whole cocktail of antibiotics now."
When Fukunaga got home and tried to edit, he found that he didn't have enough scenes and would have to use voiceover to fill in the gaps. The film was saved when Netflix plunked down $12 million to distribute it. The bulk of the article, which I highly recommend reading in full, explains how Netflix's revolutionary offer and distribution plan for this and other hard-to-distribute indies works.
The Beasts of No Nation shoot sounds like a nightmare, but it also makes me excited to see it. Coming from the director of the good season of True Detective, as well as of Jane Eyre, the film is bound to be moving and gorgeous.