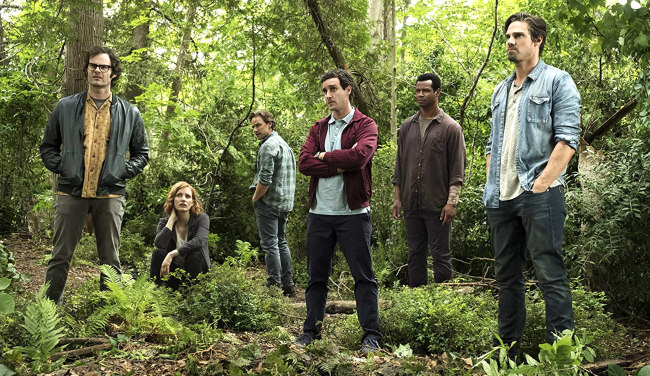 It Chapter Two takes place 27 years after the events of It, the highest-grossing horror movie ever. Well, "mostly" takes place then. There are flashbacks to the young members of the Losers' Club from the original film, played by Jaeden Martell, Sophia Lillis, Finn Wolfhard, Chosen Jacobs, Jeremy Ray Taylor, Jack Dylan Grazer, and Wyatt Oleff, cut with the grown-up cast, James McAvoy, Jessica Chastain, Bill Hader, Isaiah Mustafa, Jay Ryan, James Ransone, and Andy Bean. Everyone, minus McAvoy, came together at the It Chapter Two premiere on Monday, giving us this fun photo of all the Losers, together at last.
Here's just the adults.
And just the kids.
That Bill Hader/Finn Wolfhard and Jessica Chastain/Sophia Lillis casting is A+.
In other It news, author Stephen King asked director Andy Muschietti to include a "couple of things" from his book in the movie. One is the Paul Bunyan scene; the other is "a scene where the standpipe basically collapses and starts rolling down the hill, and for some reason, it's one of Stephen's favorite episodes in the book and, it's funny actually," according to Muschietti (you can read the context for the spoiler-y scene here). There's also the infamous Ritual of Chüd.
It Chapter Two opens on September 6.