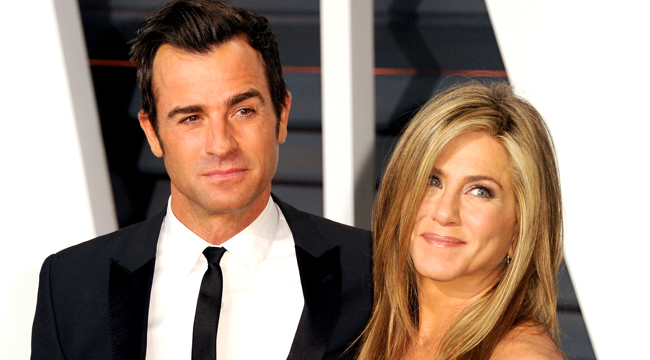 Jennifer Aniston and Justin Theroux are married. After a week of debilitating setbacks for Team Cupid, love finally won out in the end. The tabloid-loving public has been sent reeling by both the Gwen Stefani-Gavin Rossdale divorce and the Kermit-Miss Piggy split, but one optimistic couple decided to go against the odds.
Theroux and Aniston got engaged in August 2012. Since then, Theroux has kept busy with his mainstream acting breakthrough in The Leftovers, but they finally found an evening to make things official. Although Aniston continues to drop shade against ex-husband Brad Pitt in almost every interview, she clearly adores Theroux, as well. She raves about his "eyeballs," which seems odd when those eyebrows dominate. Let's do this with feeling:
Jennifer Aniston and Justin Theroux have made it official!

The couple exchanged vows in front of more than 70 family members and friends on Wednesday at their Bel Air, California, home, sources confirm to PEOPLE. "Guests were told it was a birthday party for Justin," says a source. "Jen and Justin wanted to surprise guests and guests were certainly surprised."

Reps for the couple did not immediately comment.
Not bad, not bad. TMZ has photos of the party setup, and guests included Howard Stern, Lisa Kudrow, John Krasinski, and Chelsea Handler. TMZ says the wedding cake included "TWO Muppet-like characters," which was perhaps a nod to Kermit and Miss Piggy. In jaded Hollywood, it's difficult to surprise anyone, but these two crazy kids pulled it off.
P.S. In a pure coincidence, The Leftovers season two trailer also dropped on Wednesday.