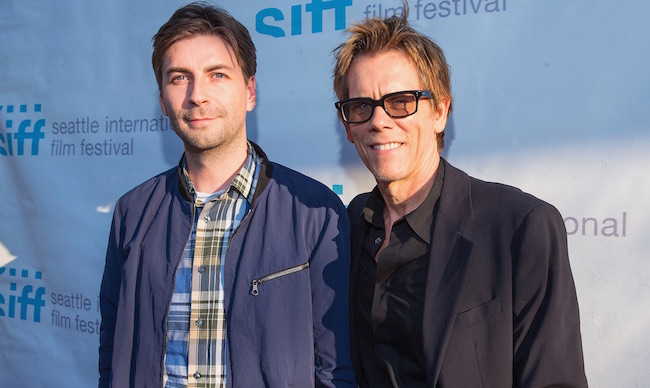 Cop Car, a new indie film about two young boys who steal what appears to be an abandoned cop car from a crooked local sheriff (Kevin Bacon), is the kind of film that usually needs a big push to get any kind of attention. After its premiere at Sundance, Cop Car was heralded for its tension and action presented on the lowest of low budgets. As it turns out, Cop Car is getting A LOT of attention because its director and co-writer, Jon Watts, just happens to now be directing the next Spider-Man movie… which is all very fortunate for Cop Car, and Watts is just fine with that.
Kevin Bacon – whose Sheriff Kretzer relentlessly terrorizes the two young thieves pretty much from start to finish in an effort to reclaim his cop car – points out that if you want to direct a Marvel movie some day, well, you better get on board with Kevin Bacon. Because between Cop Car and James Gunn's Super, that's two indie films in a row that have led to that director's next project being a Marvel film. This is all just more proof that the world really does revolve around Kevin Bacon, and even Kevin Bacon knows this.
Ahead, we speak to Bacon and Watts about Cop Car, Watts' Spider-Man movie, and Bacon shares the truth about why the key to success starts with Kevin Bacon.
I've had your version of the "first draft" of "Fun, Fun, Fun" stuck in my head since Friday's Fallon.
Kevin Bacon: Cool. It's a catchy little tune, eh? It was hilarious. I love the Bob Seger one, too.
Cop Car is getting probably more attention because of another movie coming up…
Jon Watts: Because Kevin is in Black Mass?
Exactly.
Jon Watts: [Laughs] I know, it's really helping us out.
But with Spider-Man, I hope that doesn't bug you. Anything is good to help get the word out, right?