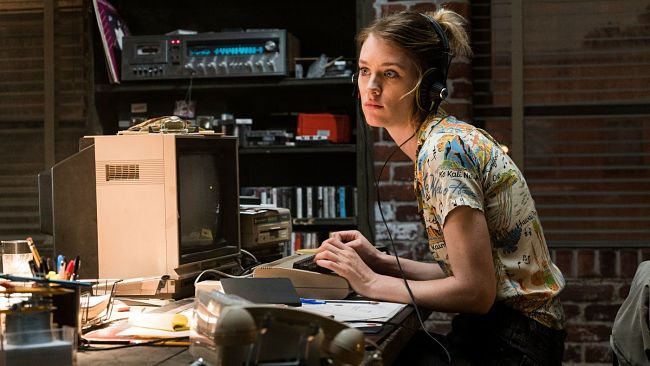 In James Cameron's mind, there are only two Terminator movies: The Terminator and Terminator 2: Judgment Day. The other films — Terminator 3: Rise of the Machines, Terminator Salvation, and Terminator Genisys — are a "bad dream" that will be ignored in director Tim Miller's upcoming Terminator movie. (The word "Terminator" has officially lost all meaning.) They exist in "an alternate timeline, which is permissible in our multi-verse," according to Cameron. "The only thing I insisted on was that we somehow revamp it and reinvent it for the 21st century." Gone are Claire Danes, Christian Bale, and Emilia Clarke; in comes Halt and Catch Fire standout MacKenzie Davis, who's suddenly everywhere. This is a promising development.
According to insiders, Davis would be one of the new faces of rebooted franchise, in the vein of Schwarzenegger's robotic assassin. Miller and Cameron are still looking for the protagonist who would take over for Hamilton's character. Sources say Davis has been the studio and Miller's top choice for a while, but the casting needed sign off from Cameron, who is currently filming the Avatar sequels. (Via)
Davis, who earned her science-fiction stripes in Blade Runner 2049, might be the face of Judgment Day's true sequel (which opens July 26, 2019), but she's not the star. "The producers have been undergoing an intense, and so far fruitless search to find a Latina for the story's main role," according to The Hollywood Reporter. "That is a role that would span all three movies of the intended trilogy." Consider Annihilation to be Gina Rodriguez's audition reel.
(Via Variety)