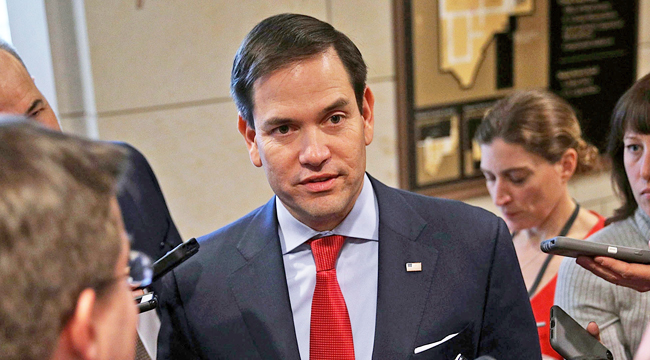 It's not movie awards season until there's a silly controversy, and the first one of 2018 comes courtesy of Marco Rubio. First Man, in which Ryan Gosling plays Neil Armstrong, just debuted at the Venice Film Festival. And though it's getting pretty good reviews, those have been at least temporarily drowned out by claims that the movie, about the 1969 moon landing, doesn't feature a single shot of the American flag. Only problem with this claim: First Man features many shots of the American flag. Including in the trailer.
The charge first came from British paper The Telegraph, which was picked up by Breitbart and by Business Insider, which was picked up by Marco Rubio. The Florida senator, who in the past has been more appalled by cussing than by gun violence, took to Twitter to voice his fury over false claims involving a movie he hasn't seen.
Adding insult to injury, for Rubio and company at least, were words spoken by Gosling at the film's press conference, in which he downplayed the "America F*ck Yeah"-ness of the Apollo 11 mission. "I think this was widely regarded in the end as a human achievement, that's how we chose to view it," Gosling said. "I also think Neil was extremely humble, as were many of these astronauts, and time and time again he deferred the focus from himself to the 400,000 people who made the mission possible."
Gosling added, "He was reminding everyone that he was just the tip of the iceberg—and that's not just to be humble, that's also true. So I don't think that Neil viewed himself as an American hero. From my interviews with his family and people that knew him, it was quite the opposite. And we wanted the film to reflect Neil."
As it turns out, reports of an American Flag-less First Man have been proven false. People who saw the film at Venice were quick to pounce on Rubio, including The Daily Beast's Marlow Stern, who wrote, "having actually seen the film, can confirm that while the physical act of planting the American flag into the moon is not portrayed, there are several shots of the American flag flying on the moon — including one long shot as Armstrong and co. disembark."
Armstrong's own sons even chimed in, saying they approved of the film, including its focus on matters that aren't strictly patriotic. They also confirmed what Gosling said: That their father didn't see himself as an American hero, even though he was.
Now that that misunderstanding's cleared up, everyone can go back to waiting for First Man's October 12 theatrical release. Also worth mentioning is that it's director Damien Chazelle's follow-up to La La Land and it features The Crown's Claire Foy as Armstrong's first wife, Janet Shearon.