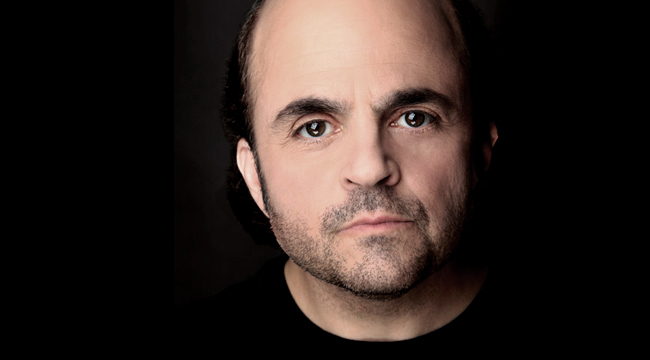 Michael D. Cohen is an actor probably best known for starring in Nickelodeon's Henry Danger. You may also know him from his work in films like Whiplash and Suburbicon. Currently, he's starring alongside Aubrey Plaza and Craig Robinson in, An Evening With Beverly Luff Linn, which opens on Friday, October 19. Michael was nice enough to take some time to participate in our twenty questions questionnaire series.
1. You walk into a bar. What do you order from the bartender?
Directions to the bathroom.
2. Who's your favorite person to follow on Twitter and/or Instagram?
@ericthetrainer – Total goofball – educational and inspiring.
3. What's currently waiting for you on your DVR and/or streaming queue?
Episodes of Henry Danger and The Marvelous Mrs. Maisel.
4. It's your last meal — what are you going out with?
The hardest thing to make with the most expensive ingredients. I'd take one bite, send it back to the chef, then — mic drop — die.
5. What websites do you visit on a regular basis?
www.washingtonpost.com
Shameless admission… www.michaeldcohenstudio.com
Shameless flattery… www.uproxx.com
6. What's the most frequently played song on your mobile device?
"Aha!" by Pentatonix – only because iTunes is alphabetized so it starts with 'A' when I plug my phone into my car. I love Pentatonix but SHUT UP already!
7. If you could go back and give your 18-year-old self one piece of advice what would it be?
You know that ski trip you'll go on when you're 25? Don't.
8. What's the last thing you Googled?
"Homeopathic cures for cellulitis" — one of our crew got a bad case of it so I wanted to find him the right remedy
9. Dogs or cats?
DOGS all the way. I need attention. I need to be licked. I need to be needed. I play ball. Squirrel.
10. Best concert of your life was…?
That violin dude in the subway at Christopher Street station in NYC.
11. What book are you most likely to give as a gift?
Everything Men Know about Women (FYI: the pages are blank).
12. What's the nicest thing anyone has ever done for you?
My mom's best friend Essie once made me a home-cooked meal when I was really down and my family was out of town. I'll never forget it. Essie was amazing. She passed last year and was like a second mom to me.
13. South Park or Family Guy?
Futurama.
14. You have an entire day to do whatever you want. What would you do?
I would go for breakfast with Carol Burnett, teleport to Tahquitz Rock and do a multi-pitch rock climb with, ironically, The Rock, then in similar teleportation fashion, have a romantic beachfront dinner with my girlfriend on a private South Pacific island. You said WHATEVER I want, so….
15. What movie can you not resist watching if it's on?
The First Wives Club.
16. The sports team or teams you're most passionate about?
Vancouver Furious George Ultimate Frisbee team.
17. Where did you eat the best meal of your life?
Bernie Lewinsky's Passover seder 2017.
18. The last movie you saw in a theater?
An Evening With Beverly Luff Linn
19. Who was your first celebrity crush?
Carol Burnett
20. What would you cook if Nic Cage was coming to your house for dinner?
Bernie Lewinsky's Passover seder 2017.
PREVIOUSLY: Christina Chang