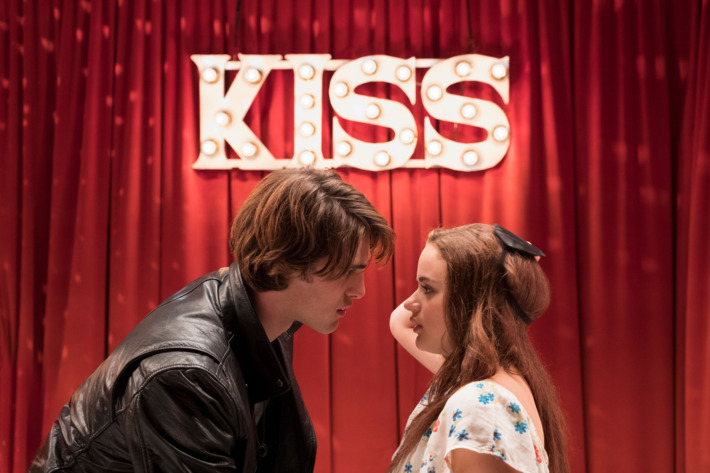 If you're a Netflix subscriber, and you've spent any time browsing through their offerings recently, you have no doubt seen The Kissing Both appear up in both the "popular" and "trending" sections of the streaming service. It's not only a hugely popular original movie for Netflix, it's "one of the most-watched movies in the country, and maybe in the world," according to Netflix chief content officer Ted Sarandos. While he would not offer specific numbers, he did cite IMDB, which — at the time — placed The Kissing Booth as the fourth most popular movie in the United States, behind only Deadpool 2, Avengers: Infinity War and Solo. Meanwhile, upon its release, the stars of the film, Jacob Elordi and Joey King, placed number one and number six respectively on IMDB's Star-O-Meter, which reflects the most popular celebrities on IMDB at the time.
What might explain the movie's insane popularity?
Before we answer that, let's discuss The Kissing Booth itself. The Netflix film stars Joey King as a high school student who falls in love with her best friend's brother, a relationship that is sealed in a kissing booth. The film — which has not been received well by film critics (it sits at 17 percent on Rotten Tomatoes) — is targeted primarily at teen audiences.
Having seen it, I can confirm that it's not a good film. In fact, its themes are at times unsettling. Lee Flynn (Joel Courtney) spends the movie trying to emotionally manipulate Shelly (King) into not dating his older brother, while the older brother, Noah (Elordi), threatens to beat up anyone else who tries to date Shelly. It's literally a movie about two men trying to control a woman. At one point, in fact, a classmate of Shelly's sexually assaults her by grabbing her butt. Noah beats up the classmate, but then Shelly agrees to go on a date with the classmate anyway after he apologizes by wearing the same short skirt that Shelly was wearing when the classmate grabbed her behind.

It's not exactly a progressive movie, and a number of outlets have called out the movie for its sexist themes. But if one can look past its many, many problems, as well as the stereotypes, cliches, and its painfully derivative nature, I can see where it might be somewhat satisfying for a teen audience, especially one starved for teen romantic comedies in an era decidedly lacking in them.
So why is The Kissing Booth so insanely popular? The lack of teen romcoms might be one explanation. This generation of teenagers doesn't yet have a defining teen flick like Clueless, Breakfast Club, or Mean Girls, and most of the teen movies that have broken through (Fault in our Stars, Lady Bird) have been heavier, more dramatic affairs. The last great teen romcom was probably 2010's Easy A, and while there have been a number of minor and sometimes very good ones like Edge of Seventeen and The DUFF, The Kissing Booth may be the closest thing teen audiences have had to a movie like 10 Things I Hate About You (of which The Kissing Booth shamelessly borrows) or a John Hughes' movie (The Kissing Booth also tries to make the Hughes' association by casting Molly Ringwald).
https://www.instagram.com/p/Bj0fL4Mg7QT/?hl=en&taken-by=joeyking
There may also be some allure among the cast. Joey King is not exactly a household name among most adults, but teens may recognize her as Ramona Quimby in Ramona and Beezus, while some may remember Joel Courtney as the lead in J.J. Abram's Super 8. However, the films biggest draw, Jacob Elordi, is relatively unknown outside of the fact that he's currently dating his co-star Joey King. The Kissing Booth and the stars' real-life romances have propelled their Instagram pages to a combined 8.3 million followers. There's also the fact that Netflix has been heavily promoting The Kissing Booth both within the streaming service app, and with nationally airing TV ads, a rarity for Netflix.

However, the most likely source for The Kissing Booth's popularity can probably be traced back to its source: Wattpad. For the unfamiliar, Wattpad is an online community where authors can create user-generated fiction and non-fiction from a variety of genres. It essentially combines crowdsourced content with original writing. It's basically a way for authors to build a community around stories. There are over 65 million users on Wattpad, and many of the authors are teenagers, including Beth Reekles, the author of the original story upon which the movie is based. Her book The Kissing Booth was read over 19 million times, which led to a three-book deal with Random House UK. (Note, too, that ads for The Kissing Booth have been running on Wattpad, in effect promoting one of its own).
The Kissing Booth, however, is not the only success story from Wattpad. Expect to see a lot more movies and televisions shows derived from the site, like Katarina E. Tonks's story series Death Is My BFF, acquired by Sony Pictures; a horror series, Light as a Feather, which will air on Hulu; and Ali Novak's My Life With The Walter Boys which has been optioned by Kommix. Novak was 15 years old when she originally published the story.
In other words, The Kissing Booth already had a huge built-in audience when it came to Netflix. As they say, nothing attracts a crowd like a crowd, even if that crowd has converged around an objectively bad film. The Wattpad audience bolstered The Kissing Booth, while Netflix promotion, the allure of its cast, and a hole in the marketplace ultimately propelled the movie into one of the most seen movies of 2018. The popularity of The Kissing Booth is so massive, in fact, that it may become only the second Netflix original movie to get a sequel.