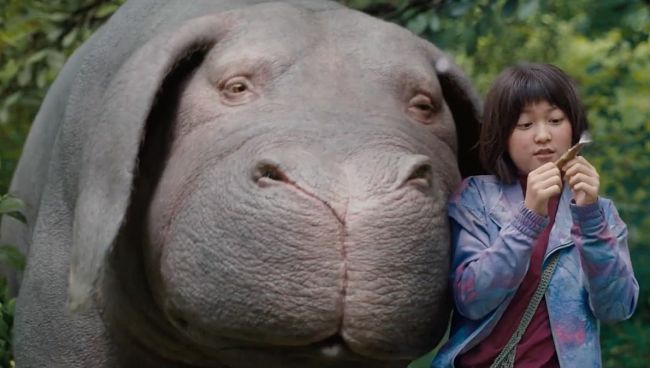 Okja was one of the best reviewed movies of 2017, with a solid Rotten Tomatoes score of 86 percent. So why was it booed at the Cannes Film Festival last year? It had nothing to do with the Bong Joon-ho-directed film itself, but rather, the production logo that appeared before it started. If you've ever spent a weekend watching 40 episodes of Fuller House, you might be familiar with it.
Netflix and Cannes do not get along, not after the festival introduced a new rule that in order to qualify for competition, a film must have a theatrical release in France. (Some Netflix titles have day-and-date releases, but a law in France "requires movies to not appear in home platforms for 36 months after their theatrical release.") "The festival is pleased to welcome a new operator which has decided to invest in cinema, but wants to reiterate its support to the traditional mode of exhibition of cinema in France and in the world," Cannes wrote in a statement, which led to Netflix CEO Reed Hastings remarking that the "establishment [is] closing ranks against us… Amazing film that theatre chains want to block us from entering into Cannes film festival competition."
Netflix movies can still show out of competition, but in an interview with Variety, the company's peeved chief content officer Ted Sarandos announced that the streaming service is sitting the festival out in 2018. "We want our films to be on fair ground with every other filmmaker," he said. "There's a risk in us going in this way and having our films and filmmakers treated disrespectfully at the festival. They've set the tone. I don't think it would be good for us to be there."
"I don't think there would be any reason to go out of competition. The rule was implicitly about Netflix, and Thierry made it explicitly about Netflix when he announced the rule… We loved the festival. We love the experience for our filmmakers and for film lovers. It's just that the festival has chosen to celebrate distribution rather than the art of cinema. We are 100% about the art of cinema. And by the way, every other festival in the world is too." (Via)
That means no Orson Welles' mythical and recently completed The Other Side of the Wind, no Roma (the latest from Oscar-winning Gravity director Alfonso Cuarón), no Hold the Dark (Jeremy Saulnier's follow-up to Green Room), and no Norway (Paul Greengrass' dramatization of the 2011 Norway terrorist attacks). Non-Netflix offerings still include Solo: A Star Wars Story and Asghar Farhadi's Everybody Knows, which will open the festival on May 8.
(Via Variety)