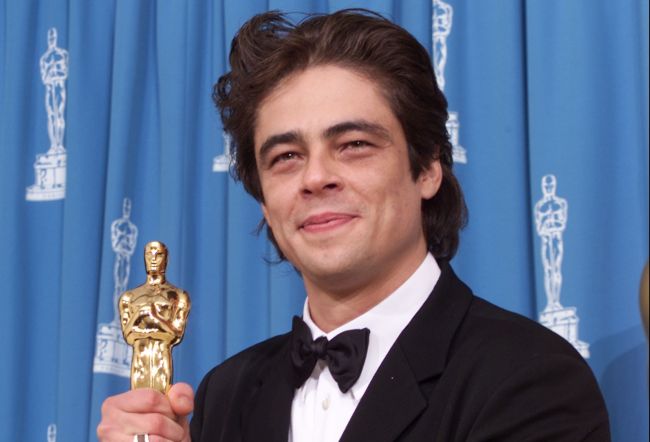 José Ferrer knew that he was making history at the 1951 Oscar ceremony. The Puerto Rican-born actor, still relatively early in his career, could not accept the Best Actor award (for Cyrano de Bergerac) in person. Instead, he accepted the award over a telephone line from New York. In his brief speech, Ferrer said, "This means more to me than just an honor accorded to an actor."
It was a landmark victory for not only Ferrer but for Latinos: He was the first Hispanic actor ever to win an Academy Award. When Ferrer made his speech he likely thought this was the beginning of a new era in Hollywood, one where brown-skinned actors could reap the benefits of the him breaking open the doors for Latino actors everywhere. Unfortunately, 65 years later, that is not the case.
According to a 2014 Motion Pictures Association of America study, Latino audiences are "more likely than any other ethnic group to purchase movie tickets (23 percent) relative to their share of the population and share of moviegoers (17 percent)." Yet, with a large Latino audience funding the Hollywood machine, a 2015 Columbia University study revealed that "from 2000 to 2013, among the 10 films with the highest gross per year, Latino lead role appearances decreased from 2.8% in the 2000s to 1.4% in the 2010s. At the same time, the percentage of Latino actors playing lead roles fell under 2%."
What we're now seeing is a complete dearth of Latino actors on the silver screen, but the lack of ethnicity isn't solely relegated to Hispanics: Asian, Native American, and other ethnic audiences rarely see their counterparts in cinema. When George Clooney recently said "For Hispanics, it's even worse," the actor/producer/director was pointing out a very real problem, one where the largest portion of paying audiences aren't seeing representation on the big screen. Clooney, despite being a part of the caucasian Hollywood conglomerate, seems to understand this issue perhaps better than his peers. Worth noting: Ferrer was at one time his uncle through marriage to his aunt Rosemary Clooney.
Ferrer did open the doors for Latinos, if only a crack. Ferrer, himself, was once again nominated for Best Actor in 1952, for Moulin Rouge, marking it the first time a Latino was nominated twice for the award. Yet, to this day, he stands as the only Latino to win a Best Actor prize, and it took 23 years — after the award's inception — for a Latino to get the distinction of a nomination.
Perhaps we should amend Clooney's words a bit: For women of Latino decent, "it's even worse." Of the three sole nominations for Latino women in the Best Actress category (Fernanda Montenegro for Central Station,1998; Salma Hayek for Frida, 2002; Catalina Sandino Moreno for Maria Full of Grace, 2004), none have walked away with a gold statue. Montenegro stands as the first Latin American to ever get nominated for Best Actress, and her nomination came almost 70 years after the Academy first began presenting awards.
The supporting actor and actress categories have been a bit more welcoming. In 1947, Thomas Gomez became the first Latino to garner an Oscar nomination for his supporting role in Ride the Pink Horse. In '48, Ferrer received his first nomination in the supporting category for Joan of Arc. In 1952, Anthony Quinn became the first Latino to win a Best Supporting Actor award for his work in Viva Zapata!. Quinn would win again in the same category four years later, and to this day stands as the only Latino to win an Oscar twice in the same acting category. (He also went on to score two Best Actor nominations in 1957 and 1964, and is only one of five Hispanics ever to be nominated for Best Actor.)

In 2001, Benicio del Toro broke a 45-year drought for Latinos in all male acting categories by winning Best Supporting Actor for Traffic; the win also marked the first time an actor in a largely Spanish-speaking role was given the award. As of this year's ceremony, only four Hispanics have ever won Oscars for Best Actor, supporting or otherwise. As far as the female categories go, only two women have ever won Best Supporting Actress awards: Rita Moreno (West Side Story, 1962), and Mercedes Ruehl (The Fisher King, 1992).
In all, six Hispanic actors — yes, you can almost count them on one hand — have won Oscars for acting; after 87 Oscar ceremonies, that's a paltry number and this year's ceremony will do nothing to move that needle. Out of the 20 actors nominated for awards this year, there are absolutely no actors of ethnic origin: All of the nominees are caucasian, the second year in a row that we can say such a thing.
The question, then, is what can we do to change this? The Academy of Motion Pictures Arts and Sciences is a largely white community, one that lacks real diversity but it's an issue that the Academy is attempting to rectify. But, that's not the real issue. The real issue is why are Hispanics not getting the kind of roles that would allow them to be considered for awards like Best Actor and Actress? If Latinos comprise the largest group filmgoers, wouldn't it behoove Hollywood to cater to them?
These are the kind of questions that need to be asked internally, at the heart of the Hollywood machine, and George Clooney should not be the only voice out there talking about the problem. Fine actors of Hispanic origin abound, and to see a Hispanic character played by Ben Affleck (Argo) is a travesty. There needs to be better accountability for the marginalization of Latinos and Hispanics in American cinema. And, once we tackle and put to bed the subject of more Latino representation on-screen, then perhaps we can start talking about the negation of Latino culture in cinema.

(stats via CNN)